Products
Sophia Valentine cuts a clear path with a CNC plasma cutter and Solid Edge
Computer-aided design (CAD) software has been changing industry design over the last 30 years. What used to be made at great expense in a large factory can now be done by sending your CAD model to a CNC plasma cutter table or 3D printer to create a prototype. Design and technical drawing are simplified across industries with the increased use of design software. Furthermore, the possibility of producing spare parts or customizing objects according to one's preferences are being offered more frequently. Maybe this is the reason why the interest in CAD, design, and additive manufacturing has also grown among young people worldwide.
Meet Sophia Valentine, a self-taught CAD designer and metal artist on the rise
20-year-old college student Sophia Valentine inherited her passion for design from her mother, a professional welder and welding instructor. Inspired by her mother's craft, Sophia is following in her mother's footsteps in her own unique way: she uses 2D CAD drawing, sketching, metalworking, and welding to create custom metal artwork. But unlike her mother who is professionally trained, Sophia's impressive design and metalworking skills are completely self-taught. Sophia works at a local print shop in her hometown of Austin, Texas, where she manages her own CNC plasma cutter table. In her spare time, Sophia creates and sells metal artwork of her own, often working directly with customers to create unique pieces based on their preferences and ideas.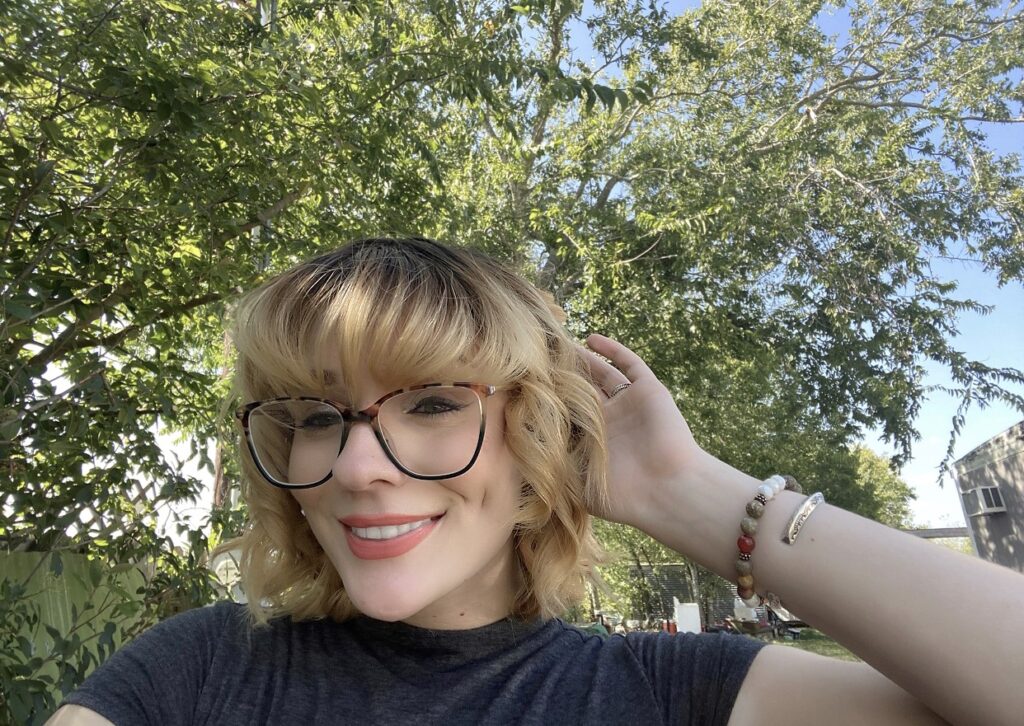 We had the pleasure of connecting with Sohpia to understand how she taught herself to Solid Edge software, what inspired her to do so, and where she wants to go next…
Can you tell us a little bit about yourself?
"I was born in Austin, Texas, and I moved all over the country as a kid. I came back to Austin when I was 16 years old. My mom became a welder, graduated from Austin Community College, and taught welding after that. So, I definitely continued that in a different way. I work at South Austin Metals and I'm going to school at University of Texas in San Marcos. I plan on graduating this spring with a degree in construction management."
What inspired you to get into metalworking and CNC?
"It's a bit different than the field my mom chose, but I'm enjoying the CNC printing side of it. I get to work on things that I love to do and draw all day. It's really amazing. Growing up, I got to see my mom work with sculptures, and it made me want to improve myself and try to show off what I can do. I work at South Austin Metals right now, but eventually I'd like to start my own company. It would be great to do my own artwork full-time and be able to show other people just how much I can do – just like my mom. That's my inspiration."
What's your role at South Austin Metals?
"My official title is CNC Operator. I'm the only one at the company that runs the table. I'm also the person who works directly with the Solid Edge team for support. I've been working with a specific support contact, and he's been teaching me a lot. And it's all at my own pace, which is nice because it's something I can continue independently whenever I move on or get my own table. Basically, the job involves loading up metal and drawing things that I like. And if a customer and others at the shop like it too, then they let me go with it."
What's it like working at a print shop so young?
"It's been a great opportunity to learn and put myself out there as an artist. Since the shop doesn't have much of a web presence, I do my own promotion on Instagram. It definitely helps me and benefits the shop too. I'm only 20 and it's wild to reflect and think about how much I've already grown and where I'm at now. I don't want to brag or anything, but I really think other people need to do something like this too. If you're interested in design and creative fields, you honestly have all the tools you need now like Solid Edge. I just wish more people would do it."
Can you tell us about some of the projects you're working on at the moment?
"I go to classes at the moment on the weekends for my college program. I have a building contracting class and an estimating class this semester. Whenever I'm not in school or studying, I'm usually at work doing drawings. Currently, I'm working on veteran's art with eagles and flags and all that kind of stuff. Here in Texas, people really enjoy that kind of thing. Austin Metals is also veteran-owned company, so I'm doing it for them as well."
"Whenever I'm home, you can find me using Solid Edge to draw all the things I like to draw. I'm working on a peacock right now; it's a stainless glass concept, with metal behind it for structure. The design is complicated because it involves a lot of lines and it's a lot of tracing, especially for the tail which has a lot of detail. Sometimes I look at the tail and think, "oh my, what am I going to do?!" But with the sketching and drawing features [in Solid Edge], I can pull my imagination and the ideas floating around my head and just run with it."
"I get a great deal of design freedom. Sometimes, I get blueprints and with a lot of base plates or even structural parts. But most of the time, whenever I have free time, I just draw and people will walk in and ask, 'what do you have today?' I show them a drawing I've been working on, and often the response is, 'I'll pay you right now if you print it.' It's pretty awesome. I'm not always sitting around waiting on customers or getting bored. Instead, I'm always entertaining myself – sketching and drawing things in Solid Edge that I never thought I could."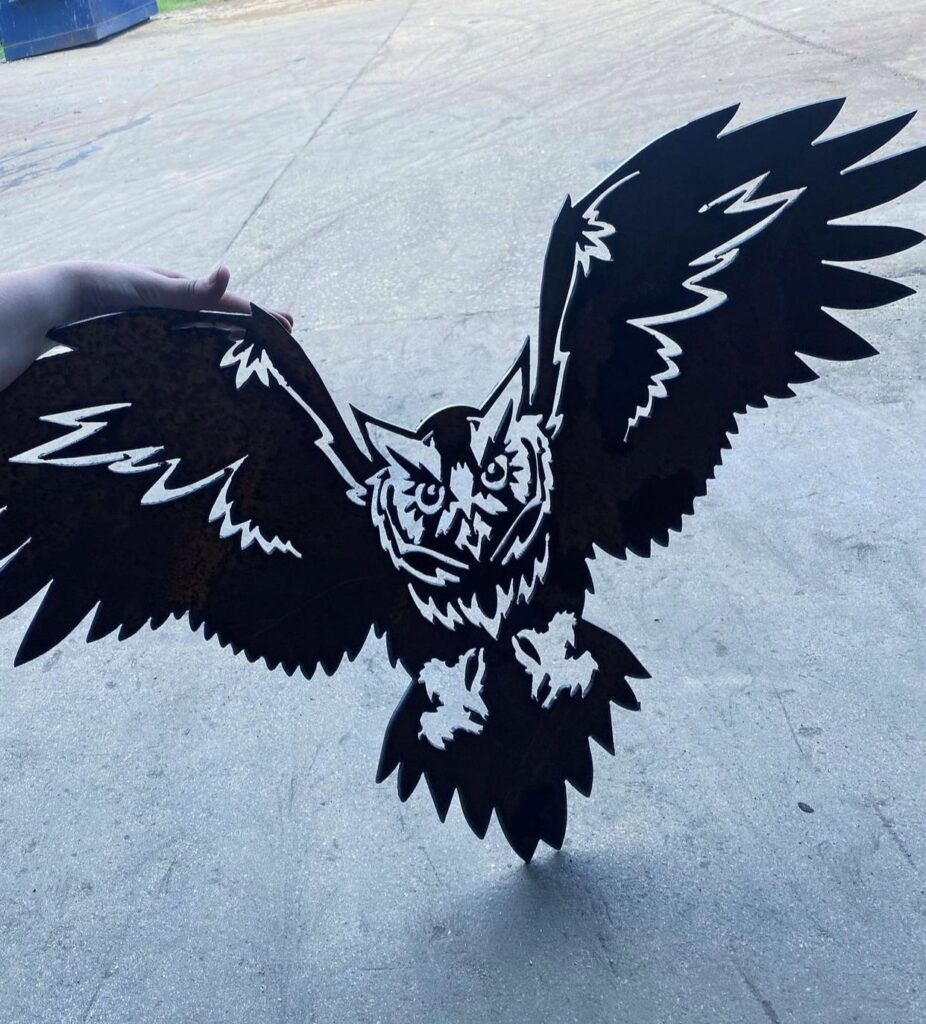 How do you draw inspiration for new designs?
"It's just me getting online and seeing what other people do. I usually just find something that way, or sometimes I might be obsessed with a movie or show at the moment, and I'll just draw something from that. It just kind of pops into my head. And you know, sometimes I have customers come in with their own hand drawings. They usually want me to take a photo of it and trace using auto-trace, which is very nice to have now. Before, I was just a photo and you had to manually trace it and run with that. But if I don't have a drawing, I just pick something out and then put it right next to the screen and go over its every detail I can, deciding what I want to keep and what I can't keep. And once I do that, I save it as a DFX file and transfer it over to our other CNC tool. And once it's on there, it does the whole part fill. It shows you how and where the parts are going to drop and how it's going to look like as a final product. And then I just measure out the thickness of everything and run the table."
"Once I'm done, the customer can take the piece home right away! Sometimes, if I do it from home, or if I do a project that I sign off to someone I know personally, I'll take it home and powder coat it and paint it, and then I'll do my own drawings on top of my cutout. It's a lot of fun to do because I get to do crazy things with the design. But most of the time, once the steel is cut, I clean it off and clean all the slag off, and they take it home."
You never used any CAD software before, and you learned to use Solid Edge on your own. How did you start? Any tips you can share with others? Any difficulties?
"I had a job at APC Metal Works before this one where I learned how to do CNC. I did it on a Lincoln table at first, which is completely different than what I do now, especially in terms of CAD drawing. But once I left APC Metal Worlds to join the team at South Austin Metals, the manager took me in under his wing and has been teaching me everything about how to do business: from sales and the production and the value, and all how it fluctuates. But when it comes to drawing in Solid Edge, I don't know how I got it. But I just had a knack for it."
"When I was in high school, I would just draw. I mean, I just enjoyed doodling. I never thought that I'd go into metal. I went to school for a year or two with two different ideas of what I was going to be. And then finally my mom threw me into a metal company, and I ran from there. And then just sprinting as soon as I hit the ground. But it was, I don't think I actually ever pictured it becoming a career – it was a job to be completely honest. I thought everybody just did it by hand. And I didn't think I was a talented to do, you know, welding or plasma cutting or any of that. When I found out you can do it through a program on a computer or a tablet like with Solid Edge, I was completely mind blown and it just has been great since I figured that out."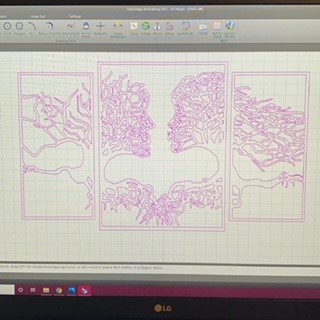 "Since I was introduced to it, now I'm just in love with it. It's extraordinary how much of a different it is compared to other CAD programs and I can download at home. That's probably what I love the most about it. I can get a free CAD license to use at home. In Solid Edge, it's also really easy to trace and move things over to DFX files from imagery. I usually use a USB drive to save my designs in a certain file, either as an image or DFX, and just run with that. It will transfer over just fine on a USB drive to your home computer. The auto-trace feature is also really amazing, but that's just the way I use it. It's a lot different than 3D, I'm sure, which I haven't gotten into yet. With 2D, it's just a grid and I snap things together to get them to do what they need to do. It's simple and a lot easier to understand and work with than what I was used to."
"You can also do blueprinting in the free version of Solid Edge – it's amazing. I didn't think [the software] would be able to do that. I thought it was just a drawing software, but it can really print blueprints well – it's really powerful. I've haven't tried the 3D design features yet, but I plan to try them out soon. And that will probably be even better; it would allow me to show people the final product in Solid Edge and how everything fits together."
Can you imagine doing further projects with Solid Edge? Do you have any plans?
"Yes, for sure! And especially with drawing inverted or picturing visuals with dropouts in them; that's probably the hardest for a lot of people when starting out. It's pretty challenging to create a piece so that you can actually see a drawing in something after it's been dropped, because whatever you do with, you know, my hand or my pencil, it's, it's completely different. It's like drawing black and white and hoping that you're doing the right drops. I mean, you just shade it in. You can make it lighter here, not as light there. And when it comes to metal, it completely drops or you can have little pieces stick out, but it's not going to be the same. Now if I had an engraver, mine might be different, but I really enjoy drawing with Solid Edge the way I do."
"I really enjoy drawing with Solid Edge the way I do. It's extraordinary how different it is compared to other CAD programs, and I can download it at home."

Sophia Valentine, South Austin Metals
Any advice you'd give to other young people thinking about getting into your field?
"If you're getting into anything like this and you are stumped, you can't be afraid to ask questions or call someone for help. You shouldn't get frustrated with yourself that you can't figure something out because there will be things that you don't know, and you can always learn and grow from them. And if you're a woman in this field, you can't let people put you down for something you've designed or made. The same applies for other professions too. As a woman in this field, people will assume that you don't know what you're doing simply because you're not a man, but you can't let that get under your skin. Never let anybody else's judgment to that."
Where do you see yourself in the next 5-10 years?
"What I'm hoping to do next is to be able to reach out and inspire a lot of people my age to do what I do. I'm planning on getting my own table, making my own shop, and having it fully functional by the time I'm 25. I want to prove to people, you can do it while you're young and that you don't need to wait. I'm going to school for something that I'm not wanting to go into business for, but a degree doesn't hold you to what the degree tells you to do – it's completely up to you. And that's where I'm at. I'm going to get a degree and hopefully after I do, I'm going to be doing something completely different than it says I should. And I'm hoping that it will work out in my favor to have support from other people and inspire other people, while being able to make customers happy. That's all I really want to do."
---
Empowering the next generation of creatives
Here at Siemens, we're proud to support makers and creatives like Sophia with a wide range of free software offerings to help you design at the speed of creative thought. Explore our free software offers →
You can follow Sophia Valentine and see more of her work on Instagram @cnc_sophia.
This article first appeared on the Siemens Digital Industries Software blog at https://blogs.sw.siemens.com/solidedge/austin-based-student-and-cnc-plasma-cutter-is-printing-her-own-future/