Your model identification process is just a few tests away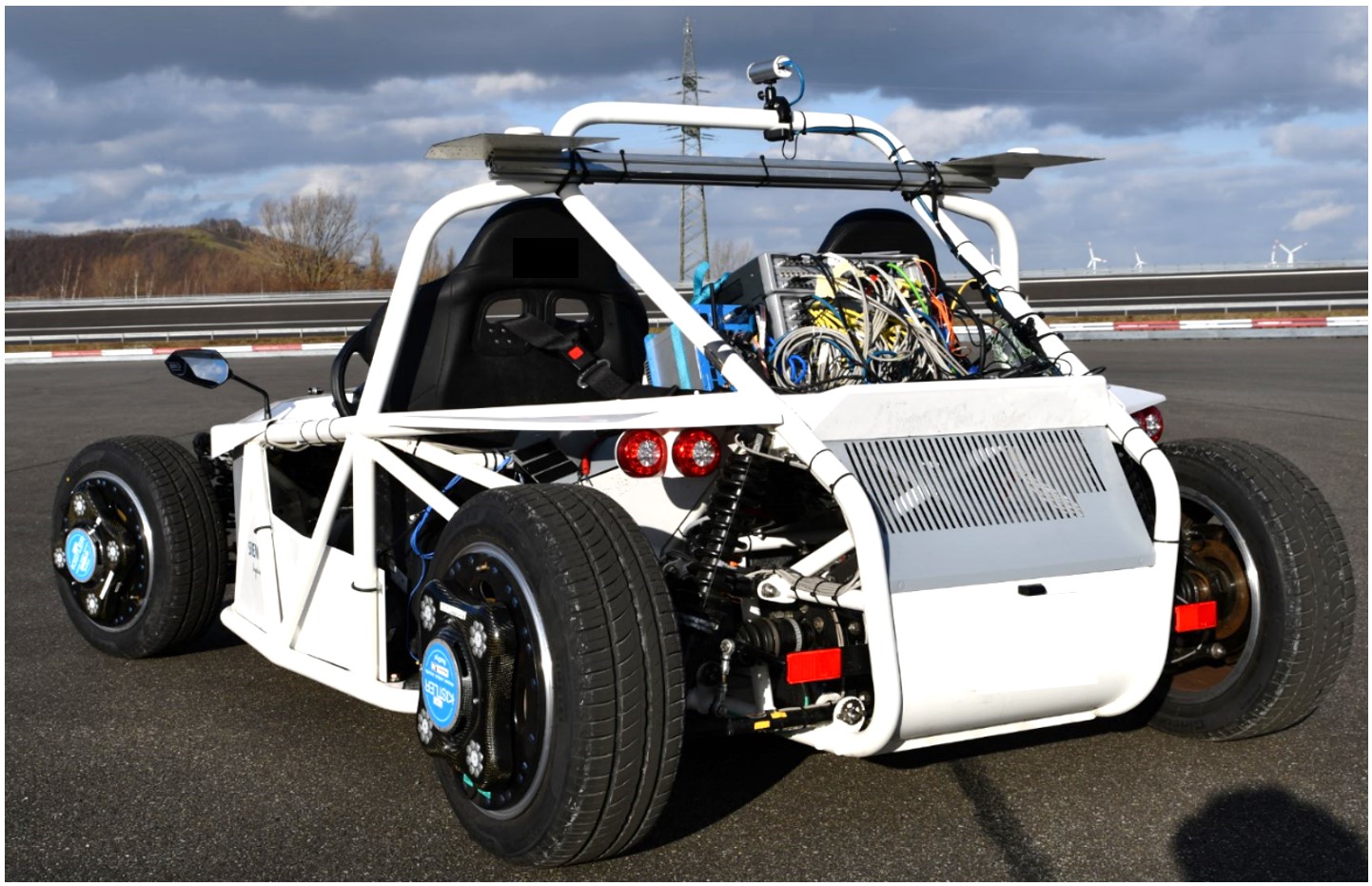 Nowadays, you hear everywhere about digitalization and virtual vehicle development. Simulation models are used more and more as the main building block to support the design of car features. But how easy is it to identify an accurate and fit-for-purpose digital twin of your or your customers' vehicle?
You are probably thinking of asking your CAE department for one of their models. Sure, but what's the effort required to deploy it within the toolchain where you want to use it?
You could think of building the required vehicle model yourself. But how long will it take to retrieve all the parameters, request a measurement campaign to your test colleagues, and validate it?
What if you just had a vehicle available for just a day of testing? What if in that time, you could generate the model that you need, perfectly fitting your development framework?
Identify one to evaluate them all
Well, if you have those concerns do not worry, I completely understand!
As a project engineer at Siemens Digital Industries, I mainly execute projects for external customers (auto OEMs or their suppliers). However, I sometimes also support internal development activities.
Lately, we have been working a lot on new vehicle features linked to ADAS and performance functions to increase energy efficiency and improve handling and safety. When developing the controllers of such functions, it is important to use vehicle digital twins to perform virtual validation as much as possible. Due to the high number of vehicle variants and scenarios to evaluate, doing all the possible tests in real life would just not be feasible.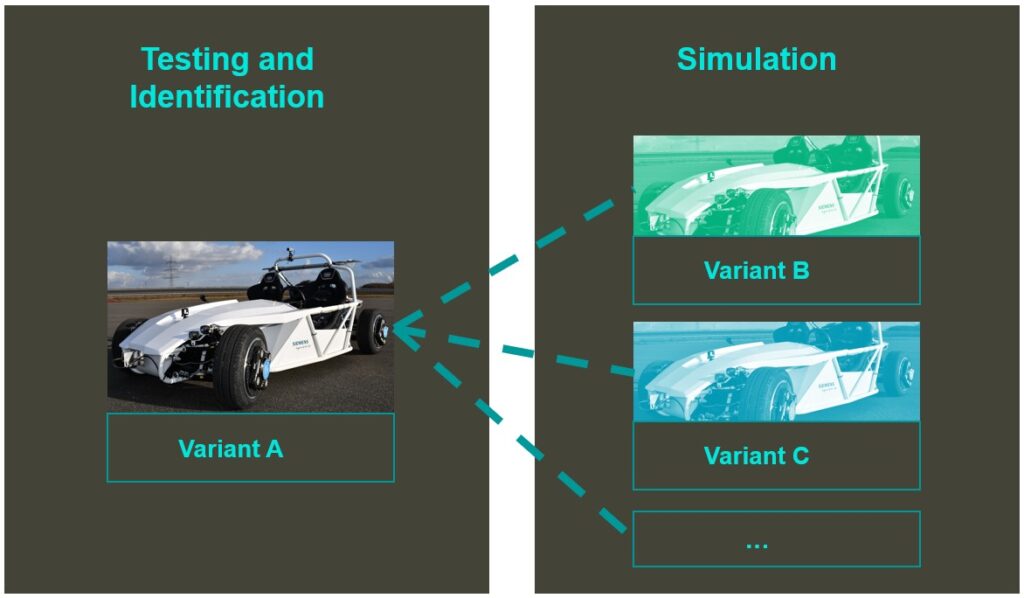 But what does it take for a robust model identification?
It is non-trivial, however, to retrieve the right models that would be representative and accurate enough as well as fit the tools used for the development of the features. This requires getting in touch with the right team, explaining the purpose, get training on the tools you need to use, translating or adapting the models to the development framework, etc.
Not straightforward at all!
This could limit our efficiency while, on the contrary, I am always excited to deliver outstanding new control systems perfectly tuned for all situations….and in a short time!
For example, I am currently working on the development of a new torque vectoring algorithm to enhance vehicle handling and stability on a brand-new electric vehicle. I have been struggling already for a couple of weeks trying to get a good vehicle simulation model that can support the virtual development of this controller.
The model that I received is overly-complex and does not fit very well my development framework. Additionally, we do have a test vehicle available. But it can take quite some time and effort to derive a good model from it. I was afraid it was going to be hard to validate my new algorithm on time. Also losing too many days tuning it in the field.
Enable fast model identification with the synergy of test and simulation
But then I talked with a couple of colleagues from our test division. They are specialists in providing software and hardware solutions for test data acquisition and processing. I discovered that they were working on a new process to basically transform any test vehicle into a portable rig for model identification. All of that by just instrumenting it with dedicated sensors and running a series of standard maneuvers on the proving ground. The data acquired through the Simcenter SCADAS (our measurement acquisition system) will contain important information on the vehicle's behavior. We then translate this behavior into vehicle model parameters with a robust identification technique developed by our Simcenter Engineering Services colleagues.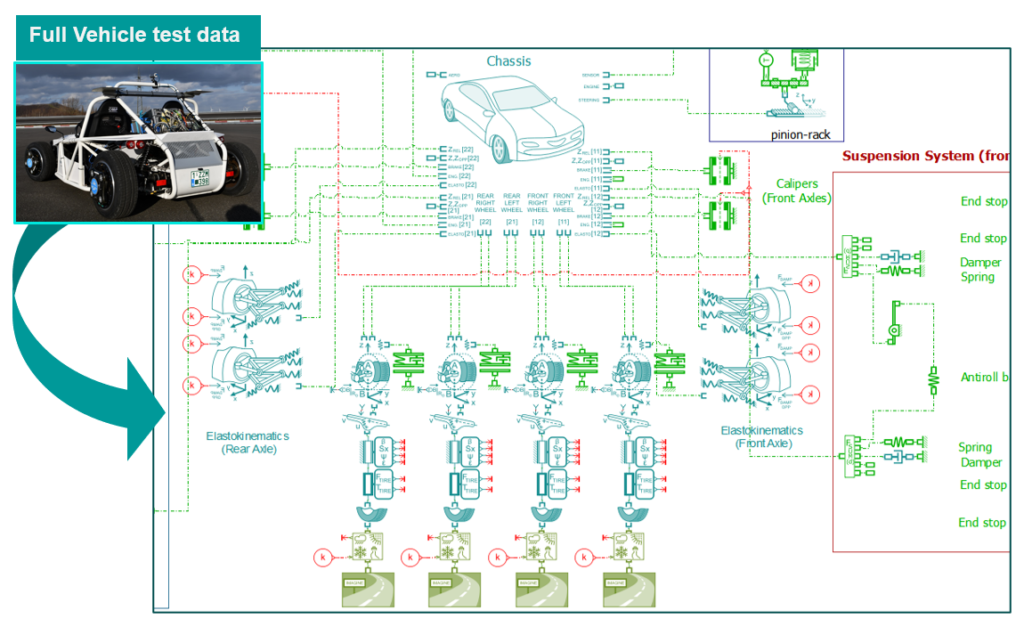 The retrieved model would directly fit the toolchain I am using, which is based on Simcenter Amesim as the system simulation environment. To make the process even more user-friendly, specific template models for parameters identifications are available in the software and ready to use.
In this case, they were looking into the identification of a 15 Degree-of-Freedom vehicle model for vehicle dynamics simulation, which would also perfectly fit my needs!
It all starts with the real thing
They then also showed me the instrumentation they were using on their test vehicle, which looked very similar to what I am used to seeing at our customers' facilities: a typical vehicle dynamics measurements set-up, including an Inertial Measurement Unit, a Steering Wheel Angle Sensor, suspension height sensors, all nicely connected to our Simcenter SCADAS acquisition system.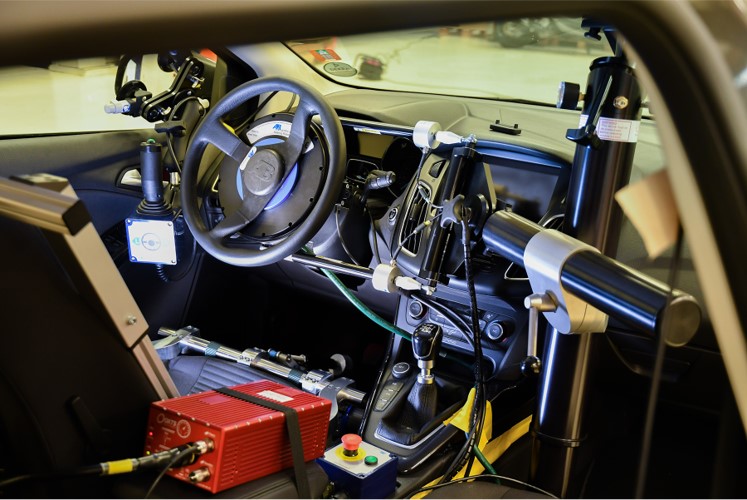 We can visualize the acquired data in Simcenter Testlab. Here, we can validate the test data on the track.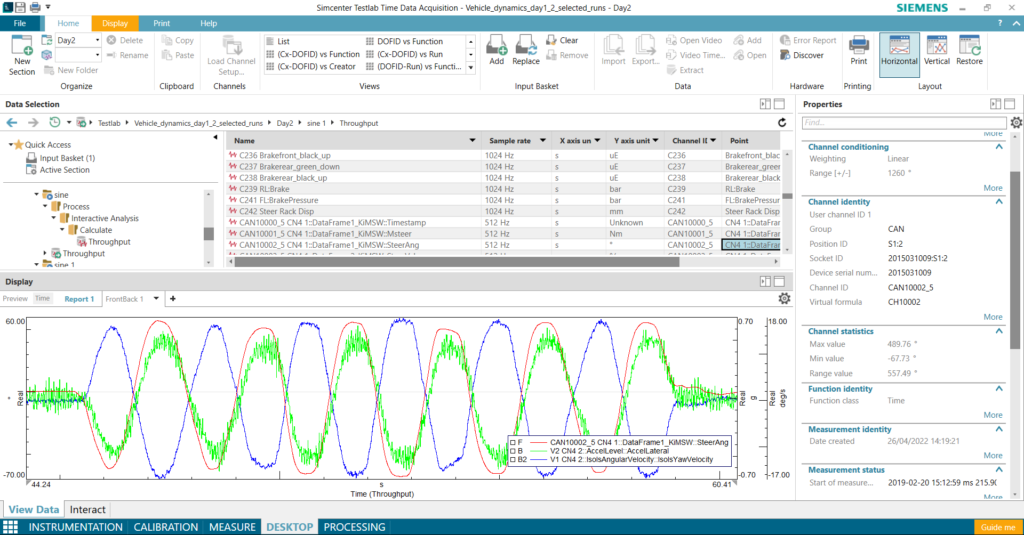 The perfect fit
Such full vehicle testing activity on the proving ground, coupled with the acquisition of test data through Simcenter SCADAS, provides the perfect set of information required for efficient identification of the vehicle dynamics model.
I will definitely use the same approach to identify the model required for my ADAS algorithm development. This allows generating the model that fits my toolchain with a day of testing and a few iterations to run through the model identification procedure, without the typical hurdles and longer iterations I was expecting.
If you are interested in this fast model identification procedure which relies only on full vehicle measurements, just have a look at the following read :
And if you want to know more about our technologies for vehicle dynamics testing and simulation, watch this:
This article first appeared on the Siemens Digital Industries Software blog at https://blogs.sw.siemens.com/simcenter/your-model-identification-process-is-just-a-few-tests-away/