Products
What's new in Simcenter Prescan 2302

Extending Simcenter Prescan footprint across multiple mobility platforms in 2302 release
With the Simcenter Prescan release 2302 we are addressing multiple needs that enable our customers to confidently build and validate their autonomy algorithms belonging to various mobility platforms across industries. This is achieved through improved sensor simulation realism, the possibility to model agricultural, industrial and other multiple axle vehicles, easier traffic simulation and AV software stack coupling and cost-effective massive validation.
Measured material library
Have you ever wondered how the world looks like from the eye of a lidar? Today most lidars that are used for autonomous vehicle development function within one of three wavelengths: 850 nm, 905 nm, or 1550 nm. The infrared spectrum is actually not as familiar to a human as you might think! For instance a black car, while perfectly visible in the human eye spectrum, can look almost invisible to a lidar. To simulate such nuances accurately, physically correct material responses need to be considered.
We have introduced seven measured materials for the Simcenter Prescan car models in the 2302 release. These are: black, white and metallic gray car paints and blue denim, blue polyester, black cotton, and retroreflective paint. The bidirectional reflectance distribution functions (BRDFs) of these materials have been measured at 850 nm, 905 nm, and 1550 nm wavelengths in a controlled lab environment. The results of these measurements were then processed and incorporated into Simcenter Prescan.
For more information, take a look at this webinar: Verification and Validation of Sensors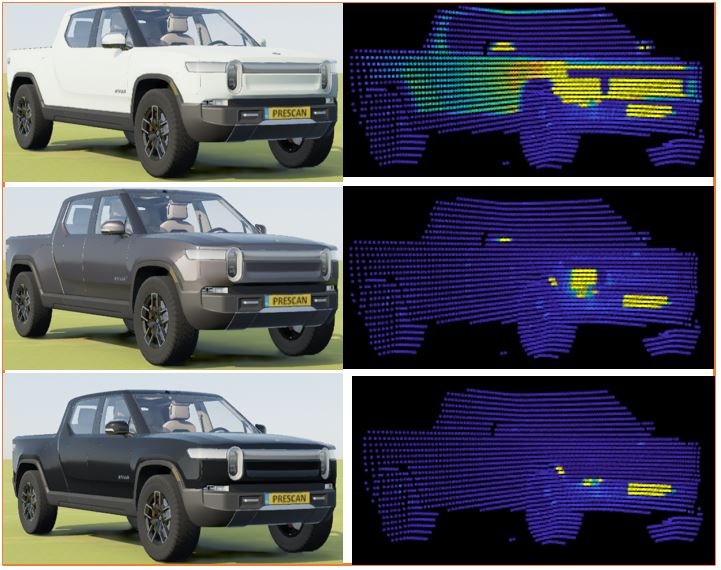 Furthermore, the users can now import their models via the Simcenter Prescan Model Preparation Tool, and assign these measured materials, as well as other materials from the Simcenter Prescan material database, to any part of their models that they desire.
Extended weather effects for camera sensor simulation
Driving in adverse weather conditions poses a lot of challenges towards perception systems, especially the ones based on camera sensors. Dynamic raindrops on a windshield or on a camera lens adversely affects visibility and consequently, driving safety. Sensors are being developed that can detect rain and its severity and automatically activate the windshield wipers for conventional vehicles. For autonomous vehicles, which rely on cameras for their operation, this loss of visibility is addressed by using machine learning algorithms that are trained to operate well even in the presence of adverse weather conditions.
In the 2302 release, Simcenter Prescan Physics-Based camera is enhanced with a brand new functionality that allows photo-realistic dynamic raindrop simulation on glass. The direction and the rolling speed of the rain droplets on the glass can be adjusted during runtime.
With this new addition, Simcenter Prescan users can:
1) perform hardware and software in the loop testing to examine the success of their sensors to trigger windshield wipers,
2) test/train their machine learning algorithms against/with synthetic datasets that contain raindrops on glass.
Simulate multi-axle vehicles
Driving assistance and automation technologies are being increasingly adopted by freight delivery companies. These technologies are expected to improve safety and make heavy-duty goods transport more efficient. Simcenter Prescan enables these companies to develop and test these systems virtually. Simcenter Prescan users can add truck models with more than two axles into the simulation environment via the Model Preparation Tool. The contact sensor of Simcenter Prescan has been enhanced to automatically provide the contact information of any number of wheels during the simulation. To realistically model the motion of these vehicles, the user can integrate high-fidelity vehicle dynamics models such as TruckSim.
Supporting our customers to be ready for the Autonomous Vehicle (AV) future

Safety assurance for AVs remains one of the major challenges in deploying the technology on public roads. The testing and validation of AV software in simulation is particularly important, given the safety challenges of machine learning-based systems. Simcenter Prescan now enables AV developers to quickly start testing and validating their AV software. The capability is achieved through a data bridge, which can be configured for any user-defined AV stack. Thus, AV developers can test their software using Simcenter Prescan without needing to modify their software stack.
Cost-effective massive simulation extends to Google Cloud Platform
Today, organizations either partner with one cloud service vendor or leverage cloud resources from multiple vendors. Simcenter Prescan360 caters to both strategies by embracing a multi-cloud support model. Massive simulations enabled by Simcenter Prescan360 can now be run on Google Cloud Platform, in addition to Microsoft Azure, Amazon AWS and on-premise cluster. This way, Simcenter Prescan360 can coexist in your cloud/on-premise ecosystem with other applications, leveraging the proprietary capabilities of your cloud vendor/ on-premise infrastructure.
Simcenter Prescan360 ensures that your massive study is as cost effective as it can be. Simcenter Prescan360 leverages managed and proprietary services from respective cloud vendor for automated scale-up and selection of compute-resources based on the simulation payload. Thereby, you are not charged for idle-time while ensuring that the service is readily available when needed.
Optimizing for fuel efficiency
The automotive industry is facing an ever-increasing demand to improve fuel efficiency and comply to emissions regulations. When such non-compliance issues unravel at a late stage in production, it incurs enormous cost to fix and elongates the time to market. With the right set of integrated tools, Simcenter enables you to frontload these risks and tackle them at an early phase with software in the loop method. Among other factors, control design is a prominent one contributing to fuel efficiency and emissions. In Simcenter workflow, the digital twin of your vehicle, control system and traffic scene is first modelled in Simcenter Prescan and its Sumo traffic simulator. This model can estimate the fuel consumption and particulate emissions during the virtual drive. Simcenter HEEDS, Siemens solution for Multi-domain optimization, will optimize the controller parameters for minimal fuel consumption while adhering to the emissions constraints. Native integration between Simcenter HEEDS and Simcenter Prescan makes model parameterization even more user-friendly, and allows the user to dynamically switch between desktop and cloud execution for faster results.
Whats Next ?
We are working on adding new platform support for our Simcenter Prescan360 users, enhancing the sensor simulation capabilities for accurate sensor digital twins, unified weather experience for all sensors and closing the loop for Advance Driver Assistance Systems/Autonomous Vehicle validation with an updated driver model.
Siemens is forefront in supporting new autonomous mobility concepts.
Check the link to find out more
Siemens and Skyway collaborate to develop infrastructure to pave way for Vertiports
Generation 6: Autonomy with Jon Lovegren – YouTube
Want more information?
This article first appeared on the Siemens Digital Industries Software blog at https://blogs.sw.siemens.com/simcenter/whats-new-in-simcenter-prescan-2302/