Products
Vendée Globe: A digital twist?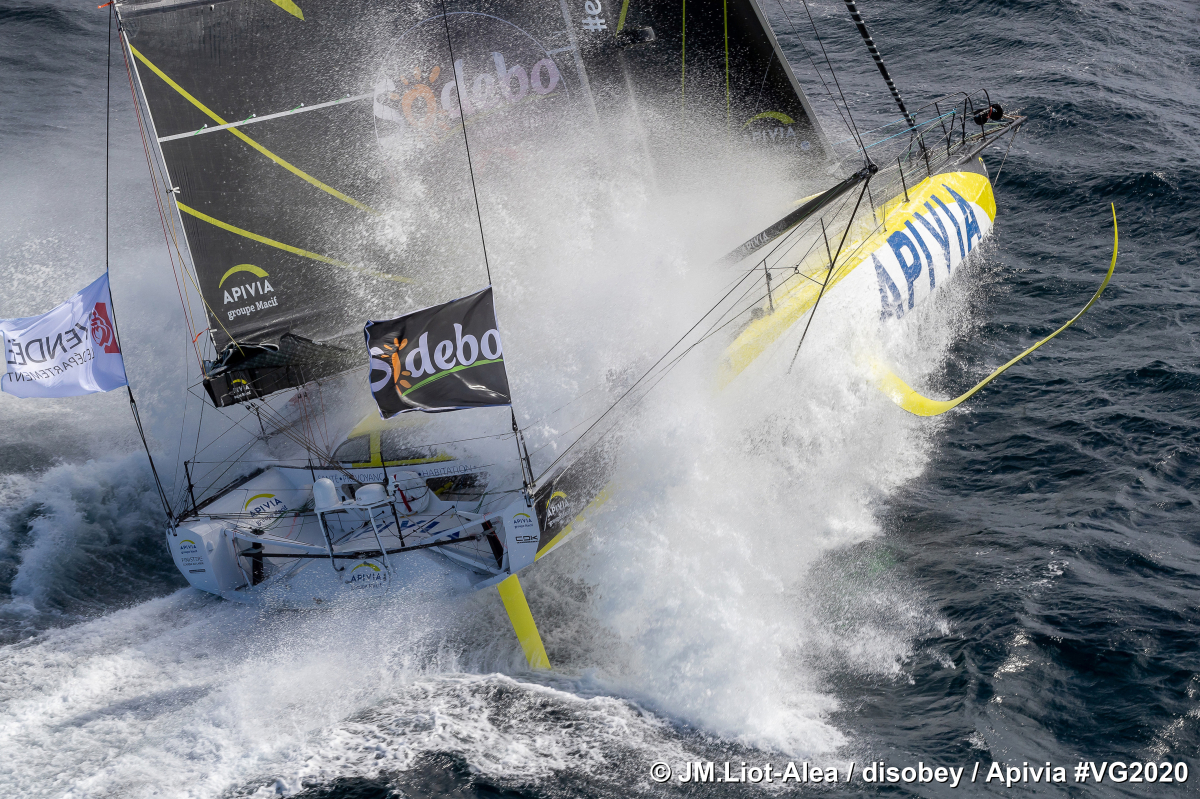 Around the world in 80 days: the real Vendée Globe goes virtual to the delight of confined sailors around the planet
My husband is about to finish sailing around the world. Not a sentence many of you would expect on my Simcenter blog, right? But read on sailors, speed freaks, marine industry fans, naval architects, gamers, surfers, digital twin aficionados…there's a digital twist to the very real Vendée Globe.
What a year! The novelty of daily WFH (that's working from home) is certainly wearing thin. But that being said, if you take a good look at the digital revolution as a whole, we are starting to see a real paradigm shift in the overall sophistication and quality of digital twins outside of the greater engineering ecosystem.
Up to speed with the real Vendée Globe
Take the Vendée Globe for example. For those of you who are not married to a Breton sailing fanatic like yours truly, the Vendée Globe is one of THE toughest endurance sailing races (literally) around the planet.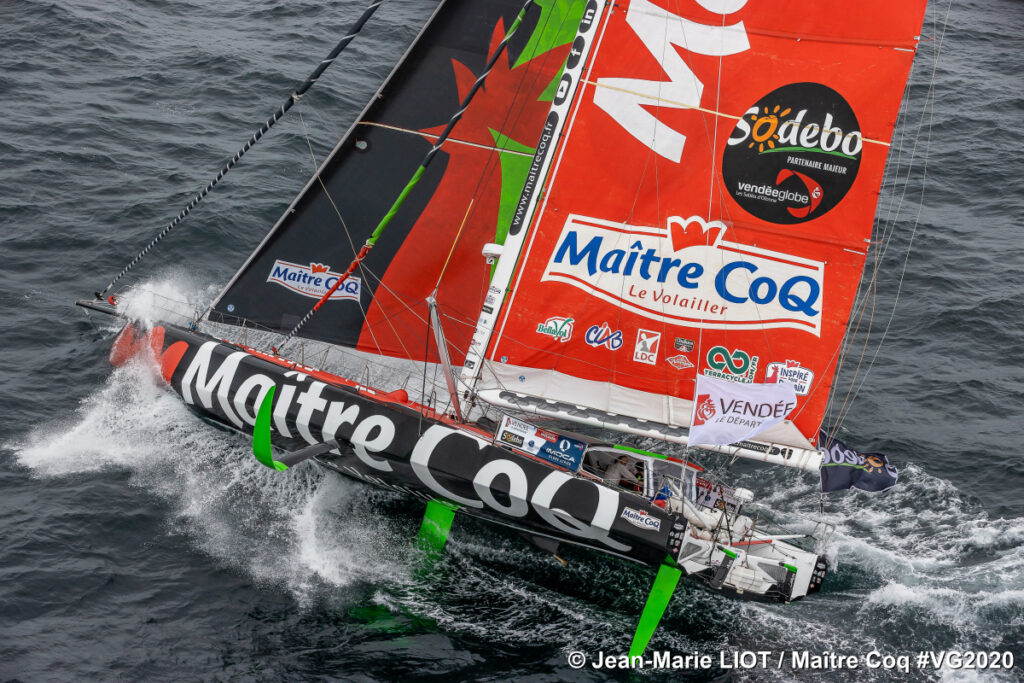 Every 4 years, famous and soon-to-be-famous sailors single-handedly sail IMOCA 60 class monohull yachts non-stop around the world. The record is held by Armel Le Cléac'h. He won the 2017 edition with a stellar 74-day around the world nautical sprint. This year the finish wasn't a record-breaker, but rather a tale of heroic proportions. On January 27th at 8:30 at night, Charlie Dalin became the first to cross the finish line in Les Sables d'Olonne, France. He clocked in an impressive 80-day global jaunt. But, there's a twist…
Dalin wouldn't be crowned the winner. Turn the clock back to the early days of the race on November 30th, 2020, about 840 nautical miles west of Cape Town, South Africa. Experienced St. Malo skipper, Kevin Escoffier, witnessed his high-flyer, the PRB, literally split into two within minutes. After a nerve-racking eleven-plus hours in his life raft, bobbing amongst high winds and huge swells, he was heroically rescued by Jean Le Cam, a Vendée Globe icon, to say the least.
(Commentary: This video is moments after the rescue: It's in French with subtitles, but it is worth a glance: . Especially moving when Kevin Escoffier explains the structural split…yikes!)
Le Cam and two other sailors who were rerouted for the rescue received time credit. In the end, Yannick Bestaven was declared the winner even though he finished third. The characteristic Le Cam, after the time credit, ranked fourth.
High tech on the high seas
Like the 36th America's Cup racing yachts, Vendée Globe monohulls are high-tech, carbon-fiber racing machines. Designers and naval architects have to follow IMOCA class restrictions when it comes to size (60 feet or 18.28 m), the gauge and the keel. But there is a little room for differentiation. For example, there is a choice of two masts and limited sailing ballasts. But, the big news this year is the foils, which lift the boat and literally make it a flying machine at top speeds. Compared to 2016 where there were only 6 boats with foils, this year 19 boats are equipped. Eight are using the latest generation, which can reach an impressive 7m span.
(Commentary: The foils definitely made a difference with the top skippers this year — even though Le Cam remains a traditionalist and sails without foils.)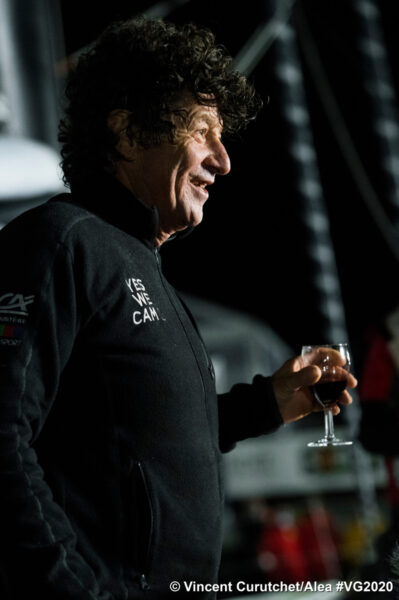 What does this have to do with digital twins?
Now that you are up to speed on the real Vendée Globe action, let's talk about the Virtual Vendée Globe. Over here in Hamme-Mille, Belgium, we followed all the action firsthand this year. My husband even raced his own customized digital twin.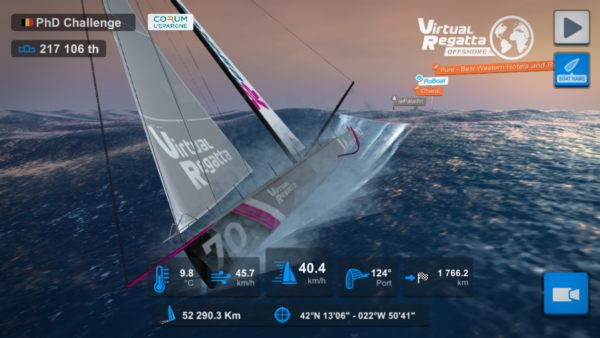 OK. It's a game, but we are talking about more than Pokéman or Fortnite folks. With sailors and sailing fans around the world land-locked this year in lock-down, semi-lock-down, homeworking or under curfew, the Virtual Vendée Globe Regatta took off like wild fire. Over ONE MILLION people raced along virtually.
Virtual foils, digital sails and all that jazz
You could build and modify your digital twin just like you would a real IMOCA 60 sailboat. You raced using real-time data (or as close as possible in some areas of the world). This included weather conditions, winds, currents, waves and positions of ice, land and other obstacles including real and virtual competitors.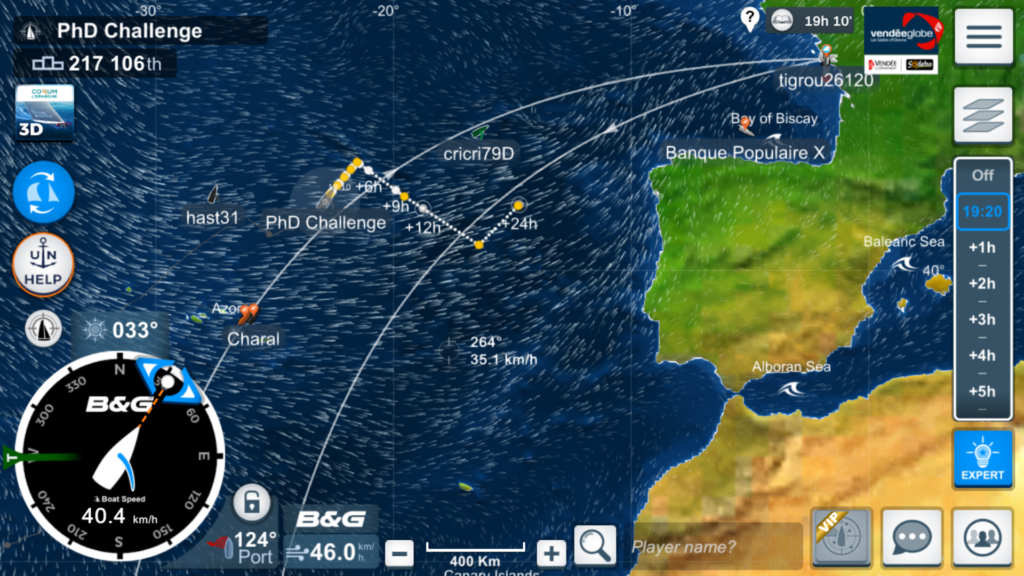 More than one million people couldn't be wrong. The Virtual Vendée Globe is one cool comprehensive digital twin of a very real event.
The Paris-based team behind Virtual Regatta, which started in 2010, is a crack team of sailors, Internet pioneers, gamers, engineers, developers, navigators and designers. Coming from a tech background, these guys really understand the principles of a good digital twin: the connection between a well-simulated computer model and accurate real-world data. This is the secret to a good digital twin – not to mention the fun factor.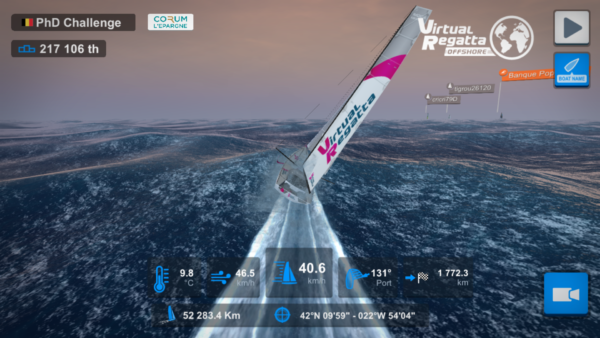 Forget le confinement blues
Over the past months, my husband, his best friend in Paris, and a bunch of their sailing and non-sailing friends raced the Virtual Vendée Globe together. Although, they had lots of fun, none of them got close to winning the digital race or even beating the actual winner. The best of the gang, Pascalito le breton rolled in after 81 days in 110,939th place. My husband, PhD Challenge, is scheduled to finish in a respectable 88 days.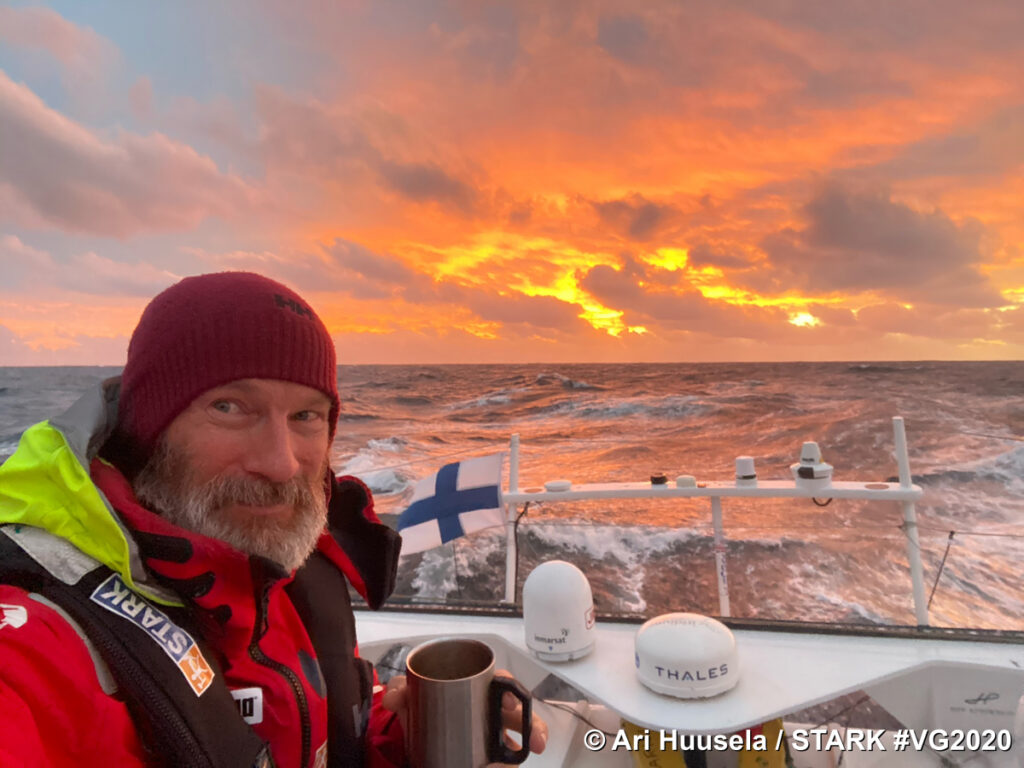 There are still a bunch of virtual and real sailors out there as of blog publication time. You can follow live arrivals here. And by the way, an experienced French virtual racer (and keen real sailor) known as tigrou26120 crossed the virtual finish line first (ahead of the real winners) setting a new Virtual Vendée Globe record of 68 days, 22 hours, 16 minutes.
Digital twins have hit the big time
I dare say with this success of more than one million virtual racers, we've crossed over into a parallel universe that I might dare to dub: integrated reality. The world of simulators and pilot-in-the-loop is no longer just for pilots, racers, and engineers. Digital twins have hit the big time. The real and the virtual co-exist nicely in our new accelerated digital age. Go figure that a global pandemic could be an impetus for something like this…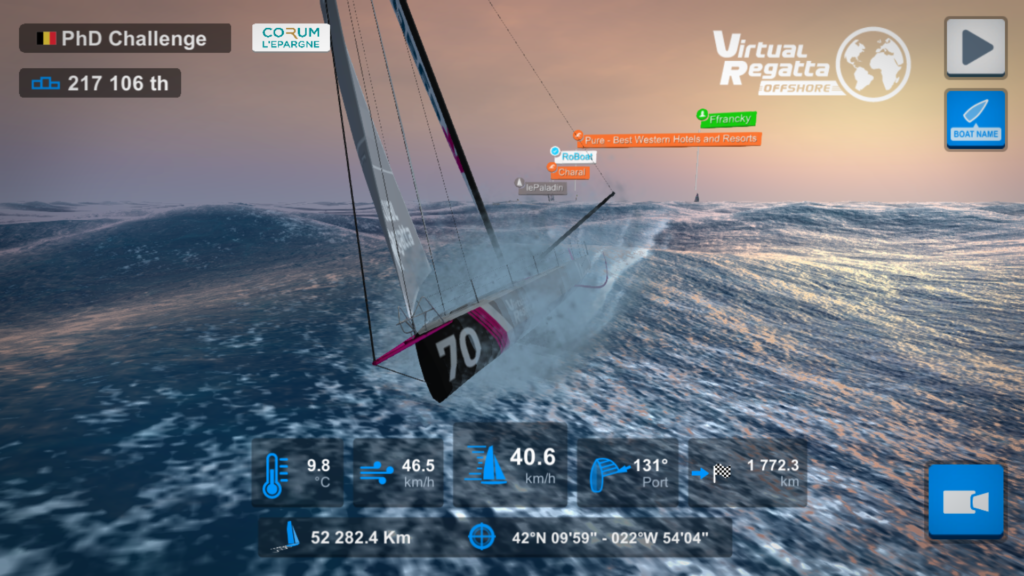 And by the way, did I mention, the guys beat RoBoat? A digital twin piloted by an AI robot who is learning to sail virtually. Digital twins and virtual regattas might be the new norm, but looks like AI sailors have a way to go.
______________________________________________________________________________
A small aside and more cool digital twin stuff to read:
Many of these racing boats are designed with the same software as used in the aerospace industry…

Loick Peyron mentioned this in an article I read while researching this blog.
This is off-topic completely, but it triggered something. A few years back, when I first chatted with Nicolas Damiani from Airbus Helicopters, the sailor and engineer Eric Tabarly came up. A famous French sailor, he was known for his perseverance and dedication to innovation in naval architecture. For example, Tabarly took racing yachts from wood to aluminum, and was one of the first to try out the foil idea — in the 1970s. Nicholas and I were talking about the fact that innovation, like new concepts for sailing boats or in this case digital twins of Airbus Helicopters, just didn't happen overnight. Like sailors in the Vendée Globe, aerospace engineers also had to persevere and try out new concepts constantly as well. Olga just reposted an update on her blog. If digital twins are your thing: it is up next…
______________________________________________________________________________
And if you are an America Cup's fan, make sure to check out Deborah's blog on the Siemens Marine Industry blog site. It is neat historical recap and a deep dive into Siemens solutions for racing yachts.
______________________________________________________________________________
Thanks to the Vendée Globe Press team for image access. And, of course, Team PhD Challenge for the digital twin images.
This article first appeared on the Siemens Digital Industries Software blog at https://blogs.sw.siemens.com/simcenter/vendee-globe-a-digital-twist/