Products
Showing the LMS SCADAS XS at Automotive Testing Expo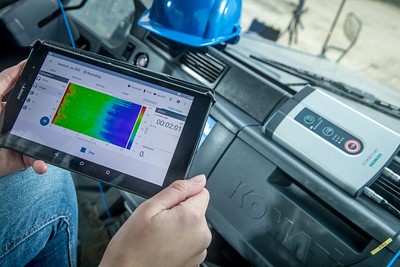 These days passengers expect to feel comfortable in their cars. The bar is set high. As a result, there is an increasing need to check Noise, Vibration and Harshness (NVH) during test drives. Engineers need to ensure passenger comfort on different road surface types, in different driving conditions etc.
Simcenter testing solutions allow NVH testing teams to be highly efficient in their in-vehicle recording task. The LMS SCADAS XS is the most compact mobile measurement system on the market. Its compact design allows easy transport to the location of the test. Visitors at our booth at Automotive Testing Expo were impressed by how light the LMS SCADAS XS felt when holding it in their hand.
The LMS SCADAS XS
The LMS SCADAS XS has been designed so that both engineers and technicians can perform the measurement. In this way, an engineer can focus on other tasks while the technician performs the test drive.
When the engineer performs the measurement, he can view the data online on a tablet using the LMS Smart Scope app. He can validate on the spot that the correct data is measured. This ensures that the engineer will never return to his office after the test drive and only then realize that he needs to re-perform the measurement due to a problem with one of the channels.
This gain in efficiency is highly important as the pressure on NVH teams to perform more measurements during test drives increases.
The LMS Smart Scope app for on the spot data validation
Watch the video below from Automotive Testing Expo 2017 where I demonstrate the LMS SCADAS XS:

Interested in other solutions from the Simcenter Testing portfolio? Stay tuned and watch out for our next video from Automotive Testing Expo Europe!
This article first appeared on the Siemens Digital Industries Software blog at https://blogs.sw.siemens.com/simcenter/showing-the-lms-scadas-xs-at-automotive-testing-expo/