Products
Making it real, making it digital: how to combine marine structural analysis with real-world data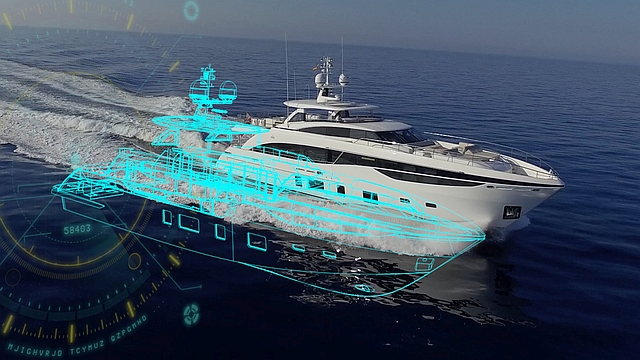 Here at Simcenter we talk a lot about the digital twin, a virtual representation of a real-world object. If we are performing marine structural analysis, a digital twin gives us the ability to test 'what if' scenarios and try out many options in a virtual world before finalizing the design and starting to build. But we need to remember that this virtual structure does not exist on its own: it interacts with, and is affected by, the wider world around it.
In marine design, the real-world object is of course a ship, a complex structure affected by complex external conditions such as waves. Predicting how this structure will respond to these conditions is a vital part of the design process: vessel certification depends on fulfilling strict criteria to ensure safety and stability.
You can use structural analysis tools such as Simcenter 3D to create a digital twin of the vessel, and predict its response in a wide range of structural scenarios. But how can we be certain that this digital twin is realistic? That the responses it predicts are real-world responses?
The answer lies in using real-world data to define and validate the initial virtual model. In this on-demand webinar we take a look at how to combine real-world test data with a structural model in Simcenter 3D, and why this is important in creating a true digital twin. Our speakers cover:
How test data increases the realism of your marine structural analysis and gives confidence in your predictions
Methods for gathering real-world test data for vessels
Examples of vessel structure simulations
Watch now to learn from the experts how Simulation and Test are both parts of the digital twin, and how Simcenter is uniquely positioned to help you reach your design goals.
This article first appeared on the Siemens Digital Industries Software blog at https://blogs.sw.siemens.com/simcenter/making-it-real-making-it-digital-combining-structural-analysis-and-test/