Products
Looking under the hood: AGCO finds superior performance and safety through STAR-CCM+ simulation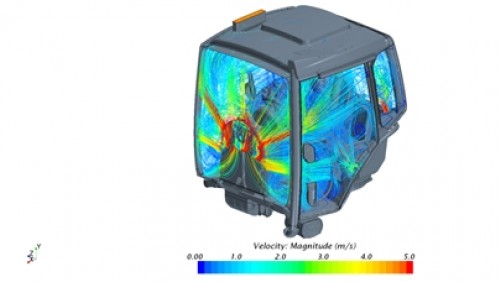 Agricultural vehicles increasingly have to provide a comfortable and safe working environment for operators, some of whom will spend their entire working day inside a cabin. AGCO, a worldwide manufacturer, and distributor of agricultural equipment, recently found itself in need of a simulation tool that would allow them to provide comfort and safety by creating a superior design in a short amount of time.
Although AGCO had previously deployed simulation in the design of their vehicles, they found that STAR-CCM+® software, the industry-leading computational fluid dynamics tool from Siemens' Simcenter Portfolio, provided a superior workflow that allowed them to consider a significantly greater number of design variations, providing a constant stream of engineering data that helped inform the design process.
AGCO saw that STAR-CCM+ software's simulation of underhood modeling provided their engineers with a fast, efficient, and cost-effective solution. But STAR-CCM+ isn't a one-trick pony; AGCO also realized that STAR-CCM+ could be value-added in a variety of applications.
Petri Hannukainen, AGCO's Global Simulation lead, says, "STAR-CCM+ is an ideal solution for our engineers as it accelerates the design process without compromising quality. For many applications, we require the use of engineering software, and STAR-CCM+ offers an equally efficient workflow across the board."
For example, in addition to underhood modeling, AGCO is also using STAR-CCM+ for combustion engine analysis, HVAC duct and defrost performance, as well as cabin comfort. The engineering simulation offered by Siemens allows for the replacement of early physical prototypes and can lead to optimized vehicle HVAC systems in a quicker, more cost-effective fashion. As an added bonus, CFD is also able to predict the complex thermal cabin performance in the vehicle.
The engineering simulation offered by Siemens allows for the replacement of early physical prototypes. Other applications in which AGCO is utilizing STAR-CCM+ include coolant flow and heat transfer; intake and exhaust channels; intake and exhaust manifolds (including EGR mixing); gear lubrication; grain unloading (DEM); and rotary mower.
To learn more about STAR-CCM+ and how it can be the solution to your design issues, visit this page to attend a workshop or webinar that best suits your engineering needs.
(All images courtesy AGCO)
This article first appeared on the Siemens Digital Industries Software blog at https://blogs.sw.siemens.com/simcenter/looking-under-the-hood-agco-finds-superior-performance-and-safety-through-star-ccm-simulation/