It's World Oceans Day. Underwater Basil, anyone?
Today is World Oceans Day. Why not celebrate with something sustainable from the ocean – like underwater basil. World Oceans Day always brings about the most unusual and inspirational topics, like how to make a fresh Italian-styled green pesto with underwater basil. (Watch the video for hints.)
But before we ramble off topic, let's travel to a magical place just off the coast of Noli, Italy. This little beach town is the home of Nemo's Garden and underwater basil. Visible from the surface, it lies about 40 meters from the local beach at a depth of 6 to 10 meters.
The origins of underwater basil
The real story started in the summer of 2012. Sergio Gamberini, founder and president of the Italian diving equipment manufacturer, Ocean Reef Group, was vacationing on the Italian Riviera. Between dives, beach strolls and chats about gardening (his other passion), he was struck by the most unusual idea. Why not try to grow basil underwater? A couple of phone calls later and some help from his team at Ocean Reef Group, and he was experimenting with creating air-filled transparent biospheres 6 meters below the sea. That summer they successfully grew underwater basil.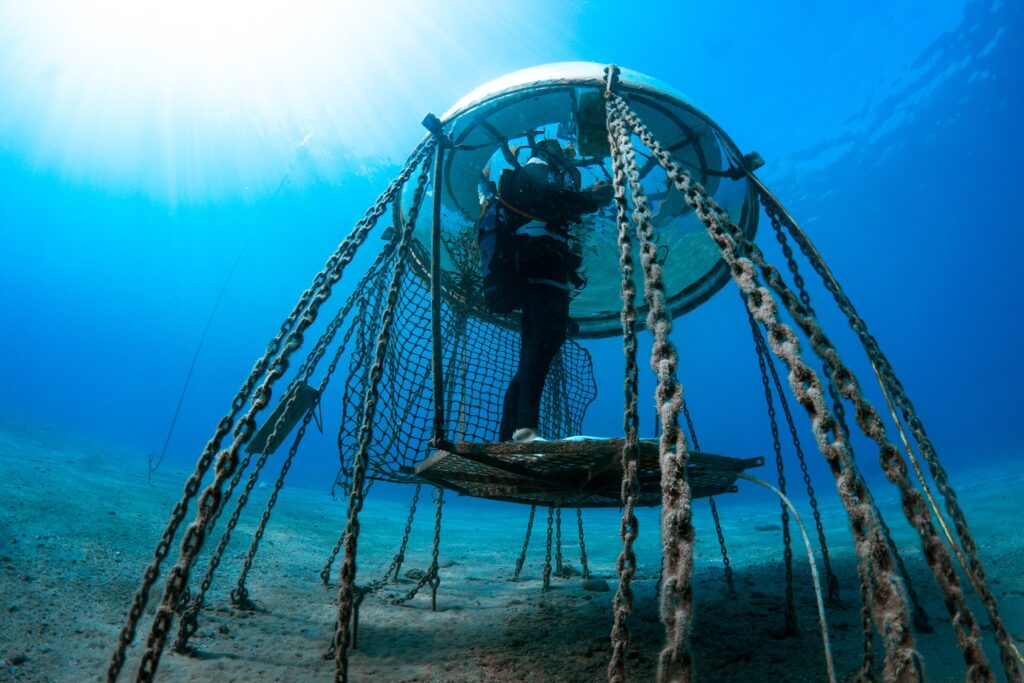 10 years later: Nemo's Garden
Today, Nemo's Garden's is a viable underwater greenhouse complex and pressurized underwater research lab. It consists of 6 acrylic balloon structures that hold approximately 2,000 liters of air and float at different depths. These prototype biospheres harness all kinds of positive environmental factors from the ocean: temperature stability; evaporative water generation; CO2 absorption; an abundance of oxygen; and the ultimate answer to every gardener's bête noire — natural protection from bugs and pests.
Joined on this magical quest by his son, Luca Gamberini, Sergio Gamberini began to grow Nemo's Garden with a team of like-minded engineers, divers and scientists working to prove the viability of cultivating herbs, fruit and vegetables underwater. The first underwater basil was followed by lettuce in 2014. (The team feasted that summer on biosphere-grown salad topped with pesto made from their own biosphere basil. Already the dream was coming true.) Today, the team has grown 50 different crops, including a variety of herbs, tomatoes and even strawberries and orchids. The team also discovered that plants grown in the biospheres are nutritionally richer than those grown traditionally.
Underwater basil for all
Recent stormy winters and the pandemic did set the project back a bit, but the team persevered. Nemo's Garden definitely worked, and they wanted to take it a step further than beachside Noli, Italy. Could you replicate this idea easily so that others could create and install their own underwater gardens around the planet? How could you increase the growing cycle and therefore grow more food for the global population? Could you make the process smarter and less labor-intensive?
Taking the next step with Siemens
Looking for answers to these questions about speeding up innovation and integrating cutting-edge technology, the team reached out to TekSea's Matteo Cavalleroni for insight. After initial discussions, Siemens joined the project, leveraging the Xcelerator software portfolio and services to help Nemo's Garden get to the next stage of development.
"When I first saw the Siemens digital twin technology, I was mesmerized. Nemo's Garden is a one-of-a-kind system. We need to adapt to each environment where it is to be installed. If you can model that environment virtually before you start, you can foresee the challenges and address them in the best way," said Luca Gamberini, co-founder, Nemo's Garden. "We have seen benefits in understanding the flow of water around the shapes of our biospheres and we have a greater understanding of the points of stress on the structure around the biospheres. We also understand how the different interactions of the solar radiation, the temperature and all the physical factors act on the plants. All thanks to the ability of the digital twin to replicate our system."
The mesmerizing digital twin
The virtual aspect of Nemo's Garden starts with a comprehensive digital twin built using Siemens NX software. Covering the complete design, it includes the inner workings of the biosphere and its environment. This is thanks to integrated Siemens Simcenter software, like Simcenter Amesim and Simcenter STAR-CCM+ for the more advanced simulation work. The Siemens digital twin can test out detailed case scenarios of practically any future situation and location. This includes the biosphere's growing conditions and the environmental impact of the biosphere on its surroundings. (This is a very important aspect when considering this year's World Oceans Day theme: Revitalization: Collective Action for the Ocean. BTW: The event will be broadcast live from 10:00 am to 1:30 pm EDT.)
Using the Siemens digital twin, the team is no longer dependent on seasonal trial-and-error, stormy winters or availability of divers and monitoring staff. Biosphere adaptations can be tested in the virtual world, enabling the team to refine the entire design and operating conditions at a massively accelerated rate.
Fresh from the farm
Designing and operating the biospheres are just a part of Nemo's Garden. The team needs to keep track of what and how plants are growing; track progress and conditions; and tally up the harvests. Obviously, this job has been quite hands-on. This means that qualified divers regularly check in on the biospheres and plants; this is complemented by manned onshore monitoring.
More good news? Modern technology can help create a more sustainable and practical business model. Integrating automation and AI technology could mean that Nemo's Garden doesn't need to rely on trained divers to collect data. (Or someone siting behind a monitoring station watching the plants grow, literally.) Siemens lent a hand here as well thanks to its extensive experience in leveraging software and advanced AI technology to automate traditional farming practices.
Existing growth-cycle video and archived reference data from traditional farming practices was studied using the Siemens MindSphere service. This included examining various growth stages and health conditions. From this, Siemens was able to train a machine-learning algorithm to monitor plant growth and environmental conditions within the biospheres.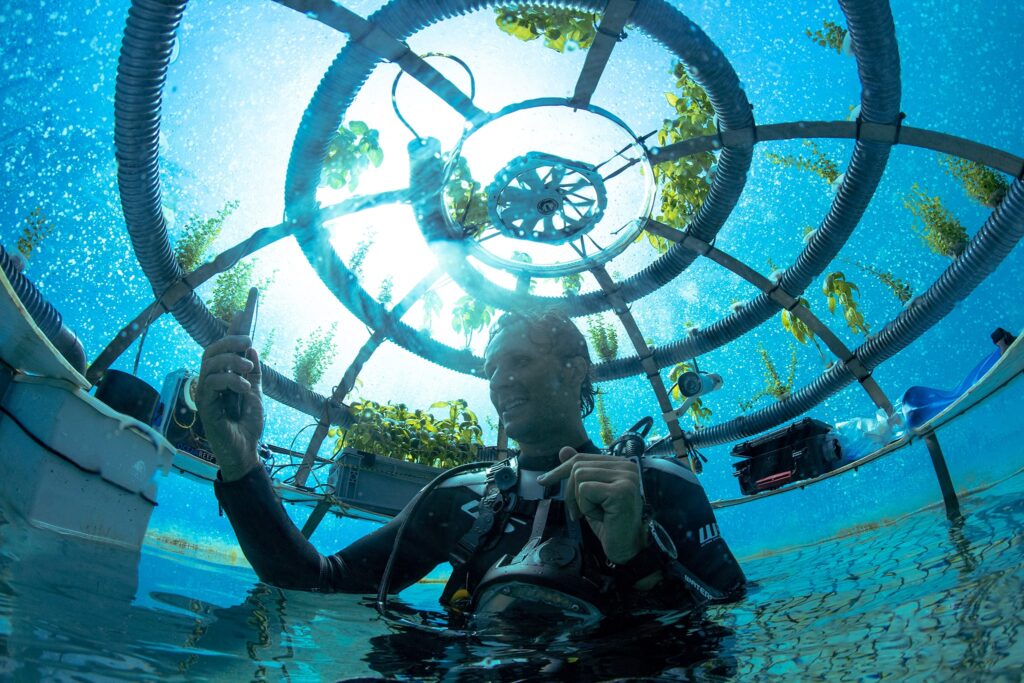 Enter the AI farmer
To start, the team will run this algorithm on Siemens Industrial Edge computing devices in each biosphere. With sophisticated data analytics capabilities, the team will be able to monitor the plants via a cloud-based dashboard throughout the season from anywhere and in real-time. Next season, the plan is to connect the Siemens Industrial Edge devices to actuators to automatically adjust air circulation, humidity, irrigation and nutrition throughout the whole season. Together with Siemens, Nemo's Garden hopes this will be the foundation for a sustainable, global agricultural service, optimized for subsea operations and locations around the world. And just think, this all started with a dream to grow basil underwater.
_________________________________________________________________________________________
More about World Oceans Day? Check out our Thought Leadership blog from my colleague Erin.
This article first appeared on the Siemens Digital Industries Software blog at https://blogs.sw.siemens.com/simcenter/its-world-oceans-day-underwater-basil-anyone/