Products
Disrupt or Be Disrupted: Empowering SMBs with cutting-edge Computational Fluid Dynamics (CFD) solutions
Small and medium businesses (SMBs) are the backbone of the global economy. But make no mistake; if you are an SMB, this does not mean you can sit back and enjoy the ride. The world is changing at a pace never seen before, and the competition does not sleep. And while you are competing with your SMB peers, you either compete with or need to find your place alongside the big players.
The need to gain an edge in product development
On top of the resource constraints and other limitations associated with the size of the business, you face similar challenges to large enterprises. Sustaining and growing a business in this environment is not for the faint-hearted; nevertheless, it is still achievable. And as an SMB, you might be in a more favourable position than you realize. Yes! You are nimbler and more adaptable than the resource-rich, well-structured, large organizations, which is your advantage. You are not bogged down by bureaucracy. You are the race boat that can make the turn when the cruise ship may still be heading toward that iceberg.

You need to be more agile and fast to constantly adapt and continue delivering state-of-the-art products and services to the market. Because in today's world, challenging the status quo and staying ahead of innovation and technology in the marketplace is crucial. Developing state-of-the-art products is an iterative process, and it takes a series of steps that you repeat, tweaking and improving your product with each cycle. As an SMB, you must prioritize gaining an edge in product development.
To sustain and grow your business, you must consider developing a competitive edge in product development. You must engineer state-of-the-art products for your customers. In other words, you must acquire the right talent and tools to generate and analyze thousands of product designs and disrupt the market with the most advanced, high-performance products.
You need to be the disruptor, not the disrupted!
Levelling the playfield with larger enterprises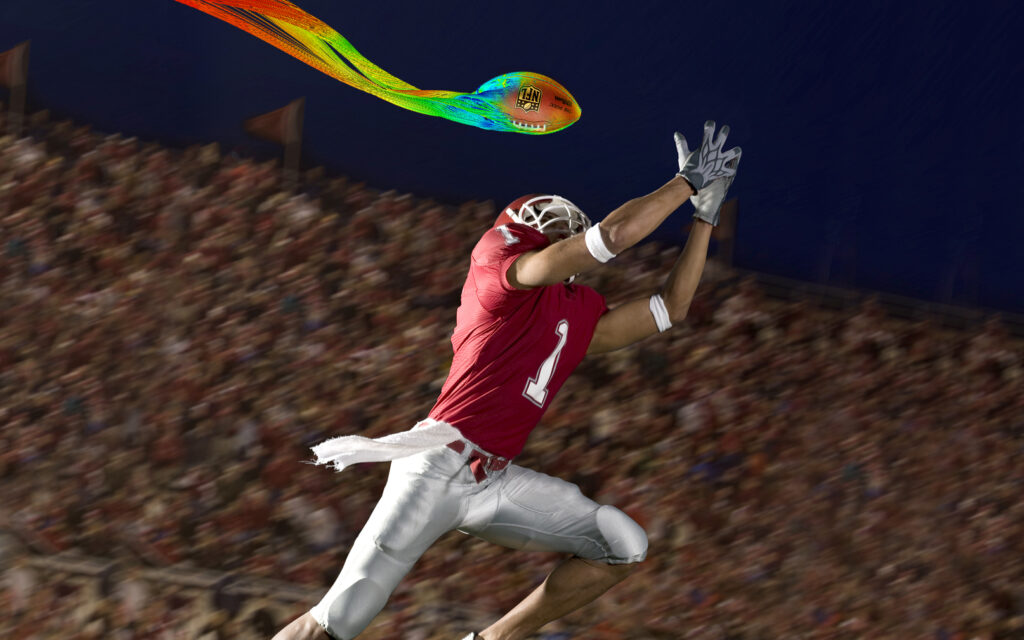 Collectively, these benefits can serve as the ace up your sleeve, offering the edge you need to compete with larger businesses. Add to these benefits the digital transformation of your organization, which can level the playfield with larger enterprises. A KPMG & Microsoft report on digitalization trends for SMBs summarized:
'Thanks to digital tools, SMBs can successfully compete with businesses while retaining the efficiency and flexibility of a start-up.'

KPMG & Microsoft report on digitalization trends for SMBs
What keeps SMBs from reaching their full potential?
As products become more complex, the need to understand and optimize the performance of product designs grows more relevant. SMBs are increasingly taking the challenge of bringing sophisticated products to market. A key to doing so in a fast-paced competitive environment is through simulation.
The challenge of computational fluid dynamics (CFD) simulation adoption
Let's take computational fluid dynamics (CFD) simulation as an example. High-fidelity CFD simulation is relevant for products whose performance relies heavily on fluid-mechanical and thermal performance. As an SMB, you can benefit from embedding CFD analysis earlier in the design process, extending the opportunity to reduce design cycle times and performance issues while driving innovation within your organization.
However, investing in CFD solutions has sometimes posed significant challenges to small and medium businesses, owing to the substantial costs and technical barriers. Elaborating:
Some CFD solutions are disconnected from usual design tools and processes, and the workflows take too long and lack robustness. This botches up any positive impact that CFD otherwise delivers to the product design process
Historically, the license structure and costs for CFD solutions were architected to complement large engineering teams with multiple stakeholders. License fees were based on the size of the hardware used, restraining the extensive use of CFD for organizations with limited resources and making it too expensive for the solutions to be acquired by SMBs
There are significant upfront capital costs for acquiring HPC systems, which can prove to be a burden for any organization
Training existing teams on CFD solutions and hiring specialists pose more significant problems. Utilization of CFD solutions can be delayed while making the necessary arrangements, delaying any return on investment on an already high investment
These significant drawbacks often deter many SMBs from integrating CFD solutions in their design process, making it difficult for them to deliver superior products and compete in the harsh business environment.
So, is there a silver bullet for small and medium businesses?
The simple answer – is yes! Advances in high-performance computing (HPC) on the cloud, graphics processing units (GPUs), and solver technologies are making it easier for SMBs to adopt CFD solutions. Moreover, business model innovations like creative licensing structures combined with state-of-the-art SaaS solutions flip the situation in favour of SMBs, extending them the opportunity to access the best-in-class tools and infrastructure at an affordable price.
Combining cloud HPC and GPU with CFD
Combining cloud HPC and GPU with CFD revolutionizes the capabilities of product development teams, offering increased speeds and scalability through parallel processing, improved accuracy, and enhanced visualization at a reduced cost. Consequently, enabling the simulation of large and more complex systems, which is otherwise impossible with existing workstations.
Automated CFD workflows and design tool integrations
As mentioned previously, traditional CFD workflows slow down the design process as they take too long and are often disconnected from design tools and processes. Automated workflows and design tool integrations address this by enabling companies to efficiently model design changes and explore possibilities.
More accessible CFD solutions for organizations with limited resources
Such features make CFD solutions more accessible for organizations with limited resources, addressing the concerns of upfront capital costs and compute power requirements. CFD solutions leveraging cloud HPC technology are designed and architected to provide users with robust and dependable computing performance. For instance, the Simcenter Cloud HPC solution extends access to unlimited cores, enabling SMBs to utilize more extensive, robust hardware systems to run simulations for complex, more advanced products.
Built-in customer success
Investing into Siemens simulation software solutions means more than just getting access to a piece of code. Siemens offers deep expertise on every level to make your simulation engineers more productive: From our domain ​expertise to identify and deliver successful business outcomes, through the ability to architect, deliver and support the "right" solution, to the delivery of outstanding training and best practices, with us, you will benefit from best in class support at all levels of your CFD simulation adoption. Leveraging our digital learning platform Xcelerator Academy, our Dedicated Support Engineer model and extensive partner ecosystem, we enable you to realize maximum value from your CFD software investment.
Real-world results: Story of Impact
Engineering consultancies like R&D Computation Fluid Dynamics (R&D CFD) deploy CFD solutions to support their clients during the preliminary steps of the process and product development, taking into account thermo-fluid dynamics aspects during the entire design and development pathway. For a customer looking to make better gelato, R&D CFD used Simcenter STAR-CCM+ to predict how the ice cream could look before being stored in the boxes. The consultancy also helped their client maintain consistency across production lines using another Siemens product, HEEDS. Watch the video below to learn more.
Simcenter offers the CFD solution to make you the disrupter
In summary, small and mid-sized businesses (SMBs) are essential to the global economy. Still, they must constantly adapt and innovate to compete with larger enterprises in the current environment. SMBs have the advantage of being nimbler and more adaptable than larger businesses, but they will face similar challenges in today's fast-paced and transitional market. Digital transformation can level the playing field for SMBs, and simulation-driven product design can offer significant cost benefits for SMBs looking to optimize the performance of their products. However, traditional CFD solutions can pose considerable challenges for SMBs, including high costs and a lack of integration with usual design tools and processes. SMBs must find ways to overcome these challenges and continue to innovate to reach their full potential and compete with larger enterprises.
The good news is that Simcenter offers a high-fidelity CFD solution that is easily accessible – enabling you to go faster while modeling the complexity of today's products. To make you the disrupter, not the disrupted.
Find out more about Simcenter STAR-CCM+
This article first appeared on the Siemens Digital Industries Software blog at https://blogs.sw.siemens.com/simcenter/empowering-smbs-with-cutting-edge-cfd-solutions/