Daimler Truck uses Siemens Simcenter to take vehicle design optimization to the next level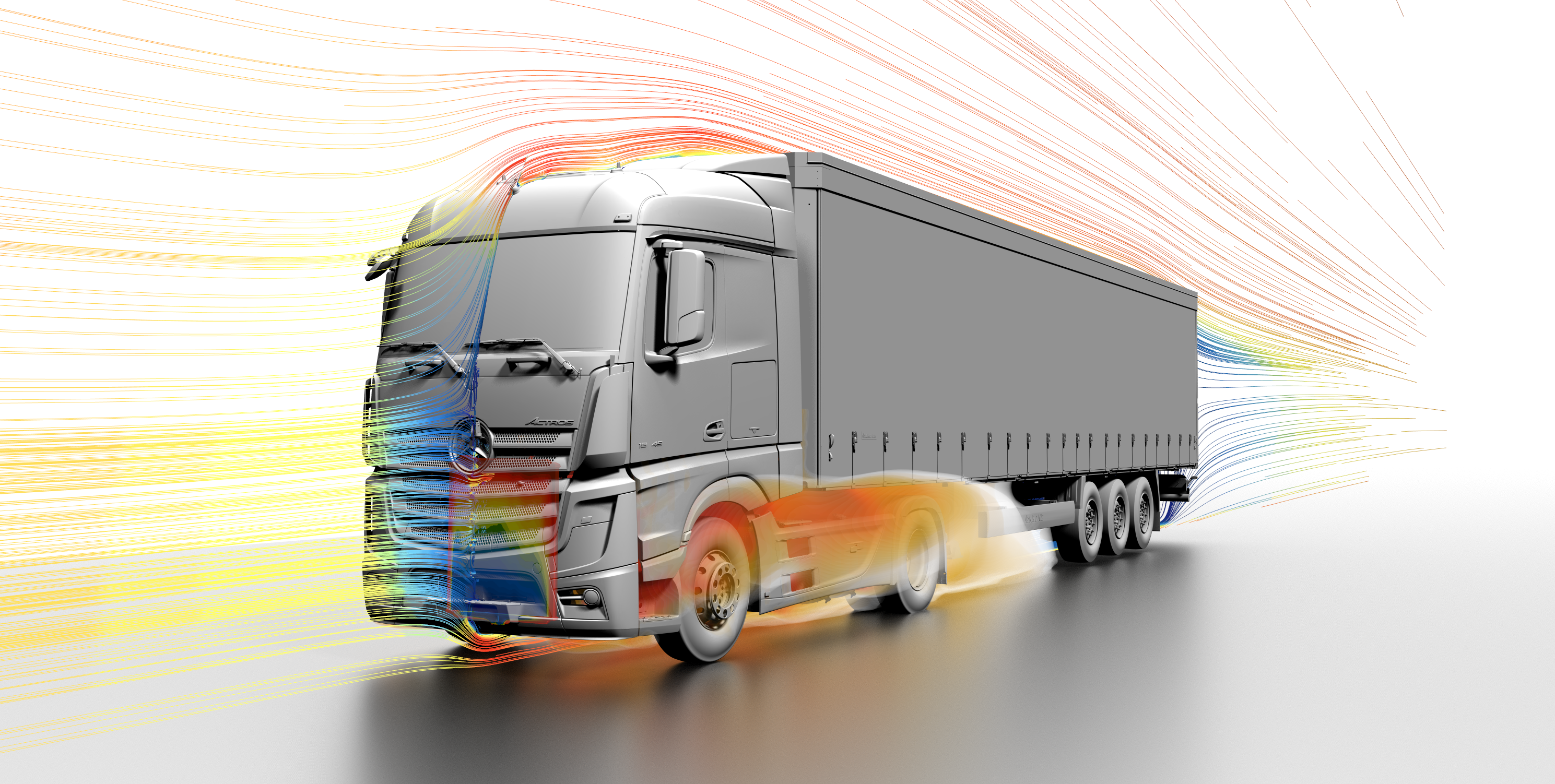 Keeping up with demand
Daimler Truck AG is the world's largest truck and bus producer, leading the market in Europe, North America, and Asia. With 35 main offices around the globe and more than 100,000 employees working across several brands, technology is key to their collaboration and innovation.
And as future markets are demanding CO2-neutral and autonomous vehicles, development is becoming even more challenging. Not only do manufacturers need to continue to produce competitive vehicles with efficient conventional engines, but they also need to offer fuel cells and electrified powertrains. Smart vehicles capable of self-driving or platooning also require additional electronics and sensors that need to be optimized during design. As the market moves further towards more environmentally friendly and innovative vehicles, manufacturers need to keep up and adjust their offerings while still producing more traditional products.
Simulation enables innovation and optimization in fluid and thermal design
In a recent survey of 177 manufacturers, Tech-Clarity, a technology research firm, found that 99% of companies reported benefits by using simulation to innovate and optimize designs in less time. The research study found that the latest simulation software gives companies a competitive advantage by enabling faster collaboration between teams, reducing testing and development times and delivering better products. Crucially, top performers were found to be nearly twice as likely as others to have effective processes in place to optimize their products, and 74% said that one of the benefits of using simulation is better products.
This is why Daimler Truck AG has adopted Siemens' Simcenter STAR-CCM+ software to transform its CAE development process to a full digital twin-driven Multiphysics environment.
Simcenter STAR-CCM+ covers all the fluid and thermal aspects of design, allowing engineers to look at multi-attribute trade-offs to minimize energy usage while maintaining performance and ensuring efficient cooling of batteries and electronics. This includes analyzing vehicle drag as over 52% of fuel use is down to the power needed to overcome wind resistance. Simcenter STAR-CCM+ facilitates the reduction of drag in the design without impacting the cooling air or styling of the vehicle. Multi-phase simulation also helps improve the comfort factor of vehicles – reducing soiling on side windows, mirrors, and sensors to improve user visibility and autonomous system performance in harsh weather.
Recently, we published another post on vehicle thermal management and we strongly suggest that you take a look at it you're interested in the subject.
More than just software
As well as adopting the software, Daimler Truck's partnership with Siemens gives them a dedicated support engineer to aid in implementing Simcenter STAR-CCM+ and help to integrate it with their existing systems and processes. This dedicated resource will train Daimler Truck engineers to create expert simulation specialists who will help design future vehicles. In addition to the dedicated support engineer, Simcenter Engineering Services is readily available with experts that can define best-in-class simulation technologies as well as develop workflow automation tools that will maximize the efficiency of design teams.
Simcenter STAR-CCM+ is part of Siemens' Xcelerator Portfolio. Xcelerator enables a full digital transformation, incorporating a comprehensive digital twin along with seven digital threads facilitating cross-domain engineering, virtual validation, and continuous product and process improvement. It provides both personalized and adaptable solutions that easily scale as needs, or demand grows.
"We are proud to have Daimler Truck as the newest member of our ever-expanding customer family," said Edwin Severijn, Sr. VP and General Manager, EMEA, Siemens Digital Industries Software. "Digitalization is critical to sustainable industrial innovation in the transportation sector and by providing insight into the real-world performance of products, Simcenter STAR-CCM+ can accelerate innovation for a better tomorrow."
Find out more
Simcenter has a wide range of simulation and test solutions for the automotive and transport industry. To learn how Siemens Simcenter helps engineer innovation, please take a look at:
Reducing vehicle thermal management costs & time to market with Simcenter Engineering Services
VDL: aiming for zero-emission buses
NEVS AB: building energy-efficient mobility systems for mega-cities
Dr. Schneider Unternehmensgruppe: Optimizing product design
Hyundai Mobis: Accelerating sensors design and algorithm validation
Karma Automotive: simulation and test combination for excellent NVH performance
Getting more accurate vehicle energy management results
Hyundai Motor Company: putting transmission development into higher gear
This article first appeared on the Siemens Digital Industries Software blog at https://blogs.sw.siemens.com/simcenter/daimler-truck-uses-siemens-simcenter-to-take-vehicle-design-optimization-to-the-next-level/