Products
Cape Horn Engineering use marine CFD simulation to optimize cutting edge vessels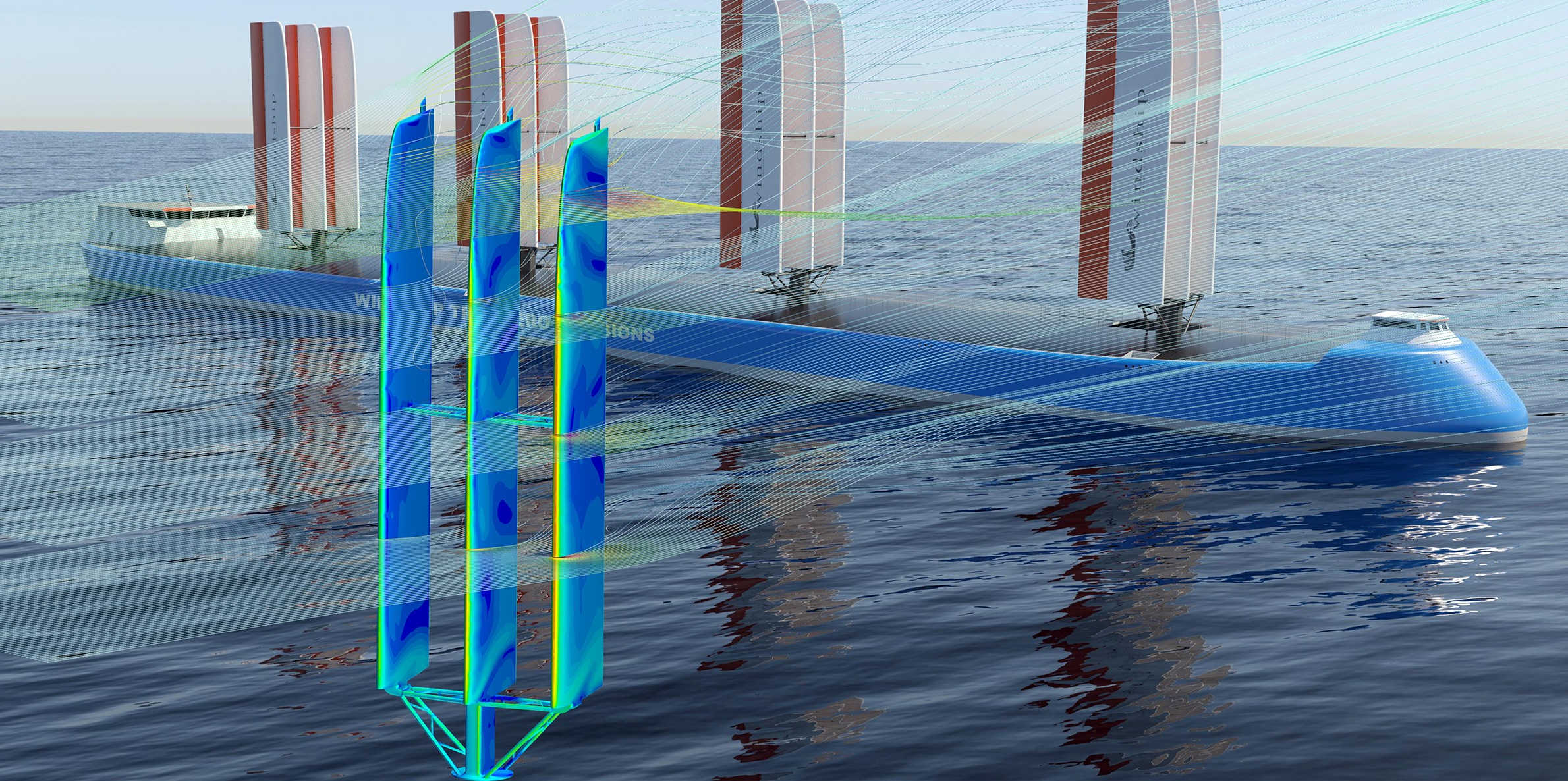 As the industry looks to the future, marine CFD simulation is now a vital tool for understanding performance and developing new designs. Our latest webinar covers this topic in detail.
In my view, the marine industry can benefit more than any other industry from CFD simulations

Dr-Ing Rodrigo Azcueta
Cape Horn Engineering is a specialist marine CFD consultancy, led by Dr-Ing Rodrigo Azcueta. They use Simcenter STAR-CCM+ for performance prediction of racing yachts, commercial ships and renewable energy structures. Rodrigo is a keen sailor himself and has over 30 years' experience at the cutting edge of ship design. In this on-demand webinar, Rodrigo presents results from a range of recent projects and shows why he considers marine CFD simulation to be a vital tool in performance prediction for marine applications. Topics covered include:
Hydrodynamics and Aerodynamics simulations for America's Cup
Sail design and optimization
Yacht performance during manoeuvring
Seakeeping and performance in waves
Work carried out as part of the Wind Ship project
If you are interested in using CFD for marine applications and making the most of the tools available to you, I highly recommend watching this webinar. To whet your appetite, here are three points I noted from Rodrigo's presentation.
Details and data, not just pretty pictures
CFD has famously been called 'Colorful Plots for Directors', implying that results may look good but have little engineering value. That could not be further from the truth.  Take a look at this example, just one of the results presented by Cape Horn Engineering. It shows a superyacht executing a turning circle manoeuvre, moving via self-propulsion within the simulation, with rotating rudders and fins.
You can see the level of detail captured and the amount of data available for investigation, just in this one simulation. From the wave pattern as the yacht turns, to the forces on the hull and appendages, and data such as vessel speed and drift or heel angles. A multiphysics code like Simcenter STAR-CCM+ gives you both quantifying data and visual data to further understand what is happening and makes it quick and easy to investigate alternatives.
Full-scale marine CFD simulation is the future
We have discussed before why we think full-scale CFD simulation is the way forward. Rodrigo agrees with this: Cape Horn Engineering performs all their hydrodynamic simulations on full-scale geometry. This removes the need to extrapolate the results from model-scale to full-scale. Using full-scale CFD also means you can investigate a much wider range of scenarios. This is particularly useful for sailing yachts. These sail in such a wide range of conditions and experience extreme heeling and pitching angles and speeds, making it almost impossible to investigate their performance using a model in a towing tank. Simulation is now widely used in racing yacht design – in fact, the most recent America's cup did not allow any towing tank or prototype testing, so the yachts were designed entirely with digital simulation.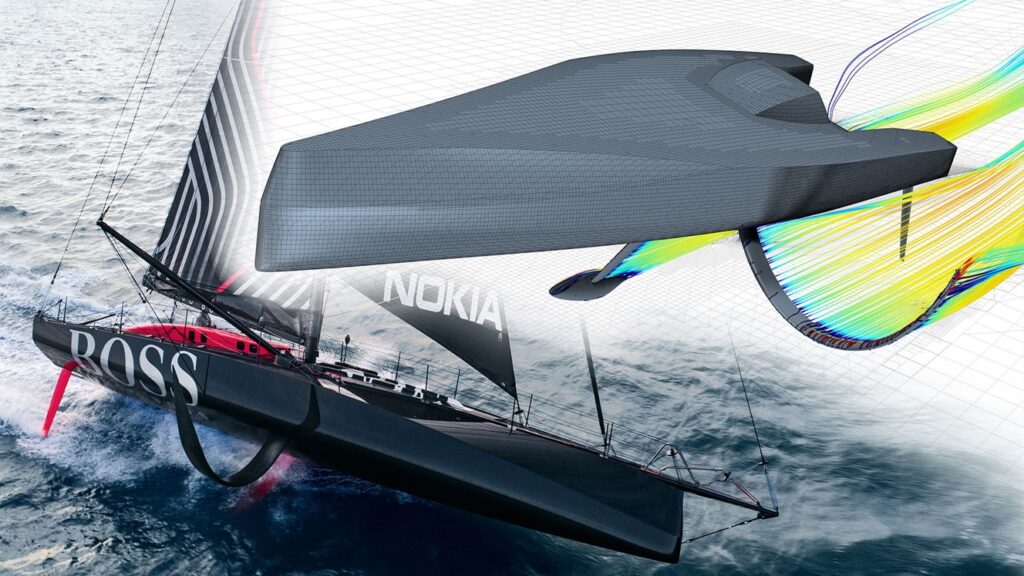 As well as working on previous America's Cup challenges, Cape Horn Engineering worked with Alex Thomson's HUGO BOSS in recent Vendée Globe races. They used their expertise to simulate the hydrodynamic performance of the foils and daggerboards. This can only be done with full scale CFD simulation, as model scale dynamics on structures like these are significantly different. And this approach works: as Rodrigo points out, the HUGO BOSS 5 and 6 boats were probably the fastest in both recent Vendee Globe races.
Thinking outside the box for future ship designs
Shipping needs to reduce carbon and greenhouse gas emissions. This is partly driven by legislation, but also by ship owners and builders themselves. The ship of the future will need to incorporate both new technology (such as alternative fuel sources) and be even more efficient in overall form. Now is the time for 'what if' projects. There is no need to carry on with small alterations to existing designs, instead research teams are thinking 'out of the box' and looking at optimizing the complete ship.
One example of this is the Wind Ship technology project, which is investigating fitting cargo vessels with solid wing sails. The initial design for these predicted that fitting them would provide dramatic fuel savings of 30%. Cape Horn Engineering ran an extensive CFD program, to investigate the aerodynamic performance of the solid wings. They ran over 1000 simulations on a variety of designs and operating conditions. The final optimized design showed an additional 2% improvement in the aerodynamic performance for the wing assembly.
We will see more of these innovative projects in the coming years. Marine CFD simulation will certainly play an essential role in understanding performance on novel configurations and rapidly investigating alternative designs.
Learn more
To learn more about these ideas, and hear from Rodrigo in his own words, watch the webinar recording. You can also read a previous interview with Cape Horn Engineering in our Marine special report.
For more on racing, read about Jenn's experience of the virtual Vendee Globe, and what this means for digital twins.
Want to watch more? You can find all our marine webinars here.
This article first appeared on the Siemens Digital Industries Software blog at https://blogs.sw.siemens.com/simcenter/cape-horn-engineering-use-marine-cfd-simulation-for-cutting-edge-vessels/