Products
Bringing together the right team players to stay in the innovation race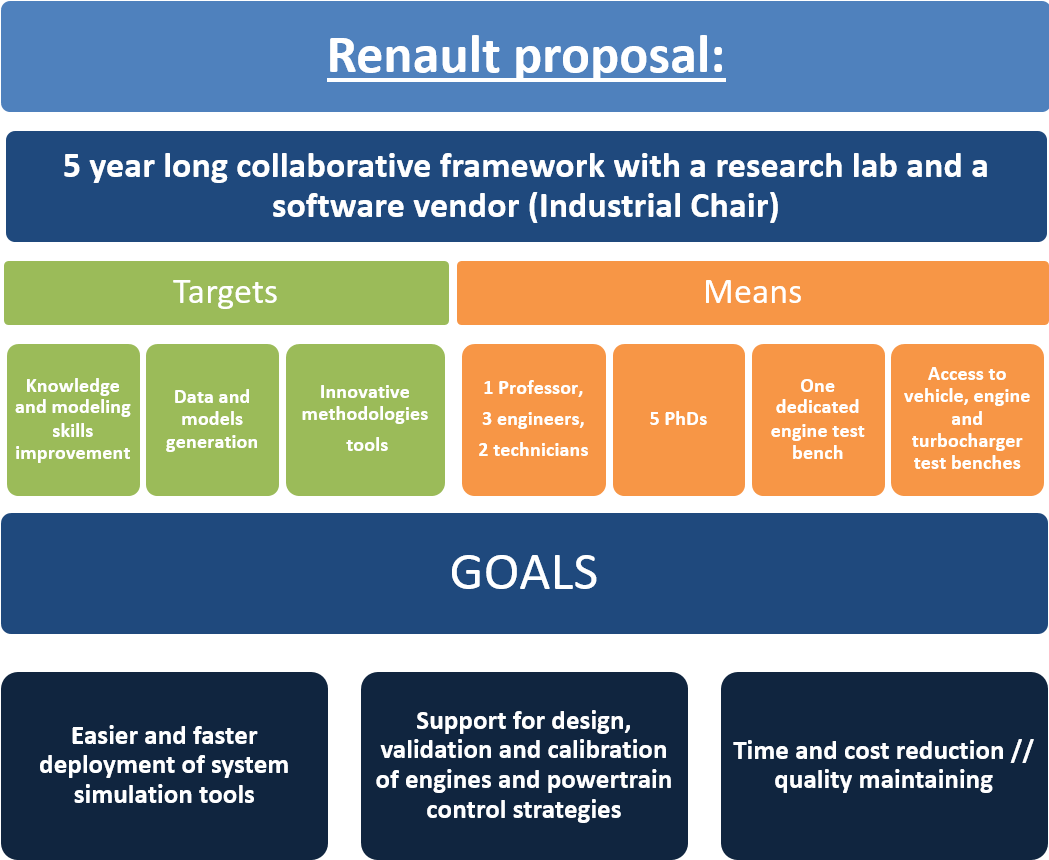 Automotive OEM's must anticipate and adapt to the trends of tomorrow. With regards to security, environmental regulation, intelligent/autonomous vehicles, industrial players know that some technological paradigms are popping out. The growing complexity of systems, the ever increasing constraints of shortened development cycles and controlled costs, as well as the stricter regulation impose new rules. Staying in this innovation race and keep competitive edge requires the implementation of new engineering processes. And the development of controlled systems makes no exception.
One possible key to success is to bring together the right team players into an industrial chaire. The concept, in France, corresponds to the action pushing a research lab to collaborate with one or more industrial partners in order to strength innovative and strategic research for high-level priority fields in the French industrial environment. More globally speaking, it is about a research-oriented partnership where each parts collaborate with the same decision-level. It allows to combine unique skills, aiming to develop new system concept and design. This collaboration approach exists in very various domains implying research such as finance, science, medical, aeronautics or still environment.
This methodology has been recently deployed on a 5-years collaborative project gathering Renault, Siemens PLM Software and one of Ecole centrale de Nantes research lab to create strong synergies.
In practical terms, the goal of such a collaborative project is essentially to…


Develop knowledge and modelling skills,


Generate data and models,


Propose innovative methodologies and tools,


…targeting easy and fast deployment of system simulation tools and plant modeling. Those deployments will support the system control design, validation and calibration and hence, to reduce the process time and cost while preserving the quality standards.
In this industrial chaire, each parties has a clear role and contribution to the association…


The car manufacturer, as the leader, pilots the project and provides some inputs including requirements, data and parts.


The research lab offers its knowledge, competences in the domain and its resources (dedicated test benches, PhD Doctorates).


The software editor contributes by providing the software platform for the development and some system simulation implementation skills, with knowledge about the software market and end-user needs.


The current evolving environment for the automotive OEMs, and here at Renault, generates critical challenges in terms of technology implementation in powertrains with an inherent explosion of the number of actuators and subsystems to control. From this, the engine and powertrain strategies development, validation and calibration cannot be supported anymore by physical testing only. The number of degrees of freedom to be explored is definitely too large to be addressed by pure test-based processes. The automotive industry is forced to migrate to model-based-control engineering to limit the costs and the risks related to the development of complex systems. Furthermore, autonomous driving development will require more than 400 million of kilometers to validate its safety. Only Model-Based-Design (MBD) simulation can resolve this constraint. MBD is being deployed in the automotive industry aiming at developing products thanks to a strong support from system simulation tools.
At Renault, system simulation has been deployed for a long time, always supported by strong in-house system modeling competences. The continuous development, implementation and capitalization of new plant modeling capabilities, in system simulation software, allow the Renault control teams to address the continuous changes of trends, technology and regulations. That's the reason why, Renault set up in 2013 a new collaborative framework in the form of a so-called industrial chair to support and further structure these industrial challenges.
The contribution of Siemens PLM team is to provide the software platform Simcenter Amesim, part of the Simcenter portfolio, for the developments. They also provide system simulation implementation skills, support, with knowledge about the software market and end-user needs. Siemens PLM Software had to adapt its processes in order to integrate the research lab prototypes and developments. Furthermore, a new methodology had to be created to ease model and code sharing during the collaboration time. In return, Siemens PLM team is able to provide up to date models, responding to the market needs, in Simcenter Amesim.
Interested on this collaborative project and the achievements? Check the integral technical paper.
This article first appeared on the Siemens Digital Industries Software blog at https://blogs.sw.siemens.com/simcenter/bringing-together-the-right-team-players-to-stay-in-the-innovation-race/