Products
Aerospace aerodynamics with Simcenter STAR-CCM+ CFD simulation
Aerodynamics in a post Covid-19 world
Empty planes. Border restrictions. Mandatory quarantines. Slashed demand for aircraft. The global coronavirus pandemic of 2020 has ravaged the Aerospace industry unlike any other global event in history. Just one look at the ICAO chart on world passenger traffic evolution shows the unprecedented decline in demand – A 60% decline in total passenger traffic.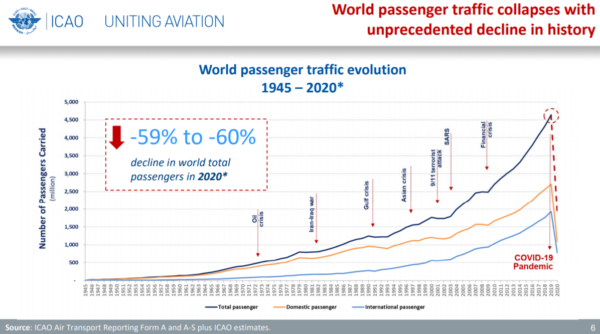 On-board HEPA filters, mandatory face masks and data showing minimal infections from over 1 Billion fliers since the pandemic started are encouraging signs. Vaccines are on their way. The aerospace industry and aviation will recover. The post-pandemic recovery in the industry will be driven by a focus on economic viability, efficiency, greater regional transport and innovations like air taxis and delivery drones.
In a post-pandemic world, three main industry trends will also drive innovation in the aerospace industry:
Stricter regulations

To fight climate change, the International Air Transport Association (IATA) has a goal of 50% reduction in CO2 emissions by 2050.
The International Civil Aviation Organization (ICAO) is aggressively pushing aircraft noise reduction goals and challenges to answer increasing community pressure.

Increased competition

Technology has brought down the barrier of entry leading to many new manufacturers on the market, specially in small and regional transport aircraft.

New aircraft concepts

Perhaps the most important trend is the new aircraft and propulsion concepts that are coming quickly to the market. Air taxis are becoming real with the increased focus on urban air mobility (UAM), hybrid-electric propulsion concepts, new lightweight materials and structures and the rise of drones.
Aircraft aerodynamic performance is the main design driver in the aerospace industry, whether you are designing a commercial aircraft, a military aircraft, rotorcraft or spacecraft. Aerodynamics affects not just the airframe but also propulsion, environmental controls, landing gears, ice protection and avionics among others.
Predicting real-world aerodynamics with CFD simulation
Over the last 15 years, simulation has played a major role in aircraft design. High-fidelity, multiphysics computational fluid dynamics (CFD) simulation is a central part of any aircraft program today. CFD simulation is used in aerodynamic design to:
Predict aerodynamic loads & performance across the design envelope
Stability & control characteristics
Impact of airframe modifications & sensors
Testing new, innovative designs virtually before building a prototype
Single-point simulations are a thing of the past today. So is using multiple tools for your CFD simulation process.
Today, even smaller companies are running hundreds of CFD simulations on the cloud to predict aerodynamic performance. The secret? Advances in CFD simulation software, computing hardware, cloud computing and innovative licensing models.
Aerospace aerodynamics CFD in Simcenter STAR-CCM+
Some of the most recognizable aircraft today are designed with Simcenter STAR-CCM+, the Multiphysics CFD simulation software from Siemens Digital Industries Software. But not just today's aircraft. Simcenter STAR-CCM+ is also helping bring tomorrow's Aerospace innovations like the Amazon Prime Air drone.
"Our focus should not be on designing and developing HPC infrastructure, but on designing and developing aircraft. By choosing Simcenter STAR-CCM+ on AWS for our workflow, we were able to put the focus where it belongs."

Vedran Coralic, Senior Applied Scientist, Amazon Prime Air
But why do leading Aerospace organizations choose Simcenter STAR-CCM+ for aerodynamic design? The answer lies in two key requirements for aerodynamic design: Accuracy & Productivity.
With an accurate aerodynamic digital twin delivering performance prediction and design improvements in a short time, our simulation and testing solutions are key to designing better aircraft in the current landscape.
Improve airframe aerodynamics
The first step to improved fuel efficiency and reduced noise lies in efficient aerodynamic design – reduced drag and increased aerodynamic stability. Aerodynamicists rely on CFD simulation with Simcenter STAR-CCM+ to predict the airframe aerodynamics – lift, drag, flow separation and stagnation – across the entire flight envelope. Accurately predicting airframe drag in transonic conditions is key in aircraft design. Improving drag by a single count can save $100,000 worth of fuel savings per aircraft per year. Simcenter STAR-CCM+ is well-validated for drag prediction and can accurately capture flow separation and drag coefficients for the standard Common Research Model (CRM).
At low speed, high lift conditions, predicting drag and the onset of aircraft stall is critical for aircraft safety. With Simcenter STAR-CCM+, aerodynamic groups can predict stall onset (Alpha Max) within 1% of the Common Research Model test data.
---
---
Faster aerodynamic database development
For aircraft design teams, developing the aerodynamic database is a major, time-consuming part of design. A fully automated, aerodynamic database development with Simcenter STAR-CCM+ CFD simulation helps teams save time, capture key aerodynamic features and evaluate low and high speed performance easily. Companies now run Simcenter STAR-CCM+ on the cloud utilizing tools like automatic CAD cleanup, adaptive mesh refinement and robust flow solvers. The result? An automated aero database development process to run up to 100,000 CFD simulations in a year on the cloud.
---
"Simcenter STAR-CCM+ has contributed to the receipt of numerous FAA-approved certificates. It has a role in every single certification program at TLG Aerospace."

Andrew McComas, Engineering Manager and Aerodynamicist
---
Better propulsion system efficiency
Aerodynamics plays a huge role in propulsion systems, helping improving fuel economy, reduce drag and minimize thermal issues. Simcenter STAR-CCM+ is used by aircraft manufacturers for applications like thrust reverser design, engine integration, inlet design and fuel system designs.
With CFD simulation in Simcenter STAR-CCM+ and design exploration in HEEDS, design teams are:
increasing turning vane efficiencies in weeks
reducing engine integration time by 500%
improving inlet aerodynamic performance for scramjet and ramjet hypersonic propulsion
evaluating fuel sloshing, refueling aerodynamics and fuel pump performance.
---
---
Innovative rotorcraft/urban air designs
Air taxis are here finally. The revolution in urban air mobility (UAM) has brought innovative designs, few of which look like existing aircraft. With an 80% failure rate, UAM companies need to get their innovative designs right early. Simcenter STAR-CCM+, part of the Siemens Startup Program for Aerospace & Defense, is helping innovative companies like Volocopter, Martin UAV and Paragon VTOL bring innovative UAM designs to market faster. Companies use Simcenter STAR-CCM+ CFD simulations to accurately analyze rotor performance, hover and wake, hub and fuselage aerodynamics and to evaluate hundreds of VTOL/UAV propulsion designs.
---
Delivering the world's first true ducted fan VTOL UAV, the V-Bat, is no mean feat. Martin UAV came up with the innovative design by analyzing 1000s of designs with CFD simulations from Simcenter STAR-CCM+ and design exploration with HEEDS. The final design increased hover thrust by 5.8% while decreasing cruise power by 3.8% and increased flying time to more than 8 hours.
---
Increased cabin comfort, safety and ice protection
Improving the cabin experience is a critical differentiator for OEMs. Simcenter STAR-CCM+ enables Multiphysics CFD simulation and design exploration of the aircraft cabin space including human physiological models, avionics cooling, heat exchangers and cabin airflow. With design space exploration, manufacturers like Airbus can reduce turnaround time by 90% to improve aircraft environmental control system (ECS) performance. Simcenter STAR-CCM+ is also used in icing prediction and ice protection system design with 3D ice accretion modeling for all icing conditions.
---
---
Improving aircraft aerodynamics with CFD simulation
Simcenter STAR-CCM+, part of the Simcenter portfolio from Siemens, offers a full-suite of high-fidelity simulation tools to bring innovative aerodynamic solutions to market faster. With an accurate aerodynamic digital twin, many of our customers are lowering development cost and time while bringing better aircraft designs to market.
This article first appeared on the Siemens Digital Industries Software blog at https://blogs.sw.siemens.com/simcenter/aerospace-aerodynamics-cfd-simulation/