Podcasts
Quality is your Competitive Advantage
Digital Transformation in Manufacturing helps to enable Quality as your competitive advantage
Listen Below:
Cost has historically been considered an important driver for every business, yet companies at times end up reducing costs at the expense of quality. But, as many manufacturers who have faced quality compliance issues would agree, ensuring quality is the best way to control unexpected costs. By digitalizing quality management, companies can easily turn this integral aspect of production into a competitive advantage.
Industry 4.0 – The Future of QMS Tools
The Digital transformation for quality management is a 5-episodes mini-series podcast, part of Where Today Meets Tomorrow, which will focus on the value of quality management in the digital era and the future of QMS tools.
In this second episode Bettina Pruemper is joined by Corsin Buerer, Head of Production and Quality Products at Siemens Digital Industries Software. He will explain how digitalization helps turn quality into a competitive advantage in the manufacturing industry and what value drivers are promoting the adoption of digitalized quality management.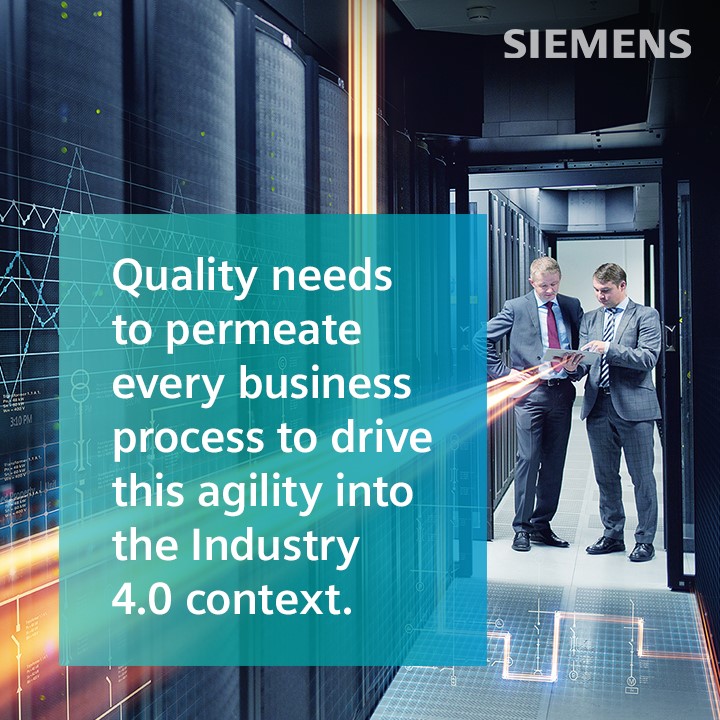 Quality processes
In this episode, you will learn:
The role of quality in the age of digitalization (03:49)
The four main categories of value drivers for embracing QMS processes (06:05)
How to digitalize quality in a manufacturing company (08:26)
Understand Siemens vision on quality and how it's embedded into our solutions (11:47)
Benefits enjoyed by customers adopting Siemens's solution (13:23)
In case you missed the first episode, go back and listen to it!

Stay tuned for the next episode on January 24th!
Connect with Corsin Buerer:
Connect with Bettina Pruemper:
If you are interested in Quality Management topics, you might also check:
[00:11] Bettina Pruemper: Welcome to Where Today Meets Tomorrow. I'm Bettina Pruemper, and I'm your host with Siemens Global Marketing. I will present the special podcast miniseries as part of Where Today Meets Tomorrow, where we talk about how to realize innovation and digital transformation in the context of the digital age. You're going to listen to a specific five episodes miniseries dedicated to "Digital Transformation for Quality Management". Today, in our new episode, we will focus on quality as a competitive advantage, which basically means we'll talk about the manufacturers' challenges and dilemma on how to orchestrate the innovation program for their quality processes. But before we get started, I would like to mention that in our previous episode, we talked about the significant trends that are forcing companies to pursue a digital strategy for quality. There are many exciting opportunities to achieve new levels of quality as manufacturers embrace this transition. If you missed that episode, I suggest you take a listen. Today, we are going to discuss the importance of the digitalization approach for quality, its competitive advantage, and benefits making this digitalization component not just valuable but essential in the new normal. Digitalizing quality management means much more than simply replacing a paper-based system, as you will soon find out.
[01:36] Bettina Pruemper: For navigating this topic, I'm pleased to introduce my special guest, Corsin Buerer, who is Head of Production and Quality Products at Siemens Digital Industries Software. Welcome, Corsin. Thanks for taking the time to talk to us about how digitalizing and innovating quality processes across value chains is becoming a manufacturer's competitive edge. But first, Corsin, how are you?
[01:59] Corsin Buerer: Oh, I'm doing very well. Thank you for having me on your podcast, and I'm excited to join you today.
[02:05] Bettina Pruemper: We are happy to have you here today. So, before we dive in, could you please share a little bit about your background and role at Siemens?
[02:11] Corsin Buerer: Sure. As you mentioned already, I'm the Head of Production and Quality Products with the responsibility for global product direction of the model-based quality portfolio such as NX VSA and Teamcenter Visualization VSA, which are quality stack up products. DPV stands for Dimensional Planning and Validations, so where we are collecting quality data from the shop floor, enabling to do root cause analysis and reporting of the quality data, as well as for the NX CMM product which is a classical Coordinate Measuring Machine programming system. And also drawing responsibility for what we call managed part manufacturing applications. Some of you may be familiar with NX CAM, our NC programming solution, and therefore I'm drawing responsibility for the integration with Teamcenter – our PLM backbone – manufacturing resource library to manage all your manufacturing resources and shop floor distribute NC programs to the machine and connect machine tool equipment to the PLM backbone. I'm working for over 30 years in the manufacturing arena, and have been with Siemens digital industry for more than 20 years, working across multiple industries specialized in manufacturing-related topics. Prior to joining Siemens, I spent more than 10 years in the high-tech machinery industry, where I held several positions.
[03:47] Bettina Pruemper: All right. So, in the smart industrial scenario, we are aware that quality is becoming more and more important. Since this podcast series is about the value of quality management in digital era, Corsin, could you define the context?
[04:03] Corsin Buerer: The basic context is about agility and how quickly a manufacturer can weather uncertainties and convert them to opportunities. And what pace can they adapt to new market demands, create new business models, and bring products and innovation to life while maintaining the quality level their brands are known for? Now, in a recent study conducted by the National Association of Manufacturers, more than 50% of the participants are anticipating changes in the way they operate going forward. There is also pervasive financial pressure with heightened sensitivity regarding supply change, disruption, and emergency response planning. I believe we will tackle this challenging reality together. We are already seeing ingenious thought processes and innovative solutions being sparked by new hurdles to overcome. In fact, we're refining the benefits to be significant in terms of long-term profitability and growth.
[05:09] Bettina Pruemper: I have to admit, this sounds really complex. Corsin, could you explain how digitalization affects companies who realize quality is the key to profitable growth?
[05:21] Corsin Buerer: Analysts researchers explain that closed-loop quality capabilities are crucial. Quality is one of the key driving factors, manufacturers are trying to navigate complexities and uncertainties with digital transformations. The drive is to remove the barriers and connect the typically disconnected quality process within the organization to create a flexible and agile environment. Quality needs to permeate every business process to drive this agility into the Industry 4.0 context.
[05:57] Bettina Pruemper: It's very interesting to learn that other quality needs to be reshaped to be effective in the transformed Industry 4.0. So, according to your experience, what are the key drivers to take under consideration?
[06:11] Corsin Buerer: We can identify four main categories of value drivers for embracing a new ideal of quality management, where we start to apply a digital approach to manage quality. So, number one would be processing value chain; delivers the possibility of leveraging synchronized workflows based on the common language or data model for all manufacturing sites while supporting the fulfillment of quality standards such as ISO or other specific guidelines – like AIAG, VDA, and so on – and steady quality processes. The second will be Quality 4.0; allows the adoption of new technologies to create a valuable data lake for a better decision-making process. Third, I'd say, quality cost; reduce recalls, warranty claims, and costs associated with compliance issues; plus, evaluate the related impact on the ROI to faster target achievement. Four, company quality culture; leverage know-how, support the lessons learned process across the company, and pursue compliance and standardization as best practice. In other words, focus on the good cost of quality because you can either spend the money on preventing problems and checking quality, or you can pay for failure on damages. This isn't an automatic shift. Now, it takes careful planning with the right underpinning of technology to increase agility for competitive advantage. This means that quality cannot be an afterthought, it must be embedded across business operations. This may or may not be a significant shift for some manufacturers, but in an ecosystem of OEMs and suppliers that define success as disruption, the only way to achieve competitive quality is to enable a sense and respond to the operating model without the overhead of strict procedures and manual processes. This is the future of collaborative closed-loop quality.
[08:23] Bettina Pruemper: Thanks for defining the four key drivers for success. So, how does the manufacturer determine when is a time to adopt new technology? And how do you expect companies to manage this?
[08:36] Corsin Buerer: I think your questions deserve a very detailed answer supported by real examples. Those manufacturers that want to survive, now it's time – likely past time – to undergo with digitalization strategy for quality. What we have seen in the past is that many simply view the cost of quality as the cost of doing business. They didn't have a good handle on their true cost of quality, as it was typically perceived as overhead until they experienced really significant failure costs in warranty and liability issues. Perhaps because more of the recent examples of failure costs, we're seeing a renewed interest in quality and especially around how it can be digitized across business operations from analyzing product requirements, designs and tolerance strategies to production and quality assurance, and analytics. Their expectation is to leverage a model-based approach not only for product definition, but product process definition as well. It is a shift-left mentality that will start to enable more a sense of response business practice. This is important in the digitalization area because quality underpins everything. It can be complex, of course, but like most significant changes, we try to provide a practical iterative approach that can build value over time. This approach helps to optimize value versus risk.
[10:12] Bettina Pruemper: Corsin, could you name some of the applications you just mentioned as examples?
[10:17] Corsin Buerer: As an example, based on the industry, we may look at what's called Key Characteristic Management. This is a regulatory requirement for the A&D industry. But all industries have safety or function-critical characteristics that must be documented, tracked, accounted for, and measured to assure products meet their requirements. Here, we would take the first step in implementing a foundation for dimensional management of products and processes across their life cycles. Another example may be to start by implementing Advanced Product Quality Planning, or APQP, as an overall product release strategy, which is embedded in our PLM backbone. Many companies start by leveraging IIoT to bring performance, characteristics, and their impact on product quality. There are many more examples, so it really depends on what significant correlations can be made between business operations and the cost of quality. At Siemens, we have the ability to begin in various areas, but can make several recommendations. In the end, our strategy or vision is to enable our customers to attain real closed-loop quality, creating a collaborative and connected information loop across product design, production planning, and manufacturing and intelligence.
[11:45] Bettina Pruemper: That sounds really interesting. So, now I would like to focus on the Siemens quality vision. We know that the classical quality paradigm is related to the Plan-Do-Check-Act cycle, it ensures the highest quality performance and provides a systematic approach for continuous improvement. Could you outline that strategic Siemens quality vision for our podcast listeners? Could you tell us what's new?
[12:09] Corsin Buerer: Well, most companies end up with a standalone QMS system, and they try to integrate business processes to join domains. But they are at risk with traditional methods, such as missing growth and profitability targets impacting shareholder value. So, Siemen extends the conventional view into a holistic quality view across several domains. Siemens builds the systems to support digital transformation across their entire product lifecycle and supports end-to-end quality. Siemens' quality offering helps companies by supporting the entire product lifecycle; from planning to production and back for the lesson learned, for all new planning integrations. Leveraging several elements of the portfolio, Siemens provides a closed-loop approach from design to manufacturing on the shop floor and back. This holistic solution performs functions in all stages, positively impacting production and process quality, and efficiency throughout the product development and launch process.
[13:17] Bettina Pruemper: I think I get the reason why Siemens extended the conventional view to a holistic flow. So, it seems that digitalizing quality management means much more than simply replacing a paper-based system or seeing a spreadsheet in a day-by-day activity. So, now I would like to know what have you seen that you would consider tangible benefits?
[13:40] Corsin Buerer: Well, companies that are implementing this today are accelerating the new product development and introduction. They're becoming more agile in the decision-making. They're removing silo thinking. And by cementing business operations in collaborative closed-loop quality solutions, they're seeing efficiency and productivity gains on the shop floor in terms of reduced labor tooling but also inspection costs.
[14:07] Bettina Pruemper: Wow! I learned a lot about quality as a competitive advantage today. Really amazing times we're living in. Unfortunately, we are already at the end of this episode. So, thank you, Corsin, for joining us, doing that interesting discussion about quality.
[14:22] Corsin Buerer: No problem, Bettina. Thank you very much for your hospitality.
[14:26] Bettina Pruemper: And of course, I'd like to extend my many thanks to our listeners. I'm glad you tuned into this podcast. If you enjoyed our episode, please be sure to come back for more insights about quality. Also, for further information, you can visit us online siemens.com/teamcenterquality, and use the Contact section to reach out to us. Or you can just send us an email to mom-marketing.plm@siemens.com.
[14:51] Bettina Pruemper: This is the "Digital Transformation for Quality Management", a miniseries part of Where Today Meets Tomorrow. And I hope you will join us again for our next podcast episode. Thanks again and see you next time.
Where Today Meets Tomorrow Podcast
Amid unprecedented change and the rapid pace of innovation, digitalization is no longer tomorrow's idea. We take what the future promises tomorrow and make it real for our customers today. Welcome to "Where today meets tomorrow."
Listen on:
This article first appeared on the Siemens Digital Industries Software blog at https://blogs.sw.siemens.com/podcasts/where-today-meets-tomorrow/digital-transformation-in-manufacturing-helps-to-enable-quality-as-your-competitive-advantage/