Products
Smart Machine Kit Solutions hits milestone of 100 kits on Post Hub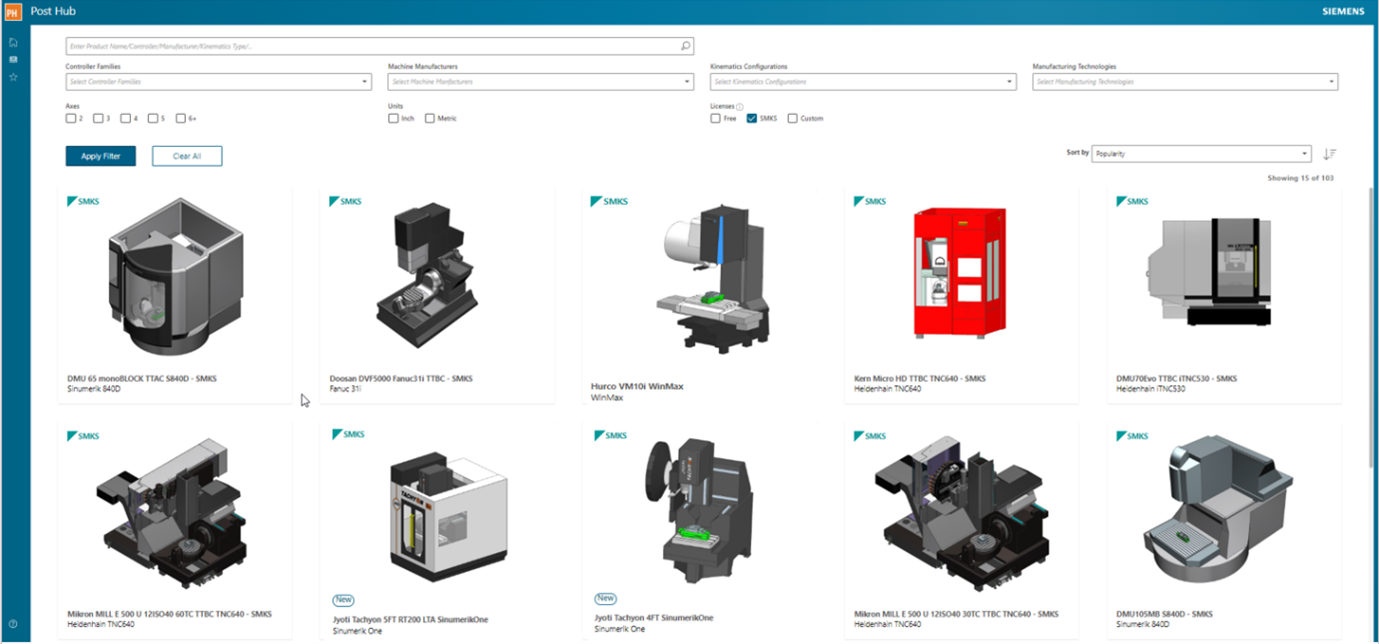 We are excited to share that Post Hub, the cloud-based postprocessing platform for NX CAM, now offers a massive collection of 100 unique SMKS (Smart Machine Kit Solutions) ready for download. You can now discover an extensive selection of Smart machine kits of top-tier machine tools OEMs, including DMG MORI, GF Machining Solutions, Mazak, Doosan, Hurco, Jyoti, and many more.
In a short period, we've doubled the number of unique SMKS and witnessed a significant increase in postprocessor downloads, showcasing our exceptional postprocessing capabilities. The growing downloads and expanding SMKS collection signify our commitment to supporting part manufacturers of all sizes, from budding startups to established multinationals serving cross-industrial applications.
If you're already familiar with NX CAM's postprocessing capabilities and smart machine kit solutions, you're in for an exciting ride. But if you haven't explored it yet, now is the perfect chance to discover the incredible potential of these SMKS.
Smart Machine Kit Solutions: Ultimate guide
What are SMKS?
Smart Machine Kit Solutions (SMKS) are comprehensive preconfigured packages of production-ready machine tools and postprocessors, available through the Post Hub. Post Hub is a modern cloud-based solution for managing and distributing postprocessors and machine-related data, making it easier to generate production-ready machines and CNC programs for your application.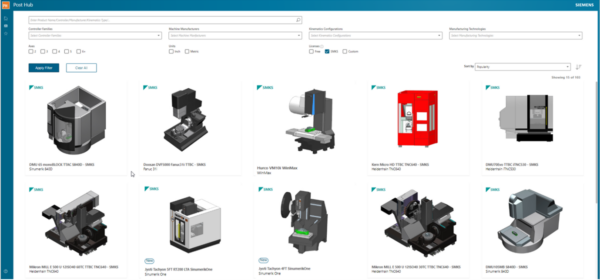 The SMKS are designed to provide comprehensive solutions that cater to different machining applications for generating efficient toolpaths and part manufacturing that involves milling, turning, hole making and complex machining tasks.
They are often considered digital twins of CNC machine tools. Within each SMKS, you will find an accurate model of the machine, complete with its kinematics, a tailored postprocessor, and a simulation module driven by G-code.
Benefits of SMKS
By leveraging SMKS on Post Hub, part manufacturers can benefit in various ways. The solutions streamline the postprocessing workflow, reduce errors, optimize machining operations, and ultimately contribute to more efficient and reliable manufacturing processes. Some of the advantages of Smart Machine Kit Solutions are:
Simplified integration
SMKS on Post Hub facilitates the integration process between NX CAM and CNC machines. These kits contain machine-specific data, including postprocessors, kinematic models, and tooling information. By accessing the SMKS through Siemens Post Hub, NC programmers can easily import and configure the necessary data into NX CAM. This simplifies the setup and integration process, reducing manual effort and minimizing the risk of errors.
Customized postprocessing
SMKS provides machine-specific postprocessors that are tailored to the CNC machines supported by Post Hub. These postprocessors ensure accurate and efficient generation of G-code, from the toolpath data within NX CAM. NC programmers can rely on the customized postprocessors in SMKS to ensure compatibility with their specific CNC machine controllers, enabling reliable and optimized machining operations.
Consistent and up-to-date data
Siemens Post Hub ensures that SMKS is maintained and updated regularly. This means NC programmers can access the latest machine-specific information, including postprocessors and tooling data. The availability of up-to-date data in SMKS promotes consistency across projects and workstations, reducing discrepancies and errors in tooling setup and programming.
Improved simulation accuracy
SMKS includes machine-specific simulation models or virtual representations of the supported CNC machines. These simulation models accurately depict the machine's kinematics and behavior, enabling NC programmers to perform realistic virtual machining simulations within NX CAM. The integration of machine-specific simulation models from SMKS enhances the accuracy and reliability of toolpath verification, collision detection, and optimization, leading to better machining results and reduced risks during actual production.
Getting started with SMKS on Siemens PostHub
Smart Machine Kit Solutions (SMKS) are available on the Post Hub, NX CAM's cloud-based postprocessing platform.
To access Post Hub, simply click on the Post Process command and find the Post Hub section within the NX CAM dialog box. Moreover, you can explore Post Hub's online library by using any internet browser at https://posthub.sws.siemens.com/
Users can choose to purchase an SMKS license for different kinds of machining operations like 2-axis, 3-axis, 4-axis, multi-axis milling and turning helping them to install available machine tool kits from Post Hub. It is also available for free, without the need for a license, for single operations.
Join thousands of NX CAM Post Hub users and access the vast online postprocessor library on the cloud, simplifying programming for milling, turning, and multi-function machines. Download kits with a single click to streamline your postprocessing workflow effortlessly.
If you have any questions regarding NX CAM Post Hub or SMKS, drop us an email at posthub.disw@siemens.com.
This article first appeared on the Siemens Digital Industries Software blog at https://blogs.sw.siemens.com/nx-manufacturing/smart-machine-kit-solutions-hits-milestone-of-100-kits-on-siemens-post-hub/