Products
NX CAM diversifies and expands auto components business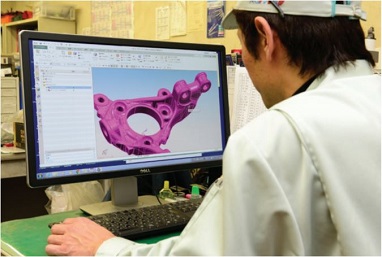 Read our customer success story featuring Akevono Kohgyo. Learn how they have improved machining efficiency ranging between 30 to 80 percent with NX CAM software.
Akevono Kohgyo Co., Ltd. specializes in machining metal and nonmetallic materials, primarily in manufacturing automobile components. The company's distinct competitive advantage is its ability to handle a wide range of production volumes, from a one-off prototype to mass production runs of 100,000 units per month.  
The degree of precision required by customers is becoming increasingly high — many components are required to be lightweight and durable. To support the requirements of many industries, the company has introduced a variety of machine tools, which leads to an extremely large number of variations when combined with the different types of CNC controllers. Akevono Kohgyo uses NX™ software  to support operations that require various types of machines and setup arrangements. NX was introduced to address a huge problem.
When Akevono Kohgyo introduced a leading-technology machine tool with 5-axis support, its representatives asked the previous NC programming solution vendor to develop postprocessor software, completing a critical link between the CAM solution and the machine tool. However, the postprocessor did not perform adequately, even after three months. In response, Akevono Kohgyo introduced NX and decided to develop its own postprocessors using the Post Builder included in NX CAM software. "When the machine started to run, we felt that we were saved," says Masayoshi Uno, technology manager in the manufacturing department at Akevono Khogyo. "Since then, our orders have also expanded."
NX (CAD/CAM) software is widely used in the company's operations, in tasks including the import of customer data for the creation of NC programs and the output of the machining data. From a manufacturing perspective, there are frequent issues with the data provided by customers. These can include gaps and other inaccuracies in models or missing tolerance information. Using poor-quality data leads to problems in NC programming that can take a long time to resolve. "Many problems that occur during manufacturing are directly related to imperfect part models that can require many hours to revise and fix," Uno explains.
Using NX for all operations that require CAD/CAM, Akevono Kohgyo has established a better manufacturing process. Engineers import the supplied 3D data and use NX tools to check model quality and repair geometry as necessary for use in NC programming. Next, NC toolpaths and programs are created for each process and operation using the advanced capabilities in NX CAM software.
Before introducing NX, Akevono Kohgyo had difficulties identifying and fixing problems in the supplied models, and toolpaths created under such conditions often caused time-consuming complications. Now the company can easily import and optimize customer data for NC programming and machining using the leading-edge synchronous technology model editing capabilities of NX. "Geometry checking using NX is visual and easy to understand," Uno says. "You can decide where and how to modify the data. NX provides extremely advanced model analysis and modeling capabilities."
Previously, model revisions required three or four hours, but with NX that time has been reduced to about one hour. In addition, the company can avoid problems in postprocessing the NC data for specific machine tool and controller combinations. This has led to an improvement in machining efficiency that ranges from 30 to 80 percent.
To learn more about how Akevono Kohgyo leverages all the advanced capabilities in NX, read the complete Akevono Kohgyo case study.
This article first appeared on the Siemens Digital Industries Software blog at https://blogs.sw.siemens.com/nx-manufacturing/nx-cam-diversifies-and-expands-auto-components-business/