Case Study Summary: Freeform Technology Uses NX CAM to Deliver Highest Quality Components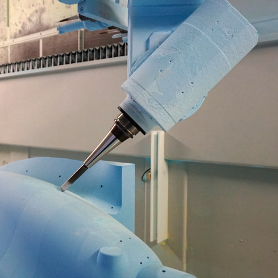 Freeform Technology has established a reputation for providing Formula 1 race car standards to the composite tooling industry and a range of services including: tooling design and manufacture; pattern and model making; prototyping and design mock-up; and full project management of part manufacture. Siemens PLM Software solutions enable Freeform Technology to integrate design with tooling and optimize the manufacturing process.
The Problem:
Freeform Technology's ongoing business challenge is to maintain high quality and speed as they grow across different industries. Freeform Technology's strategy is to continue growing the business in motorsports and respond to demand from new sectors, such as aerospace, defense, energy, leisure, marine, medical, and oil and gas.
The Epiphany:
From the beginning, they knew that they wanted to use NX software because they knew it could do the job, and it was one thing they could rely on in the scary days of being a start-up. Just to be sure, Freeform did a benchmark test on other software but found that it was just not as good as NX.
The Execution:
The company has four floating licenses of NX CAM. With some aspects of CAD included in the NX CAM licenses, Freeform Technology's engineers also have design functionality. Instead of returning files that require amendment, they save time by making modifications on behalf of their customers. It's a huge benefit to have an integrated design and manufacturing package.
Freeform has developed a range of templates within NX CAM. These are preset CAM files with predetermined tool settings and cut depths. Similarly, all machines are set up with identical options for tools, tool builds, speeds and feeds. Providing consistency, these measures also facilitate a smooth process when CAD files are received from a client, usually in Step or IGES format. The majority of Freeform Technology's business is the manufacture of patterns for carbon fiber components. The turnaround from CAD model to a finished pattern ready for molding can sometimes be achieved in just 24 hours.
The Results:
Being a customer of Siemens PLM Software gives Freeform an opportunity to be ahead of the game with regard to its competition. With Siemens PLM Software's solutions, they can consistently offer customers the very best quality, absolute accuracy and the tightest turnaround time.
To learn even more about Siemens NX for Manufacturing solutions, please visit our website.
This article first appeared on the Siemens Digital Industries Software blog at https://blogs.sw.siemens.com/nx-manufacturing/case-study-summary-freeform-technology-uses-nx-cam-to-deliver-highest-quality-components/