Products
Stay ahead of global competition in the Mold, Tool and Die industry
The tooling industry has come a long way since the economic downturn of 2008. Indeed, it remains a critical component for those industries which manufacture durable goods: automotive vehicles and parts, consumer electronics, household appliances, and more. Positive growth in this area in North America and Asia, as well as the slightly slower growth rate in Europe, can be attributed to a number of factors. Aside from being dedicated to continual improvement, the profitable tooling companies invest in the right people, processes, and technology. The industry still presents its fair share of challenges, though. Today we will explore answers to questions of how you can get ahead in this industry by focusing on those three things, especially the right technology.
Tooling is a critical component of the manufacturing process. Given that the automotive industry is the largest end user of tools and dies, it is natural that the tooling industry has seen a rapid growth in demand as car and light-truck production has increased rapidly since 2009.
Even though the overall current scenario is positive for the tooling industry, there are a number of key challenges faced by the tool and die shops: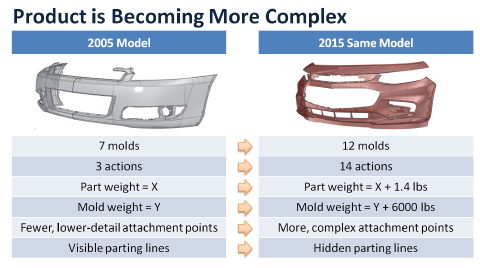 Tools are becoming more complex due to increasing product complexity driving the tool shops to adopt new processes and technology such as digitalization, multi-tasking machines and additive manufacturing
Ongoing global competition compelling the tooling companies to increase efficiency and squeeze cost out of the process
Labor force issues in terms of lack of engineering talent and skilled workers pushing the tooling companies to continuously invest in employee training and development
So how do the tool and die shops stand out in such a competitive environment? How do they safeguard their existing business and go after winning new business? Questions such as "How can I deliver high quality molds to my customers faster than my competitions?" and "How can I help my customers design products right the first time?" are quite common among toolmakers.
The best-in-class tool and die shops have adopted a number of strategies to differentiate themselves. Implementing the right technology along with a combination of people and processes has been the key. These tool shops used integrated CAD/CAM/CAE software along with design automation to eliminate manual and mundane tasks so that they can respond faster. They used simulation and Design for Manufacturability to optimize the manufacturability of the part and tooling. They implemented PDM/PLM systems to manage tool designs and find the right data quickly.
Harbour IQ recently conducted a survey of over 90 tool shops and found that their favored software for CAD work is NX from Siemens PLM Software. These shops have to work with CAD data from multiple sources and with tools such as Synchronous Technology in NX, it gives them an unmatched ability to work with multi-CAD data.
Another major benefit of using NX for the moldmakers is the embedded tooling expertise in the form of NX Mold Design. It provides a structured workflow based on expert best practices, automation of mold-specific design tasks and libraries of standard mold components. Interested in trying NX Mold Designer? Give our 30-day free trial a try now!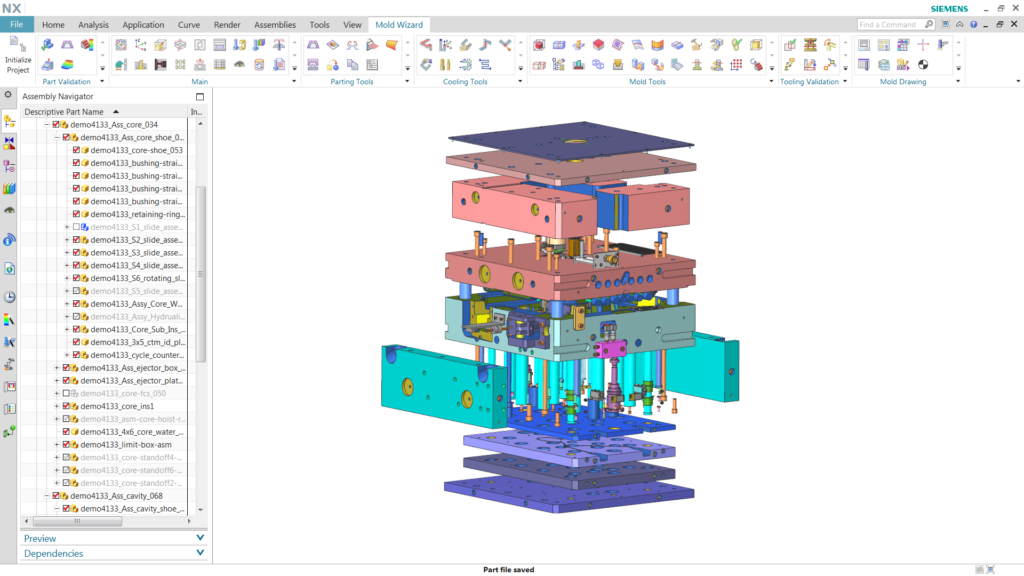 Mold and part quality checks such as the ability to analyze draft, shrinkage, parting lines, cooling
Fully integrated mold flow analysis and Design for Manufacturability (DFM) checks
Automatic creation of core and cavity insert, advanced parting tools, ejector pin post, sliders and lifters
Motion simulation for interference or collision related issues
Automatic creation of bill of material (BOM) and drawings
Model driven process synchronized with NX CAM allows you to create manufacturing processes for mold and die machining
Prominent tooling companies in North America, Europe and Asia have been using NX CAD, Mold Design and NX CAM solutions to stand out from the competition by improving their mold-making processes and increasing profitability.
Cavalier Tool & Manufacturing, an award-winning Canadian mold manufacturer, has streamlined the mold design to manufacturing process by employing NX CAD and Mold Design as an integral part of their workflow. The results speak for themselves:
30 percent year-over-year increases in revenue
Building complex molds 20 to 40 percent faster than competitors
Reliable on-time delivery
Recognition as 2015 Leadtime Leader Award winner from MoldMaking Technology
To conclude, while moldmaking is still a highly skilled trade that requires a lot of expertise, it has come a long way in terms of the procedures and equipment used. Many tool shops have validated that it is possible to run a profitable and growing business even in a challenging environment by a commitment to continuous improvement and an investment in the right combination of people, processes and technology.
Want to learn more on how mold, tool and die manufacturers are transforming operations to stay competitive? Read our e-Book for more.
Himanshu Iyer
Product Marketing, NX
Siemens Digital Industries Software
This article first appeared on the Siemens Digital Industries Software blog at https://blogs.sw.siemens.com/nx-design/stay-ahead-of-global-competition-in-the-mold-tool-and-die-industry/