Sketching in CAD – then and now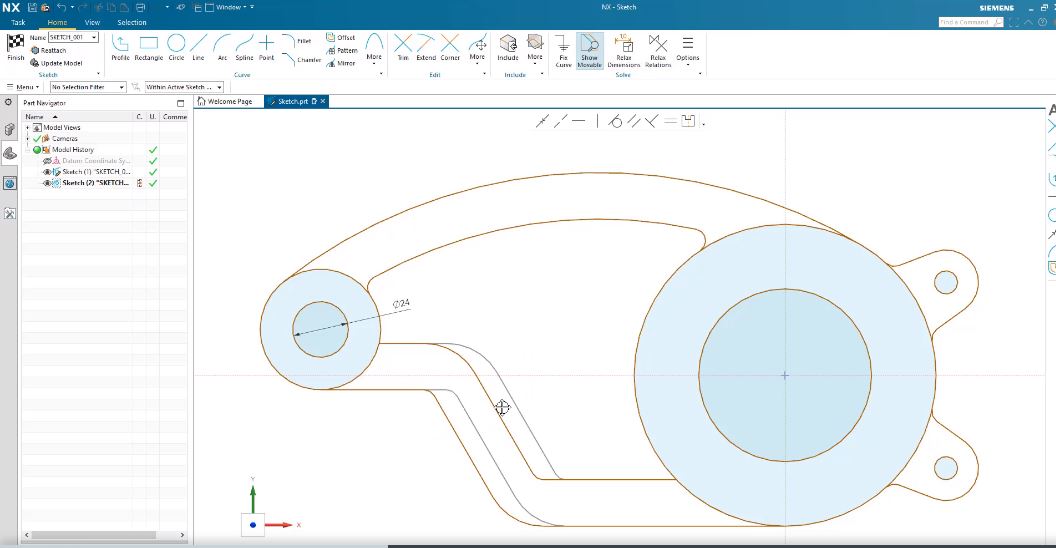 The tools to create sketches in CAD systems have been around for about 30 years, so why do most concepts still start as pencil-and-paper sketches? For most designers, starting a design with a paper sketch goes back as long as they've been designing.
Pencil and paper offer designers something that CAD systems can't offer them: the ability to quickly change your design as your ideas evolve. At least, CAD systems couldn't offer this ability before, but all that is changing with the latest release of Siemens NX.
Enter NX's new sketch experience: NX delivers the biggest leap forward in CAD sketching since it was first introduced to the market. NX is revolutionizing sketching with a fundamentally new approach that allows users to iterate their design throughout the sketching process.
The future of sketching is with an iterative process that makes it easy for you to make changes as you design, and as your idea evolves. The enhancements that allow this approach include:
NX Sketch anticipates what you are going to drag or modify.
It identifies geometric relationships for you based on surrounding geometry.
Like the broader NX ecosystem, NX Sketch works seamlessly with data regardless of the source.
This innovative approach to sketching allows users to capture ideas as they iterate and make changes as needed, instead of approaching CAD only once the initial concepts have been sketched out by hand. With independent analysis showing up to a 30% reduction in time spent capturing your design ideas with this new approach – and when you consider that designers often spend about 15% of their time sketching, the value of that 30% efficiency gain adds up – NX has laid out a radical new approach to revolutionize Sketch's position, viability, and value in the design process.
Bonus! What are the industry experts saying about the all new NX Sketch?
In a word, it's game-changing for 3D data import, sketch edits, and dimensioning. The best way to describe Sketch NX is that it does the thinking *with* you, eliminating A LOT of the tedious sketch/relation/dimension work

JOSH MINGS | SolidSmack.com
Read here for the full review from SolidSmack
What I can attest to is that this makes sense – huge sense – it's super intuitive and it just works, even during the most complex of edits to a sketch.

Al Dean | Develop3D
Read here for the full review from Develop3D
It's actually kind of a big deal.

Chad Jackson | Lifecycle Insights
Read here for the full review from Lifecycle Insights
This article first appeared on the Siemens Digital Industries Software blog at https://blogs.sw.siemens.com/nx-design/sketching-in-cad-then-and-now/