Cloud Connected Products: Mold Designer and Drafting & Layout
During times of increased demand, being able to scale up your company's resources and production is critical. Companies can quickly fall behind with slower time-to-market, inefficient product design processes and hindered collaboration. NX Cloud Connected Products solve these challenges so you can deliver your products to market faster than the competition.
NX Cloud Connected Products deliver the high-performance CAD capabilities of NX™, the leading solution for product design. Take advantage of the many features, tools and functionality found in NX with the flexibility of a software license subscription.
Our streamlined online purchase* and quick setup help you become productive faster. Automatic updates ensure that your software is always up-to-date. Reduce operating costs with flexible subscription.
Advantages
Low and predictable capital investment
Flexibility to increase and reduce number of users based on demand
Streamlined product acquisition, download, installation and activation
Scalable and reliable
Mold Designer
Streamline the entire mold development process to shorten lead times and control costs by using step-by-step guidance for mold part design, tool assembly layout, tool design, and tool validation. Excel at the most challenging mold designs with process automation while adhering to industry best practices.
If you are interested in how some of the world's most innovative companies are utilizing this our NX Mold Design solutions, please check out our case study with Cavalier Tool and Manufacturing.
Drafting & Layout
Need highly efficient drafting tools on the cloud? NX Drafting automates and streamlines engineering drawing production. Drawings are associative to models, so model changes automatically update and are reflected in related drawings. Use drafting tools to create engineering drawings from 3D models to communicate your 3D designs.
NX Layout is an easy-to-use 2D concept design solution that enhances 2D conceptual design with the use of intelligent, design centric, re-usable objects called 2D components. Automatically creating an assembly based on a layout accelerates the product design phase by allowing you to explore concepts in 2D and iterate and transfer it to 3D. NX Layout also reduces the cost of training, maintenance and implementation.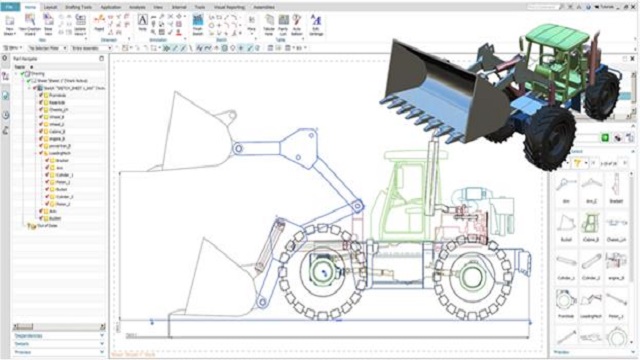 or
Click here to compare products
---
Deliver innovative, world-class products to market faster with NX Cloud Connected Products, and experience the next generation of design on the cloud.
*Credit card purchase only available in the United States and Germany.
This article first appeared on the Siemens Digital Industries Software blog at https://blogs.sw.siemens.com/nx-design/cloud-connected-products-mold-designer-and-drafting-layout/