Products
CAD Updates in NX 10 Maximize Collaboration, Efficiency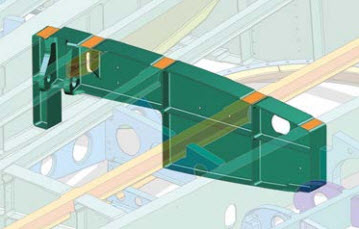 CAD expert Al Dean of DEVELOP3D recently reviewed NX 10 for Design, and he finds a lot of improvements designed to make your CAD experience better. He notes that despite the decades-long heritage of NX and its predecessors, the product still innovates and addresses key pain points—both for the general CAD user and industry specific cases.
Today, we'll be looking at the key changes he mentions and how they benefit you. You should check out his full in-depth review, as he delves further into the history and details of each change than we will here.
Better PLM Integration
What is one of the biggest problems in CAD today? If you ask many users, they probably will say CAD file sharing and collaboration. The great news is NX 10 addresses that problem by providing access to nearly everything Teamcenter does. You have at your fingertips a full, easily searchable index that gives you access to any parts in the system. Workflow and revision management, issue creation, and sign off empower you to manage the process. Combine your 3D models with metadata and you can make fast decisions based on a project's completion status or any other information you choose to display with Visual Reporting. Now, you automatically get the standard Visual Reports license with your NX license, so take advantage of it!
User Interface (UI) Changes
NX continues to improve the UI to give you a better optimized experience. Last release, you gained the ability to customize the ribbon toolbar to suit your preferences and workflow needs. A new toolbar in NX 10 lets you quickly search, drag, and drop commands you need while you work, so you don't have to hunt through drop down menus for those less used commands.
Another key UI enhancement—and this one's a game changer—is the new touch-enabled interface. You can use your favorite CAD system (NX 10 of course!) on Microsoft Windows tablets or even larger touch-screen devices like the new Microsoft Hub recently unveiled.This facilitates on-site collaboration with clients and ups the interaction level with sharing your designs.
Top Down Design Using 2D Layout
You can conceptualize products fast in 2D with the new NX Layout. Regardless of if you sketch on the fly or pull existing forms from the Reuse Library, flushing out your idea is simple in this environment. Normally problematic edits to legacy geometry are made easy with the tools available to you in NX Layout. Once complete, your layout transfers easily to the 3D environment, so you can start to engineer the 3D model faster. You can even use NX Layout assembly dynamics to see how an assembly will operate, so you can adjust accordingly before you even get to the 3D stage!
Updates to Existing Tools
NX Realize Shape now gives you a wider selection of geometry to start with such as extrudes from splines. This means you start with a more accurate shape, so you spend less time manipulating the geometry into exactly what you want. You also have more control with advanced commands like when you edit multiple parts of a model at once. In fact, by selecting the upper right hand and lower left hand in a model, you select all the faces in between in one shot.
Aerospace Tools
Finally, we come to the industry specific enhancements. NX 10 offers a lot for airframe designers in the way of terminology—spars, ribs, stringers—and also functions. New features replace standard and oft-repeated workflows, so it takes you fewer steps to achieve the same end. Aerospace Flange and Blend Pocket are just two examples.
This article first appeared on the Siemens Digital Industries Software blog at https://blogs.sw.siemens.com/nx-design/cad-updates-in-nx-10-maximize-collaboration-efficiency/