University of Maryland and Siemens PLM Partner to Develop the Next Generation of Engineers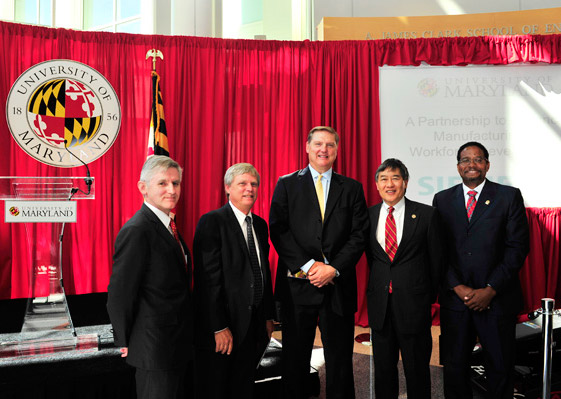 Last month we announced an important in-kind software grant to University of Maryland (UMD). This week I wanted to provide a little more of the story and tell you why Siemens and UMD are making this investment.

PLM industry analyst interview Brad Holtz is a UMD alum and was present at the press event. He provides this context:

"Siemens and University of Maryland are partnering to develop a global center of excellence for engineering education. It's important to note that every single UMD engineering student can have access to the whole suite of Siemens PLM software. This will make them better equipped to take leadership positions around the world. This has long-term value not just to UMD and Siemens but to the state of Maryland and the entire region."


Earlier this year UMD submitted a GO PLM grant application to join our
Academic Partnership Program
. In it, they noted:
"A PLM software gift from Siemens would provide students and faculty with access to the latest advances in product lifecycle management software, broadening the educational experience and ensuring our graduates are better prepared to enter the workforce. Siemens will also be educating the next generation of engineers who will one day be experts in their chosen fields."
The grant covers the entire University of Maryland campus and will be implemented first in the
Clark School of Engineering
, which includes mechanical engineering, aerospace engineering and bioengineering as well as its Institute for Systems Research. The school eventually plans on implementing our whole suite of software to include NX, Teamcenter, LMS, Tecnomatix, Fibersim, Syncrofit, Velocity Series and PLM Components. They are off to a fast start already.
As the
press release
notes:
UMD students and faculty will use the software in courses and research related to robotics design, bioengineering, space systems, product engineering, manufacturing, and systems life cycle analysis. Student groups will use the software in their efforts to compete in national and international competitions, including the Terps Racing Formula SAE and Baja teams, and teams participating in NASA's X-Hab and Lunar Wheel Design competitions.
One key individual who is making this PLM implementation at UMD a success is Jim Zahniser, executive director of engineering information technology. I sat down with Jim to find out a little more about how you go about implementing such a large suite of software across a diverse campus. Learn more about Jim and what he had to say about UMD's PLM implementation in this video interview.
http://www.youtube.com/watch?v=wMY5njWNcJs
It's great to hear Jim say NX is amazing. I'll check back in with him over the semester to find out what students think.
Stay tuned for more on this story.
– Dora
This article first appeared on the Siemens Digital Industries Software blog at https://blogs.sw.siemens.com/news/university-of-maryland-and-siemens-plm-partner-to-develop-the-next-generation-of-engineers/