Corporate
Tony Hemmelgarn at HM#21: Human-Centered Innovation
Hannover Messe 2021 (HM#21) wrapped up on April 16. The event showcased both the future of industry (invariably digital) and of tradeshows (likely hybrid or virtual as we all continue to figure out the new normal). On the benefits and reach of going virtual, note that the #HM21 hashtag alone generated 4.5M social media impressions. Siemens presenters addressed the theme of "infinite opportunities from infinite data" and note that all of the Siemens on-demand streams are available here.
As a part of HM#21, Siemens Digital Industries Software President and CEO Tony Hemmelgarn addressed the topic of human-centered innovation. From the description of his presentation: "[I]n the face of the current disruptions, putting people at the center of design enables more intelligent, rapid and lasting innovation that better equips us to address today's challenges and propel us into the future." You can read a lightly edited version of the transcript with the slides below. Also, see this summary of Tony's remarks on the Siemens Ingenuity blog.
Vaccine development has traditionally been a process measured in years, if not decades. But how are the vaccines being developed for the COVID pandemic? The answer: by using a platform technology approach focused on common building blocks. The result apparent to all is a dramatically shortened development process. Just a little more than a year after COVID was declared a global pandemic, there are now a number of vaccines being administered around the world. Indeed this is one of many examples of how the response to COVID may prove to be the ultimate catalyst that pushes humans to embrace digital transformation.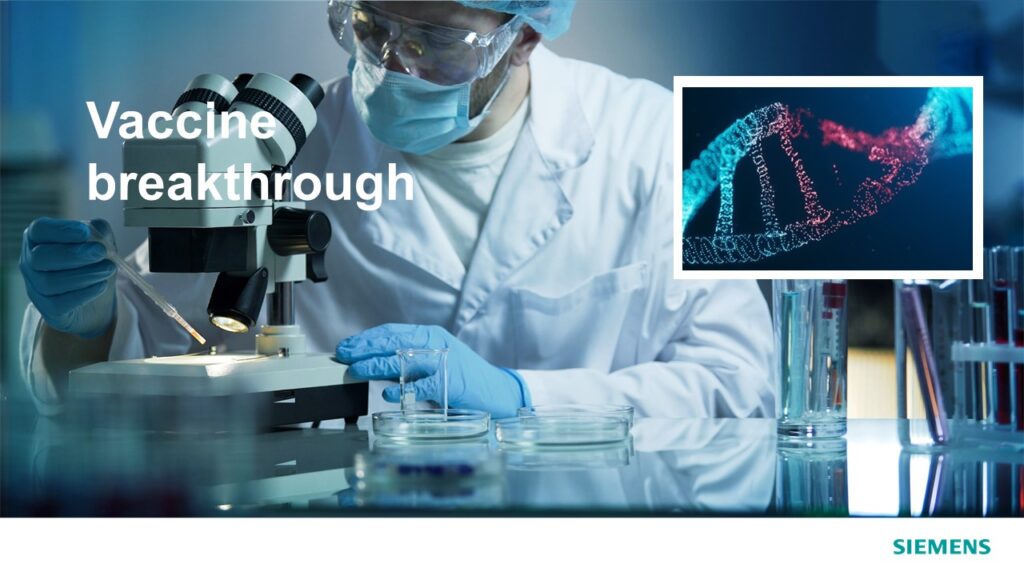 Let's consider another example: the airline industry needs to get people flying again. The challenge is to make sure the cabin air is clean and healthy. Airbus, a customer, has a plan for that. It's important to note that these passenger aircraft draw in and recirculate outside air, completely exchanging the air in the cabin every few minutes. Airbus uses a filter to remove the particles in the air, down to the size of microscopic bacteria and virus clusters, keeping pathogens out of recirculation. Airbus used our engineering solutions to conduct high fidelity analysis of the filtration design and simulate cabin airflow, ensuring the inflight air safe to breathe. That is, Airbus is adapting to the pandemic by using our solutions to get people back into travel.
Or consider a more generic and increasingly universal example from manufacturing: Imagine yourself a manufacturer asked to change your production mix overnight. You've got to shut down certain products and ramp up others in response to the crisis. As you restart your manufacturing processes, you need to follow physical distancing requirements to ensure worker safety. The changing product mix and safety requirements, in turn, likely require changes to how your factory is configured, further complicating matters. Now, make these changes and get ready to ramp up again while most of your people are working from home.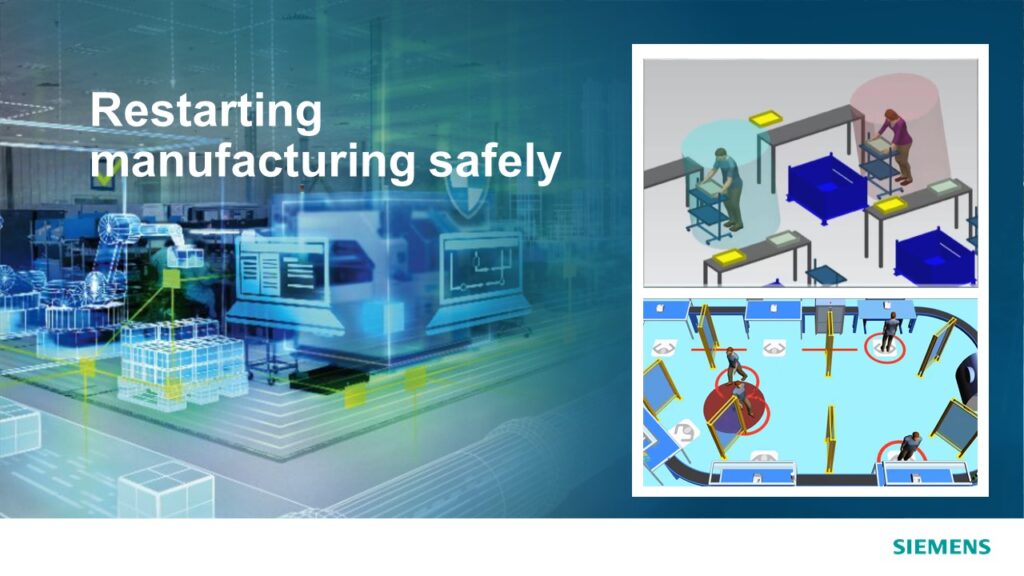 We solve customer problems with our digital twin, the value of which corresponds to how closely the virtual world represents the physical world. Note here that not all digital twins are created equal. Questions to ask: Is there a feedback loop from IoT to the models? Can you act upon this feedback loop and actually make meaningful changes up and down the workstream? We believe embracing a comprehensive digital twin is not an option, but is essential. To me it's clear what many companies that have successfully responded to the pandemic have in common: a digital mindset.
Our integrated portfolio of software, services, and app development—Xcelerator—enables this digital mindset. Like the vaccine development changes over the past ten years, the progress we've made with our customers has been remarkable. Xcelerator speeds the digital transformation cycle and it unlocks a powerful industrial network effect. Xcelerator blurs the boundaries between traditional standalone engineering domains. It's how we help companies remain resilient and transform into digital enterprises, large or small.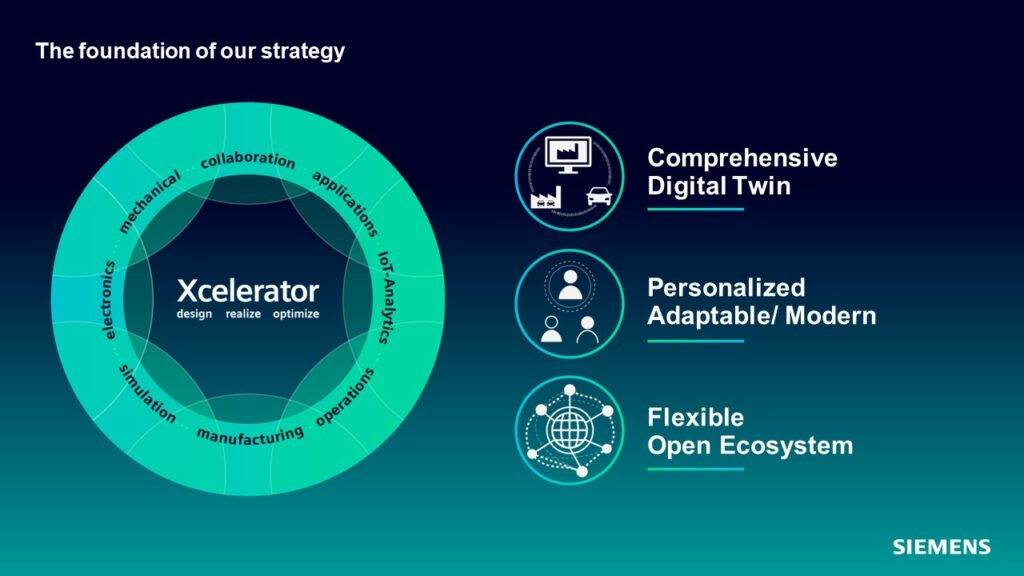 We all know that the world is increasingly complex. Some argue that the job of software companies is to help customers reduce complexity, but is that realistic, particularly in industry? Product development requires an ever-tighter integration of technical domains like mechanical, electrical and software, and then, once the product is in use or in production, you need a closed loop to link what you learned back upstream. We enable this flow with the digital twin, allowing customers to make decisions in confidence and use complexity as a competitive advantage. Say that again—we help our customers use complexity as a competitive advantage.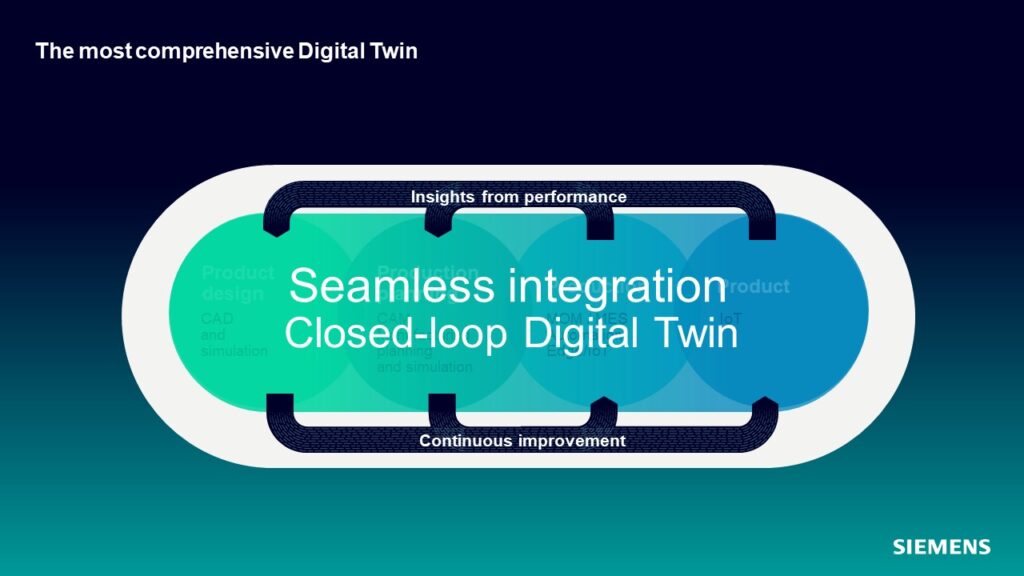 We also are responding to our customers' demand for software that is personalized to an individual user experience. We do this through our Mendix low-code solution, which extends our portfolio in an open and customizable way to any device, any shop floor, any ERP system, any cloud, and any software.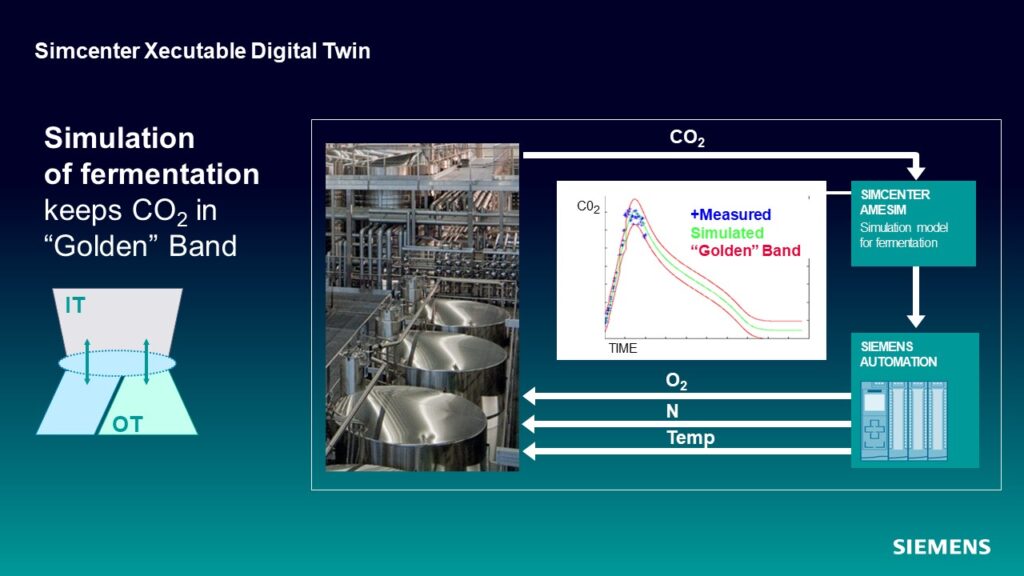 Note that we use the digital twin to simulate both products and processes. The latter entailing modeling an executable digital twin, which is then loaded into Siemens Industrial Edge, bringing IT to the shop floor. So now we can help our customers understand failure modes and make accurate decisions in operation. The executable digital twin supervises plant processes and provides insights for predictive maintenance and optimization—an example is minimizing energy consumption— in ways previously not possible. The increasing use of virtual process models brings a host of other benefits, including reducing the need for so many physical sensors as the confidence in the digital twin grows.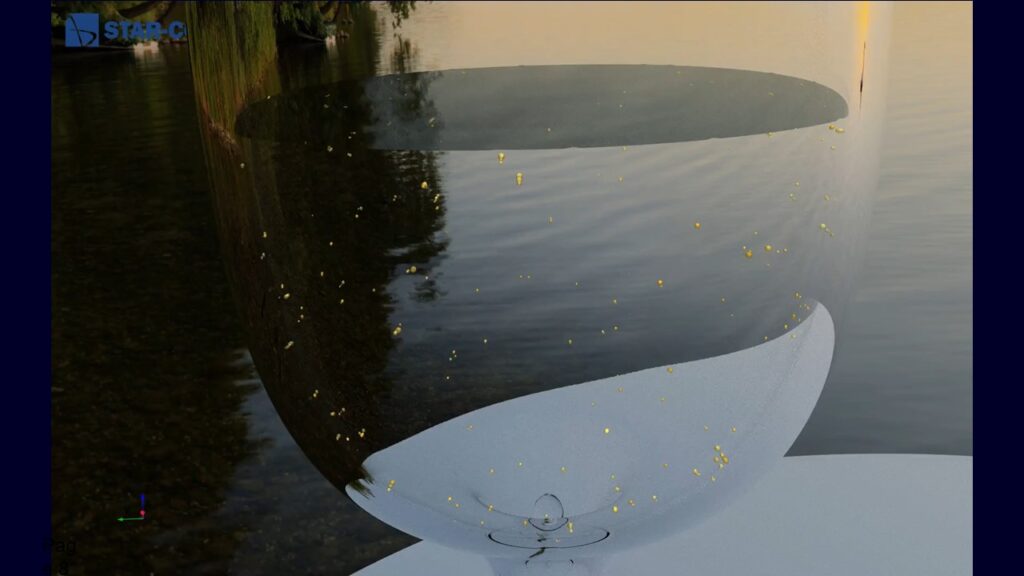 Above a last, celebratory example—simulating fermentation in the making of champagne. By integrating IT and OT, we created a digital twin to keep target CO2 in the proper band, helping a major champagne maker achieve constant quality. They need to get the bubbles just right across multiple fermentation tanks even with variability of the grapes. I suppose improper bubbles for champagne could be considered a modest crisis of its own.
See more on how Siemens Digital Industries Software is bringing the technologies of tomorrow to our customers today here.
This article first appeared on the Siemens Digital Industries Software blog at https://blogs.sw.siemens.com/news/tony-hemmelgarn-at-hm21-human-centered-innovation-transcript/