Industries
Design Excellence in Medical Device: Robust, Concurrent Design
In this post we will explore Robust, Concurrent Design as part of our Design Excellence series for Medical Devices to enable quick domain specific progress with highly capable design tools for efficient cross-domain workflow merges. Follow along to learn how 5 key areas of Design Excellence combine multi-disciplinary design collaboration with advanced design tools and multi-physics simulations to achieve competitively differentiated, premium-value devices.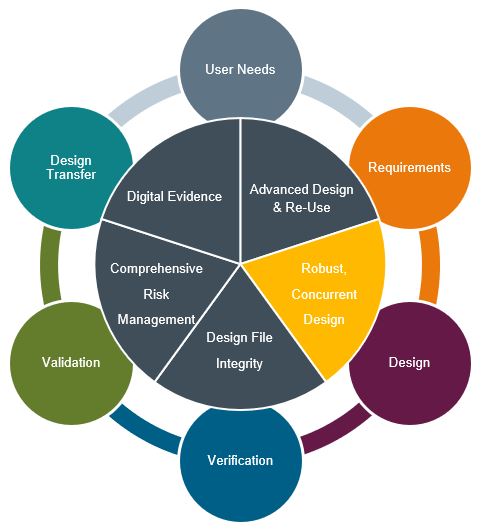 Robust, Concurrent Design
Product development of a medical device is a messy endeavor. While regulations and standards exist to structure your process and deliverables, the reality of doing the hard work of design is highly iterative with many cross functional exchanges. Hurry up and wait can be the norm in a project as each core engineering team (mechanical, electrical, and software) strive to deliver program objectives that have co-dependency on the other domains. Or worse, if you are out of sync or alignment, the results will lead to costly delays and product performance issues.
Design complexity is increasing in all domains as product become 'smart' to enable a range of benefits including contextualized / individual therapies, de-centralized care with increasing home use devices, and autonomous or semi-autonomous medical devices. With increasing co-dependence across engineering domains, tighter integration is necessary to achieve program timelines and deliver the right product.
Additionally, technology has enabled distributed teams to collaborate on product development. It is imperative to equip these teams with a common set of highly capable tools and an integrated work exchange environment to maximize efficiency. Design authoring tools that can provide faster, streamlined design capabilities in addition to collaboration methodologies are in high demand. Data exchange and version management for workflow convergence is critical to data control and traceability.
Ultimately the goal is to realize cost and time savings through a comprehensive digital twin, coordinated for rapid simulations and prototyping. Fail fast is a well-known mantra for effective product development through thoughtful iterative steps. The quicker a team can achieve meaningful data tied to clinical outcomes the more opportunity exists to feedback into the project timeline for optimal results and competitive advantage.
Let's explore some of the common design collaboration areas in modern medical device development:
Mechanical & Electrical Design
Mechanical and Electrical teams require frequent communication as they work out physical, thermal, and electrical challenges in a design. IDX (Incremental Design Exchange) format is a useful method to pass back and forth ECAD and MCAD data as the design evolves in an electromechanical device. While IDX is an independent standard it is not implemented equally among EDA vendors. For example, achieving detailed design information exchange such as copper, flex circuit items, and other incremental objects are limited for many teams.
Advanced integration between MCAD and ECAD provides many distinct benefits. Design reviews can occur real time between the mechanical and electrical engineers. Proposed changes can be immediately viewed, accepted/rejected, with synchronized results and decision support traceability. Teams desire to perform interference checking, visualize solder mask and componentry prior to fabrication, and leverage copper & component layouts for further analysis.
Medical device regulations require formally documented design review. Imagine if you can take advantage of the reviews you are performing during development as a natural extension of the work process to feed into these formal design reviews for more comprehensive, expedited review. Not only are you meeting regulatory requirements, you are fostering a culture of engineering excellence.
Software & Electrical Design
Tight integration upfront in the design cycle between software and electrical engineering teams is paramount to effective and speedy product development. Coordinated software & electrical requirements and specifications along with defect management of the same in a real time environment ensures this teamwork. Teams desire to track all possible and reported issues with automatic management of test failures for traceability and full coverage assurance. Only through rigorous management of issues can they not only ensure compliance, but also good development practice.
Build and release management is key for successful software iterations and solution convergence. Continuous delivery for quick iterative releases can be managed without risk to traceability or compliance. Code and design merges can be collaboratively coordinated with DevOps to improve test automation.
While working in a common environment won't eliminate design issues – it does facilitate the problem solving with visibility to all parties for expedited review, documentation, and traceability – all essential aspects of medical device development compliance and cooperation.
Formulation & Process Design
When part of the product solution is formulated as may be the case for combination devices, chemicals, or pharmaceuticals design teams must scale product design collaboratively with process design for manufacturing. Digital lab solutions can effectively accelerate design transfer and provide an environment to manage formulation and package development, establish electronic notebooks and laboratory management, and establish manufacturing batch and inventory management.
Product Lifecycle Management
Of course, these design solutions are optimal when coupled with product data & workflow control. Product lifecycle management functions as a collaboration engine connecting people, data, and processes across the organization for product control from design through into production. A PLM solution can be tailored to your organizations needs ranging from design controls, purchasing controls, document control, to substance compliance or project management. At the core, benefitting collaboration, is the single coordinated source of truth for your device lifecycle and critical data. With visibility and analytics for all, a properly deployed PLM is a necessity for any medical device manufacturer.
Wrap Up
Collaboration is hard enough in product development across the organization – but it can be much easier with the right software tool infrastructure enabling the teams. Utilizing unified, robust, best in class engineering tools greatly increases the bench strength of your engineering organization. With end to end engineered software solutions, collaboration can exponentially derive greater value from the sum of its parts.
To Learn more about Design Excellence at Siemens please visit here.
This article first appeared on the Siemens Digital Industries Software blog at https://blogs.sw.siemens.com/medical-devices-pharmaceuticals/2020/03/13/design-excellence-in-medical-device-robust-concurrent-design/