Products
Insights Hub and Industrial IoT – What's new July 2022
We empower industries to generate new insights
New in Industrial IoT: IoT Time Series & Events​, Subscription Notification Service and OEE Hub
Insights Hub releases deliver advanced industrial IoT capabilities that bring the physical and digital worlds closer together.
Over the past few months, Insights Hub has unveiled enhancements such as a new time series and event management subscription service and comprehensive IoT-based solutions for calculating OEE and analyzing downtime reasons and inefficiencies.
This update includes many of the newest and most exciting capabilities from the most recent Insights Hub releases:
Remote Services
IoT Time Series and Events Subscription Notification Service
OEE Hub
Insights Hub Monitor updates
---
Remote Services
Over the last few months, Remote Services has improved ease of use, flexibility and cost saving to provide the customer with a better user experience while improving efficiency and reducing complexity.
Remote Services also further extends existing use cases by introducing a data & server option to support application integration with Insights Hub.
With a new pricing model, customers will start with Remote Service and can then subscribe to the "Remote Service engineer" option for customized protocol routing support; they can also subscribe to "Data & Server" option for various network-to-network connection and application integration use cases. If customers need even more resources, they can upgrade in subscription mode.
Remote Services – Data & Server option is an optional subscription providing secure network-to-network connection as well as application integration. It includes:
Device networks connect to service networks for ticketing system access, internal inventory query etc.
Local application/data connect to Insights Hub application for secure data ingesting
With the above capabilities of the Data & Server option, we offer customer a more flexibility way to use Remote Services with cost saving while providing versatile network connections and enabling further application integration use cases.
---
IoT Time Series and Events Subscription Notification Service
What's one challenge that many customers face? Their apps need to trigger APIs for polling new time series data and events at a predefined frequency – even if the fetched response is empty. This contributes to unnecessary compute power and costs on both sides of the data pipeline.​
The addition of the Time Series and Event Management Subscription Service notifies downstream applications only when there is a change in the resources that they have subscribed to.​ This subscription methodology optimizes app interaction while in production.​ Applications can be tailored to respond with desired actions using triggers, moving towards a proactive approach.
The benefits of the Time Series and Event Management Subscription Notifications Service include: ​
Reduction of data-traffic and cost saving
Less computational load for the app as well as for the Insights Hub infrastructure
More flexibility for the developers for data handling​
Elimination of process drag, preventing gateway and third-party application performance degeneration
---
Insights Hub OEE
Overall equipment effectiveness (OEE) as a key indicator of productivity is often based on manual data collection and not available for near-term decision, making it not suitable for benchmarking across lines and sites.​
​Insights Hub OEE is our comprehensive IoT-based solution for calculating OEE and analyzing downtime reasons and inefficiencies by machine, line, order, material etc.​ Insights Hub OEE includes: calculation of additional important production KPIs, the​ ability to record and analyze down-time reasons (automatic, manual)​, customizable calculations, automated reporting functionalities​ and more. In particular, customers have access to the Mendix template for Insights Hub OEE, which allows them to customize and expand the solution to their specific needs.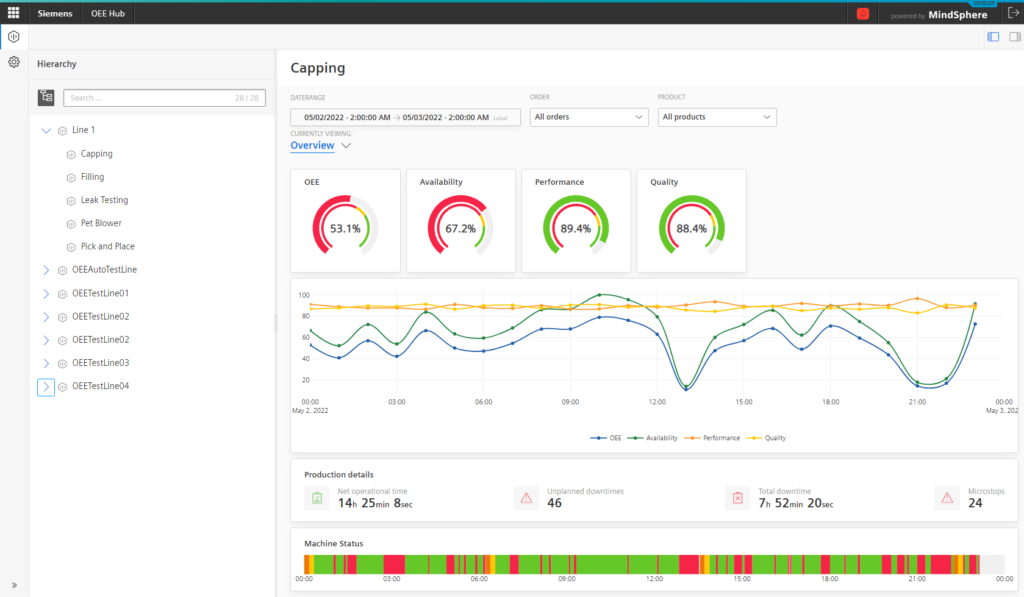 Aimed to be the starting point for improving productivity of production operations​, the Insights Hub OEE provides:
A single source of truth and data consistency for measuring equipment productivity​
Transparency for OEE and other KPIs with sufficient granularity to make comparisons and identify root causes of losses​
Digitalization and simplification of reporting processes​
The starting point for a continuous improvement process
​
---
Insights Hub Monitor updates
Insights Hub Monitor is an Insights Hub app for asset analytics that helps users with state-of-the-art techniques to gain deeper asset insights and optimize their production system and machine performance.
The biggest feature updates in July are in the dashboarding section. Here we've integrated new dashboarding functions based on Grafana, which some users already experienced as the Insights Hub product easyDash. Be prepared for further positive dashboarding news in the upcoming months.
In addition, users can now export and download asset data. By doing so, we continue to support our users in analyzing or processing their data with their favorite tools.
The time series data analysis chart is now able to display interpolated values between two consecutive points. In the same section, the sharing functionality has been extended as well. Sharing a preconfigured view can now be done by simply copying the browser URL.
The monitoring rules have also been enhanced. Users can now receive notifications on their smartphones through a SIMATIC Notifier event.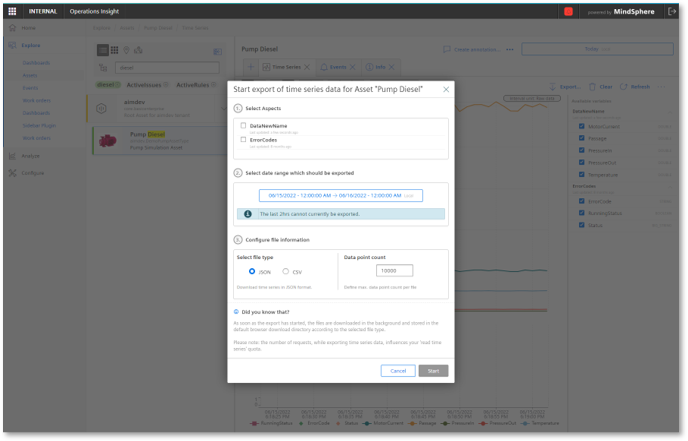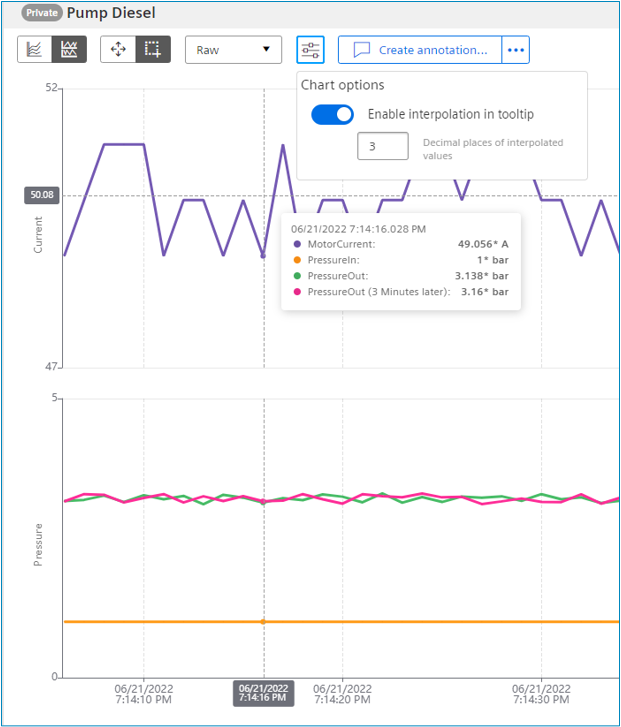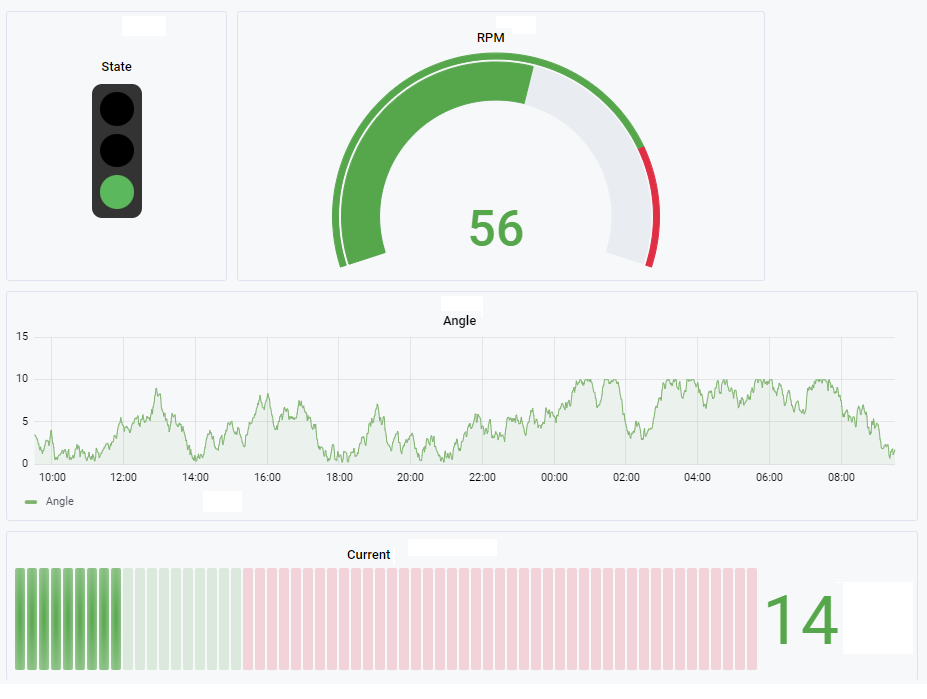 ---
For complete details and availability on the new features of Insights Hub and its supporting releases, please refer to the Releases Notes, Region Table and new features presentations offered for all.
Want to try Insights Hub for free? Start today with Insights Hub Start for Free.
And, as always, hop on over to the public community and website for all things Insights Hub.
Read our latest blog post about energy management and the industrial Internet of Things.
This article first appeared on the Siemens Digital Industries Software blog at https://blogs.sw.siemens.com/insights-hub/2023/04/17/insights-hub-and-industrial-iot-whats-new-july-2022/