Industries
Tackling climate and energy security using carbon capture, utilization and storage (CCUS)
Manufacturing organizations are increasingly turning to renewable energy for their power needs. As a result, renewable energy is the fastest-growing energy source in the United States, accounting for nearly 20% of utility-scale electricity generation in 2020. Globally, that number is even higher: 29%.
Energy from oil and gas is still popular in a number of sectors. Electricity and transportation may be the first industries that come to mind, but these traditional energy sources are also common in the agriculture, mining, materials, fertilizer, and chemicals sectors, among others.
Oil and gas will continue to play a significant role in meeting the growing energy demands of the world's population. Industries and nations will depend on it for many decades to come. But some countries want to meet energy demands while reducing carbon dioxide (CO2) emissions from oil and gas production and usage. For these countries, carbon capture, utilization, and storage (CCUS) could provide the key.
Carbon capture, utilization, and storage (CCUS)
A wide variety of products that are vital to modern society, ranging from food to fuel, depend on the oil and gas industry to provide raw materials. But adverse impacts, including emissions from industrial activities and transportation, have mobilized the engineering community to find ways to reduce its carbon footprint. CCUS, a process that captures carbon dioxide emissions for reuse or stores those emissions to mitigate their effects on the environment, appears to be a very promising approach for certain applications.
CCUS is expected to help significantly decarbonize the energy supply chain. But successful CCUS projects require the right expertise and technology. A new alliance partnership between Deloitte and Siemens is providing vital knowledge, experience, and technology to help companies looking to implement successful CCUS projects. This post discusses the current challenges involved with these endeavors, the enablers that assist with implementation, and the economics involved with CCUS projects.
Challenges for CCUS projects
CCUS, in theory, has enormous potential to help reduce CO2 emissions across the globe. But there are several key challenges to successful implementation.
Cost is one major obstacle. Like other capital initiatives, typical CCUS projects often face cost overruns that result from delays, design changes, and execution disruptions. This can make it harder for organizations to realize value from such projects.
CCUS companies are in the business of dealing with waste products, specifically CO2 emissions. The transportation and storage of CO2 is another critical challenge. Storage facilities must be near accessible areas, preferably close to the source of emissions. Furthermore, storage facilities are in short supply and new facilities take time to develop.
Finally, CCUS projects depend on good climate policies and strong regulatory environments—and these vary remarkably across countries and geographical regions. Too often, strong, proactive legislation is not in place. When it is, however, investors will have the confidence required to approve and manage these large capital projects, and to assess the risks involved with their implementation. Government policies at the local level, like those associated with environment assessment permits, also play a vital role in the successful execution of CCUS projects.
Technological maturity and other success drivers
The technology supporting CCUS is proven and mature. In fact, many companies that offer CCUS services have successfully implemented smaller systems since 2004. Scaling such systems is dependent upon transportation and storage of CO2, and not on CCUS technology.
A big driver of successful CCUS projects is the availability of CO2 storage near large emission sites. Locating storage facilities near large industrial hubs can significantly accelerate the adoption of CCUS. Another advantage of building storage facilities near industrial clusters is that more small- to medium-sized business emitters can also afford to participate.
CCUS adoption and success also depend on the presence of a strong environmental, social, and governance (ESG) framework in the region's financial markets. An assertive ESG framework makes it possible for organizations to more quickly secure capital to fund CCUS projects. These projects, in turn, then unlock capital for additional energy projects. In conclusion, having a robust ESG framework can help communities better tackle energy security and climate goals together.
Economics of CCUS projects
Proven technology exists for CCUS. But what about the economics of CCUS projects?
CCUS projects make economic sense when the cost of carbon emissions and carbon credits are priced correctly. Experts agree that when the carbon market prices each ton of CO2 at its true economic cost to the society and tax credits are in the right place, CCUS projects become economically viable. The economics of a CCUS project depends on the maturity of the regional carbon market and the local government's willingness to apply carbon emission taxes on emitters. Today, this level of maturity is high in Europe, but is less so in North America and other parts of the world.
Digital technologies like engineering simulation can help organizations better understand the effect of any financial model on CCUS plant design. Digital simulation tools allow CCUS design engineers to develop and then optimize plant designs using economic parameters like carbon pricing.
Conclusion
To combat climate change, many organizations are looking at CCUS, a proven technology, to help reduce carbon emissions and ensure energy security in the Western world. As more CCUS projects are completed on time, within budget, and with a high CO2 capture rate, confidence in this methodology will grow and other projects will emerge. Success will breed success. In order to unlock the true potential of CCUS, however, this technology must be taken to developing nations so they can use it to help reduce worldwide emissions.
Want to learn more about the future of carbon capture, utilization, and storage (CCUS)?
Watch the Deloitte's sponsored webinar panel: An industry transition: carbon capture, utilization, and storage (CCUS) and the energy ecosystem.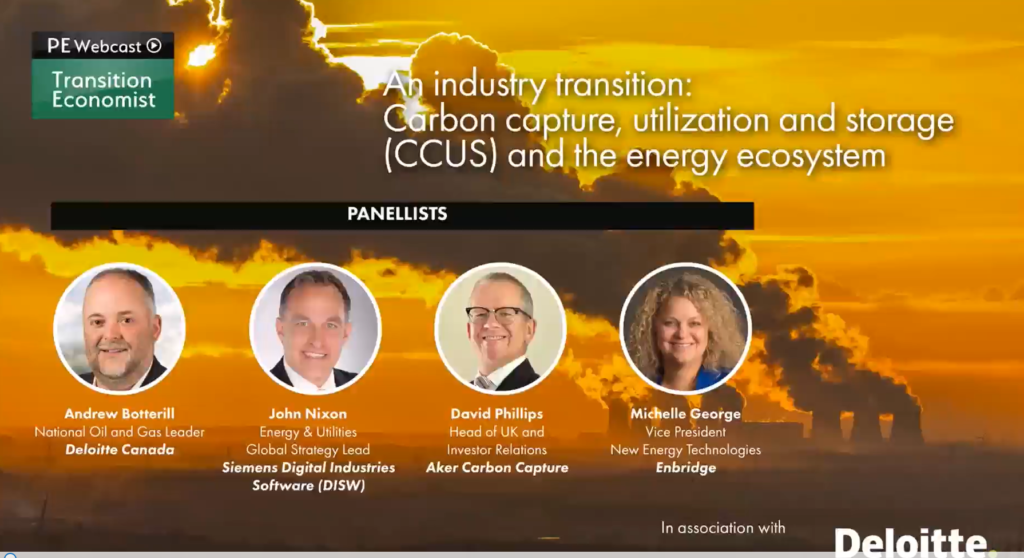 This Deloitte-sponsored webinar was co-hosted by Transition Economist and originally took place on March 31, 2022.
Siemens and Deloitte: a formidable alliance
In today's highly competitive and connected production world, going digital takes more than spot technology implementation. The Siemens and Deloitte alliance puts your success at the center of everything we do to deliver end-to-end enterprise transformations that help you move quickly from roadmap to value realization.
Combining Deloitte's powerful industry and digital transformation experience with their preconfigured solutions for Siemens Teamcenter PLM, MindSphere IoT, and MES software, we can help you connect data and drive innovation across every stage of the product lifecycle. From R&D strategy and lean development capabilities to predictive analytics and talent model transformation, Deloitte can help you improve efficiencies, capture cost savings, lower risks, and scale your business for a sustainable digital future.
This article first appeared on the Siemens Digital Industries Software blog at https://blogs.sw.siemens.com/energy-utilities/2022/07/05/webinar-tackling-climate-and-energy-security-using-carbon-capture-utilization-and-storage-ccus/