As usual, I attended the Embedded Systems Conference in San Jose, CA last week. I guess it remains the foremost show in the embedded world in North America for sure – probably worldwide. My role was to make some presentations and look after the theater on the Mentor Embedded [our new branding for the Embedded Software Division of Mentor Graphics] booth. I did not have a chance to attend any conference sessions and remained on the show floor. Aside from my formal role at the event, it was a great opportunity to meet colleagues, friends and associates in the business – it was very much like a school reunion for me. I also enjoyed gathering impressions about what is hot in the minds of embedded developers …
Last year, I wrote about ESC and observed that design for low power was a key issue. My observation is that this is, indeed, still in engineers' minds.
Multi-core is also gaining momentum, with a separate conference alongside ESC. I notice that my blog last week on MCAPI, which is critical to multi-core, proved very popular; this backs up my impression.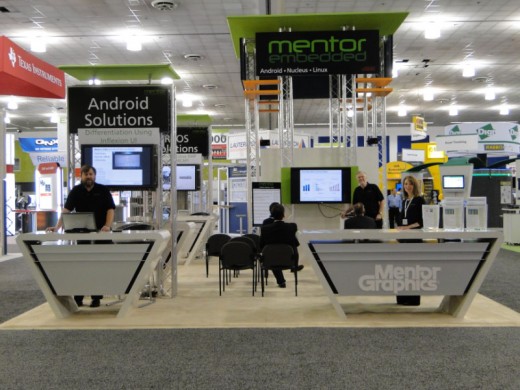 But, at ESC 2010, there is a single word that sums up what is hot in embedded right now: Android. I lost count of the number of people that I spoke to who were enquiring about it. We ran a day-long event on Tuesday at a nearby hotel, which was standing room only. I hear that another similar event on Monday was similarly turning people away. I did a talk in the theater on the show floor, which I guess seated around 200 people. All the seats were full, people were standing at the back and the aisle next to the theater area was full too. Of course, different people have different takes on what Android may have to offer the embedded developer. Our approach is to address targeting Android into applications that are not mobile phone handsets – typically as part of a multi-core, multi-OS design, as I have discussed before. Perversely, there are others who think that making Android [near-] real time would make sense. I think the next couple of years will be interesting.
The ESC Web site seems to be in a time warp, which makes it hard to access any reports on the event. It tells you the dates for the 2011 show [which is fine] and offers to show you what happened in 2010 [which would be fine], but, as far as I can tell, the videos are all from 2009. Since lots of the navigation on the site is also awry, this may well be fixed by the time you read this.
Information about the Mentor Embedded activities at ESC can be found here.
This article first appeared on the Siemens Digital Industries Software blog at https://blogs.sw.siemens.com/embedded-software/2010/05/04/esc-silicon-valley-2010/