Products
New Supplyframe integration enhances PartQuest Portal component research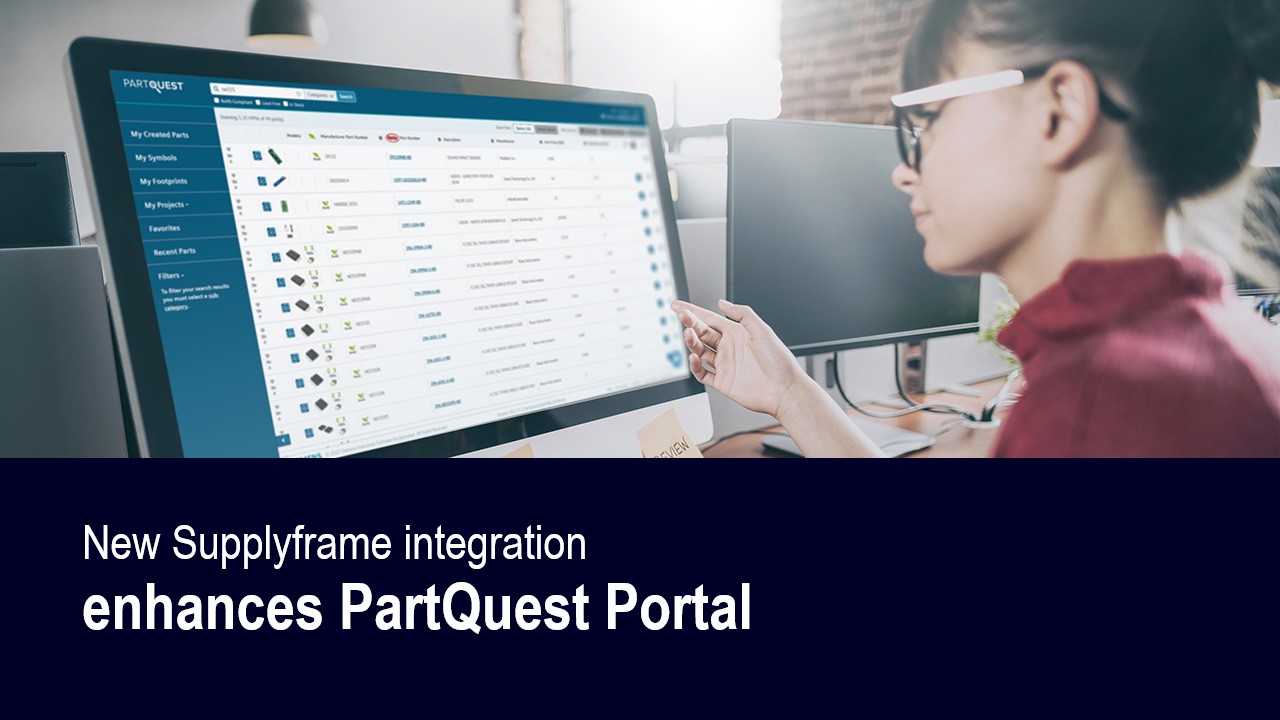 The PartQuest Portal component catalog was given a significant boost in depth and distributor breadth with the July 2023 release (available now).
Extending supply chain resilience to component research
Supplyframe is the leader in supply chain resilience solutions for the electronics industry. Siemens acquired Supplyframe in 2021 to bolster the integrated solutions we offer. We wanted to provide a direct link between our electronics authoring tools and the component ecosystem our customers rely on to bring successful products to market. In short, throughout the New Product Introduction (NPI) process, our goal was to provide the best access to comprehensive component technical data and component sourcing data so engineers and designers can make the most informed part decisions. The integration of Supplyframe's robust component data directly with PartQuest Portal is our latest installment towards that goal.
With this new Supplyframe integration with PartQuest Portal (available now), engineers now have supply chain resilience information during early component research and exploration. Better still, that same, consistent Supplyframe-powered data is embedded and accessible at the point of design during schematic capture. And that same, consistent Supplyframe-powered data is accessible throughout the work-in-progress design cycle with the full integration available in Xpedition. Supply chain resilience at ever step of the NPI process.
Component catalog depth
With the July release of PartQuest Portal, our component catalog has grown from approximately 14 million Manufacturer Part Numbers (MPNs) to over 600 million MPNs. This will make it much easier for engineers to find parts that are the best technical fit for your designs. And the additional access to real-time component sourcing data will further give you confidence in the parts you choose.
Also, PartQuest Portal has always provided access to high-quality pre-made eCAD models. With our library of eCAD models counting in the 100s of millions, our boosted component catalog will give you a greater success rate when searching for the eCAD model content you need for your design projects.
Advanced query search analysis
The new PartQuest Portal search engine allows for more advanced keyword search detection, allowing you to find specific parts faster. For example, if you type in "LED SMD 20mA 5V yellow or green" as a detailed description of the part you're looking for, the search results will be narrowed down to a workable number of MPNs for your review. Also, the advanced search will automatically determine the most likely 'category' that is assigned to the grouping of parts defined by your search criteria. Just click on the "Categories" drop-down menu and you will see that "Visible LEDs" was automatically applied, which actually is a more refined sub-category of the umbrella "Optoelectronics" category.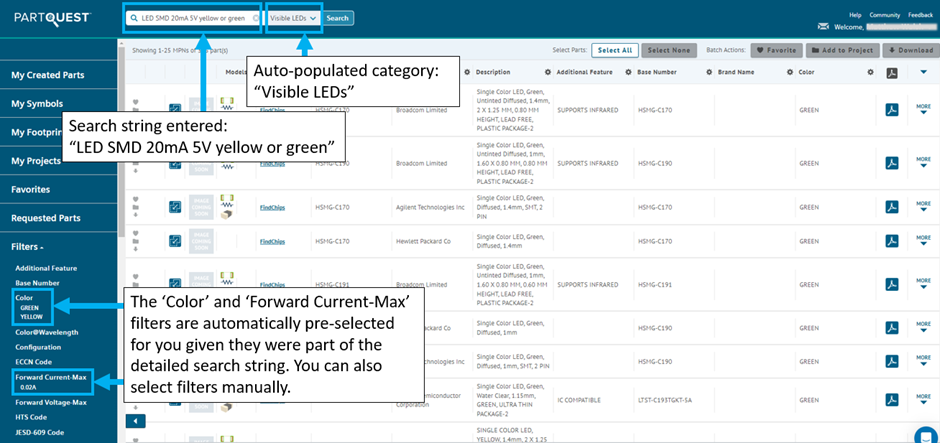 Expanded component distributor visibility
PartQuest Portal was initially built around the Digi-Key component catalog because it was (and still is) considered a well-regarded industry catalog for electronics design. We will continue to make Digi-Key accessible via PartQuest Portal, however, there was a growing need to support a broader base of component distributors. As a result, in this latest release of PartQuest Portal, we have made visible well over 100 popular worldwide component distributors and direct suppliers. The actual number is approximately 135. This list of component distributors will continue to grow.
In PartQuest Portal, once you find the part(s) that meet your needs, click on the "Findchips" link under the Supply Chain column of the search results page. A scrollable Findchips window will appear with the real-time component sourcing information for the selected part from all available distributors. The Findchips window accommodates several filter options to refine the information displayed. For example, if you want to view the results for Avnet, you can select Avnet from the "Authorized" distributor drop-down menu.
*Note: Findchips is the name of the component vertical search engine from Supplyframe.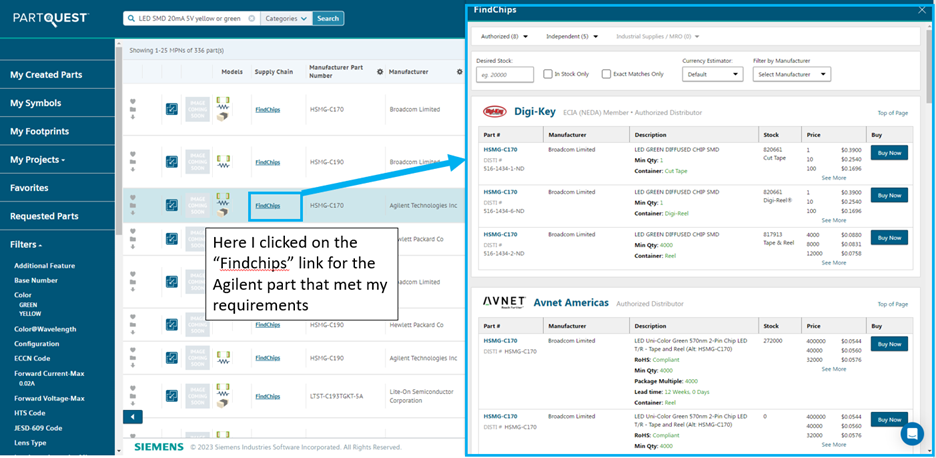 Most relevant properties
The availability of part properties for any given component is essential during the library creation process. Because the properties are stored in your library, searching based on these parameters is made easy directly from the Designer schematic capture tool. There is no need to recall each MPN, you can merely search on the parametric properties to identify the MPN you want to use from your library. However, the number of parametric properties available for any given manufacturer part can reach into the hundreds. Who wants to have a hundred properties attached to their symbol?
With the latest release of PartQuest Portal, we have gone through the meticulous process to establish the "most relevant properties" for every category and sub-category of available MPNs in our database of over 600 million parts. From our experience in electronic systems design, these properties are the most common properties used in each part category. Hence, when you drag & drop your eCAD model to your authoring environment, only those "most relevant properties" (which are then searchable) are downloaded and stored with your library component. This makes your created library much more manageable.
This capability is enabled in your user profile. After login, click the drop-down menu next to your name. Select "My Profile". To enable "Most Relevant properties", click the applicable option per Figure-3 below. Alternatively, you can choose the "All properties" option to download every property associated with the chosen MPN.
There is more to come
Siemens continues to invest in the integrated tools our customers demand to accelerate the electronic systems design process and ensure first-pass success. In support of these efforts, the PartQuest Portal team has lots of exciting capabilities planned with each new release. Stay tuned!
This article first appeared on the Siemens Digital Industries Software blog at https://blogs.sw.siemens.com/electronic-systems-design/2023/07/05/supplyframe-integration-enhances-partquest-portal-component-research/