Products
10 key capabilities of Siemens Capital software portfolio to support holistic E/E systems development 
Electrification, autonomous driving and the race to innovate are creating the need for a new holistic E/E systems design approach – one that allows for greater collaboration and data sharing, and the ability to make iterative changes early in the design lifecycle. Across many industries – Automotive, Aerospace, Industrial and Marine, OEMs and startups are looking for ways to get feature-rich products to market faster and more cost-effectively, without sacrificing quality, safety or creativity. 
But getting everyone involved in E/E design on the same page when it comes to collaboration is no simple feat. Not only do different teams use specialized tools, they often speak different languages – from SYSML to ARXML to IR-drop and others. This results in data silos and complicates change management, slowing design cycles and driving up costs.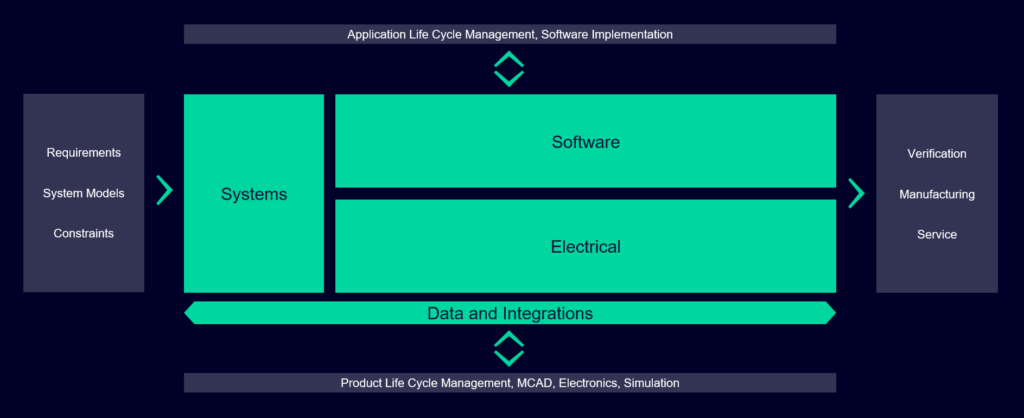 Siemens Capital streamlines and accelerates E/E systems development by leveraging a model-based systems engineering (MBSE) approach, enabling deep integrations into PLM, MCAD and ALM systems for a seamless workflow that supports collaboration and iterative design <fig 1>. Let's examine 10 of the key capabilities of Siemens' open and integrated portfolio for integrated E/E systems development: 
Web-based Access to E/E Data: Capital enables people throughout an organization to access data online throughout the E/E design process, without having to install any software. In this way, Capital democratizes data access, removing a major barrier to effective collaboration.
Systems-driven holistic E/E systems development: Leveraging Capital's platform-level view of the E/E architecture, developers can create, measure, and report on performance indicators in real-time, and use the result to optimize design. Changes can be linked to the mechanical data to provide physical context and visualize the impact of changes, enabling teams to catch problems earlier, before they impact time to market.  
Verification with Design Rule Checks (DRCs): DRCs help designers ensure their designs comply with standards and requirements for safety, quality and performance. Capital provides real-time feedback on design issues, and designers can create custom DRCs to verify designs against company best practices.
Generative design: Capital supports sustainability initiatives by enabling a generative workflow, with fact-based decisioning and powerful optimization tools, making it easier for designers to evaluate design trade-offs such as cost and weight, and minimize the carbon footprint.
Form board optimization: By tying directly into the manufacturing flow, Capital reduces human error that can be introduced during data exchange with MCAD tools, improving quality and lowering manufacturing costs. Designers can rest assured their form board is optimized from the outset.
Interactive 3D modeling: Capital raises the bar on data and interactive 3D modeling, improving technician efficiency by up to 38%. Using 3D views and associated data, technicians can easily understand connectivity and find components quickly to rapidly fix any issues during manufacturing.
Open integration to systems modeling tools: Zonal architectures are necessary to handle the massive increase in compute necessary for modern vehicles. By integrating with any number of third-party tools, Capital enables real-time optimization of the software architecture based on KPIs defined directly with the Capital environment.
Agile E/E network communication design: E/E system design for software-centric products requires reliable communication between the subsystems, and fixing any communication issues late in the integration cycle can be costly. Capital provides generative design and built-in timing analysis so designers can right-size their networks, reducing design time and costs.
Continuous delivery of verified software: Capital delivers AUTOSAR-compliant, automated tools for using digital twins of ECUs, along with requirements tracing, to support rapid deployment of validated applications. The tools support round-trip engineering – a crucial component of continuous integration – along with automated testing within a cloud-based ALM. Configuration is auto-generated, and Capital suggests corrective actions if issues are found, then provides a snapshot of the new behavior based on traced requirements.
Complete Your Digital Thread: Capital provides a digital thread that connects to the E/E systems development workflow. By integrating with Teamcenter, Capital delivers all of the E/E data into the multi-domain BOM together with mechanical, software and electronic components, and orchestrates processes across all domains. This enables holistic change management and ensures consistency.
In addition to these capabilities, Capital works with other internal and third-party solutions such as ​​PolarionTM, NXTM, MendixTM, and Cadenas to further simplify and streamline E/E systems design. In a recent whitepaper, Frances Evans, Senior Vice President of Integrated Electrical Systems, Siemens takes a deep dive into all the capabilities of Capital. Read the whitepaper to learn how Capital enables new levels of integration and data sharing across domains for more efficient and holistic engineering.  
This article first appeared on the Siemens Digital Industries Software blog at https://blogs.sw.siemens.com/ee-systems/2023/05/23/10-key-capabilities-of-siemens-capital-software-portfolio-to-support-holistic-e-e-systems-development/