New eBook: Siemens Capital takes on today's challenges in aircraft electrical platforms
The digital transformation going on inside the aerospace & defense (A&D) industry is quickly gaining momentum.
Why?
There are a variety of reasons, and you'll probably get a different response depending on who you ask.
But one thing is for certain: Digitalization helps A&D companies deal with growing complexity and innovation as it allows teams to collaborate, automate and share critical data up and down the product development lifecycle.
An area that's seen a significant rise in complexity is aircraft electrical platforms. Today these platforms encompass software architectures, network communication and even software development. More software is being used than ever before. It makes sense because electrical functionality is replacing the old types of aircraft functionality – it's the electrification of the modern aircraft.
The digital transformation – how Capital leads the way
Here's an opportunity to learn more about how Capital has become the de facto software suite for comprehensive E/E systems development for the design, manufacture and service of electrical systems in the A&D industry. Read all about the many capabilities of Capital from digitalization and certification, to wire systems and harness manufacturing. It's all here in this new eBook created by the Siemens Capital team. You can download the eBook here.

The Siemens Capital eBook covers a variety of subjects, a few of the topics include:
How to deal with complexity and at the same time minimize risk in modern aerospace electrical platforms
Details on the Siemens Capital E/E Systems development environment and how it integrates with other Siemens software
Using Capital to derisk key milestones, such as Production Readiness Review (PRR), Type Certification (TC) and Entry into Service (EIS)
Capital – in the age of digital transformation
Plus, there are numerous links to blogs, videos and webinars!
---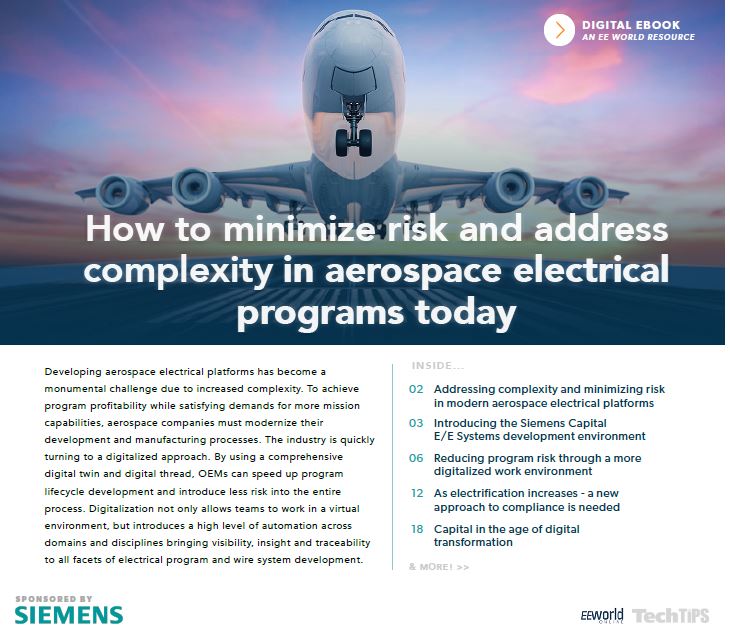 ---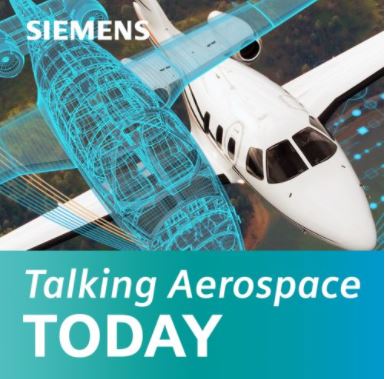 Have you had a chance to listen to this A&D podcast series from Siemens? One season has been devoted entirely to Capital. Siemens' Tony Nicoli and Steve Caravella are featured guests and bring a wealth of knowledge and insight to these podcasts.
When you download the eBook, you'll be able to review all five Capital episodes and decide which episode is right for you.
More resources to check out
Since we're on the topic of electrical system development and digitalization in aerospace, there are a few more resources you might find interesting.
First, check out the webinar "Eliminating Aerospace Certification Gaps Utilizing the Electrical System Digital Thread." This 30-minute, on-demand webinar touches on important topics such as electrical wiring interconnection systems (EWIS) and electrical load analysis (ELA).
And second, download the industry white paper "Managing Change in Aerospace Platform Electrical Systems for Competitive Advantage." This paper delves into why change is not to be feared but embraced as your competitive advantage.
These are exciting times for the A&D industry. I should also mention that the Siemens Xcelerator portfolio is at the center of everything Siemens offers. Xcelerator brings together and integrates the entire Siemens Digital Industries Software portfolio with embedded tools and databases connecting informational, operational and engineering technology environments. It's a type of ecosystem that allows teams to tackle their toughest challenges at a pace that's right for each individual user.
You'll be hearing a lot more about Xcelerator in the months ahead.
I hope you enjoy the eBook. I especially hope you listen to our podcast series.
---
Scott Salzwedel is a senior technical writer and corporate communications writer involved in the Siemens Aerospace & Defense Industry and Siemens Capital. Scott is also the writer/host of the Siemens podcast Talking Aerospace Today.
This article first appeared on the Siemens Digital Industries Software blog at https://blogs.sw.siemens.com/ee-systems/2021/08/06/new-ebook-siemens-capital-takes-on-todays-challenges-in-aircraft-electrical-platforms/