Back to the future (or how to solve problems before they exist)
By Ruben Ghulgazaryan, JinHee Kim, Jeff Wilson – Mentor, A Siemens Business
Foundries and design companies working together in a DTCO flow can use CMP modeling and simulation to eliminate or mitigate predicted post-CMP issues before actual manufacturing.
Post-CMP issues can doom a design during manufacturing. Is all of the work and time and resources that went into that design wasted? At best, the design company might be able to salvage the design through rework, adding even more time and cost to the product. At worst, the market window closes and a profit opportunity is lost.
But here's the thing. Most CMP hotspots are caused by design-specific layout issues, and can be eliminated by modifying the design layout. What if there was a way to, I don't know, predict these issues BEFORE the design is manufactured? With that kind of information, the design team could adjust the layout before manufacturing time and expenses are incurred, when the cost of those changes is relatively low.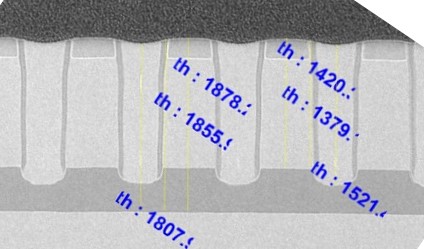 SK Hynix and Mentor decided there had to be a better way, so they set out to find it. In the face of increasing design complexity, more design companies and foundries are using design-technology co-optimization (DTCO) strategies to optimize design layouts for manufacturing while simultaneously improving manufacturing processes. Taking advantage of DTCO was the key to developing a practical solution.
By building a highly accurate CMP model on a testchip, using measurements from specially designed CMP test patterns, SK Hynix and Mentor demonstrated that design teams can use CMP simulation results to predict device damage caused by CMP, and then implement layout optimizations to prevent or minimize this damage. In a real-world DTCO collaboration, manufacturing engineers would create the calibrated CMP models and perform the CMP modeling and simulation on designs received for production. If hotspots are found, the designs would be returned to the design team with suggested design optimizations to eliminate or mitigate the predicted post-CMP issues. The use of CMP modeling and prediction as part of a DTCO flow can save both design companies and foundries the time and cost of manufacturing failures.
If you'd like to know more about the details of the process and the results of the experiments, it's all in our joint white paper, CMP simulation solves manufacturing errors before they actually exist. Download your copy to learn how you can use CMP model building and simulation to accurately detect and avoid device damage due to the CMP process.

This article first appeared on the Siemens Digital Industries Software blog at https://blogs.sw.siemens.com/calibre/2018/12/04/back-to-the-future-or-how-to-solve-problems-before-they-exist/