Corporate
Siemens-Sponsored Teams Won All 3 Classes at 2021 Formula Student East – Hungary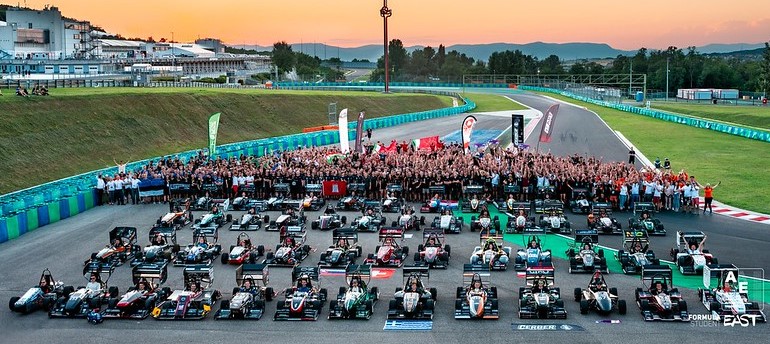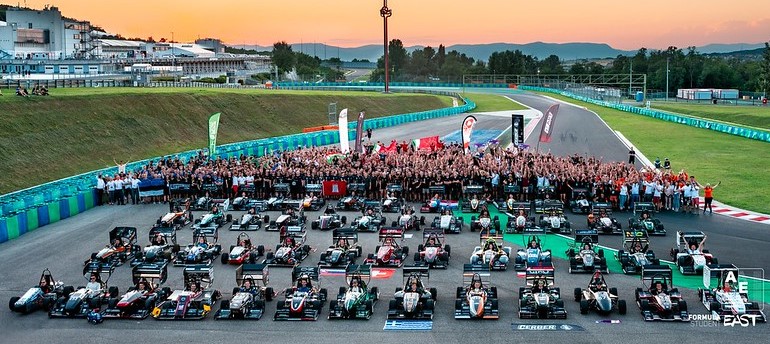 Formula Student EAST in Hungary was first sponsored by Siemens this year 2021, with financial support to the host organization and no-cost software grants to these impressive student teams. FS East, run by the Hungarian Association of Automotive Engineers, is one of almost 20 Formula Student events around the world. This well-run competition attracts top FS teams from all over Europe, where Siemens' software is the de facto FS standard in such challenges as aerodynamics simulation, electrical system design and other categories. The Formula Electric, Formula Driverless, Formula Combustion racecar classes were all won buy Siemens-sponsored teams.
For 2021, the plan was an 84 team competition with teams from 23 countries: 36 Combustion teams, 36 Electric and 12 Driverless/Autonomous cars. However, due to travel restrictions, a smaller number of 63 teams from 19 countries managed to finish their racecar and participate, with about 1700 students attending the event. Teams that couldn't attend due to covid restrictions got to do some virtual presentations of their designs.
The venue took a big step up to the HungaroRing track facility this year -the home of the Hungarian Formula-1 Grand Prix race. It takes a huge effort to put on such a well-run event – requiring 150 officials, 130 judges including a Siemens judge for Formula Electric, and 10 sponsors including Siemens Digital Industries Software.

As is usual for FS events worldwide, there were multiple Dynamic events on the track ranging from acceleration – to a tight, challenging autonomous course with turns requiring millisecond accuracy. In addition, the teams score points toward a win in: Business Plan Presentations, Cost & Manufacturing Presentations, and Engineering Design Presentations.
Engineers and managers of top Hungarian companies came again this year to assess the preparedness of the teams and their applied technical solutions. Among them was Siemens' Martin Tilman, who judged the comprehensive vehicle concept for the electric class racecars.
"I'm glad to help judge Formula Electric teams because I believe in what these students are doing and what they want to achieve. I hope that with our technologies we can help them to further develop what they are doing," said Martin about the event, "so they can get into really good engineering careers where they can advance the innovative businesses of the future. "
Every first-place winning team at FS East in all three racecar classes
relied on Siemens' software to help make their car highly competitive.
In the Formula Electric category, ETH Zurich University's AMZ Racing team won the title in this advanced, and green, racecar class. Second place went to the University of Stuttgart's GreenTeam, which also won 1st place two years in a row for the 'Siemens Digital Twin Engineering Excellence Award" at Formula Student Germany (2019 & 2019). There's a common thread that many winning teams already use the Digital Twin methodology enabled by Siemens integrated suite of engineering software, 'Xcelerator'. Some of the top world-class FS teams, especially in Germany, are more sophisticated in deploying this methodology and software even compared to some industrial companies.
All three podium places in the Driverless class were won by Siemens-sponsored teams!
1st – Karlsruhe Institute of Technology, 2nd – Augsburg University of Applied Sciences, and 3rd – RWTH Aachen University

The KA-Raceing team of the Karlsruhe Institute of Technology was at the top of the Driverless/Autonomous category competition, the most difficult and sophisticated of all Formula Student challenges. They use a wide range of Siemens software in their 'digital twin' engineering methodology design and simulation. In 2019 they won 2nd prize in the prestigious 'Siemens Digital Twin Engineering Excellence Award', at Formula Student Germany.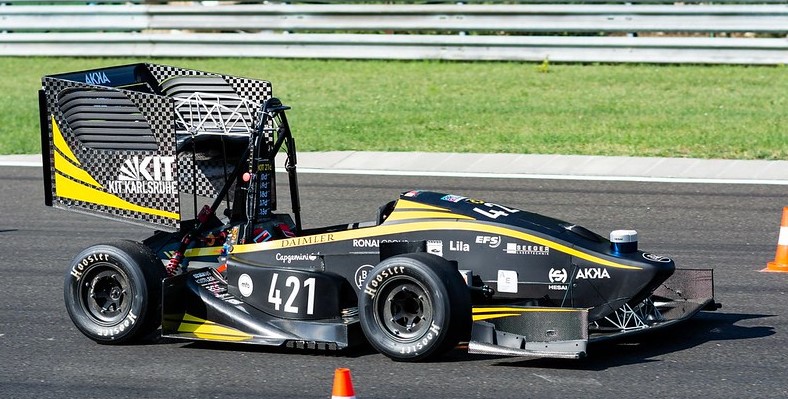 First place in the internal combustion category was earned by Rennstall Esslingen, a team from University of Applied Sciences Esslingen.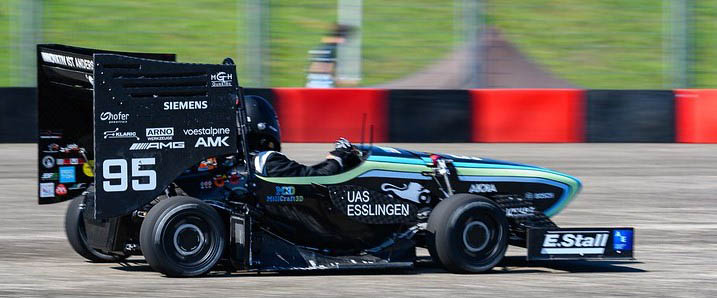 Hungarian teams also finished with good results, in the overall results, BME FRT finished in 3rd place in the electric drivetrain class, while among the Hungarian combustion teams, Arrabona Racing Team took 11th place and BME Motorsport 12th place.
Looking forward, in 2022, FS East will be only the 2nd Formula Student country to introduce a competitive class for hybrid-electric powertrain racecars, (in addition to Formula Hybrid in the U.S.)
Siemens plans to sponsor this excellent and innovative Formula Student event again in 2022, along with other industry sponsors. "We were impressed with the organizers and the teams at FS East", said Leigh Anderson, Siemens' manager of the global student competitions program, "we congratulate all the teams for persevering through the pandemic difficulties and the winners for their outstanding achievements – it's kind of shocking how sophisticated some of these university teams are – in both their engineering process and the high-performance technology they design and build from scratch."
If your team would like a grant of Siemens software, please see our application form online. Or see a brochure of engineering software solutions curated just for student teams.
www.instagram.com/formulastudenteast
www.flickr.com/fseast (has thousands of photos of the event – all photos in this article are credit to Formula Student East)
www.vimeo.com/fseast (has videos of the event)
This article first appeared on the Siemens Digital Industries Software blog at https://blogs.sw.siemens.com/academic/siemens-sponsored-teams-won-all-3-classes-at-formula-student-east-hungary/