Siemens Empowers Education and Startups at Realize LIVE 2023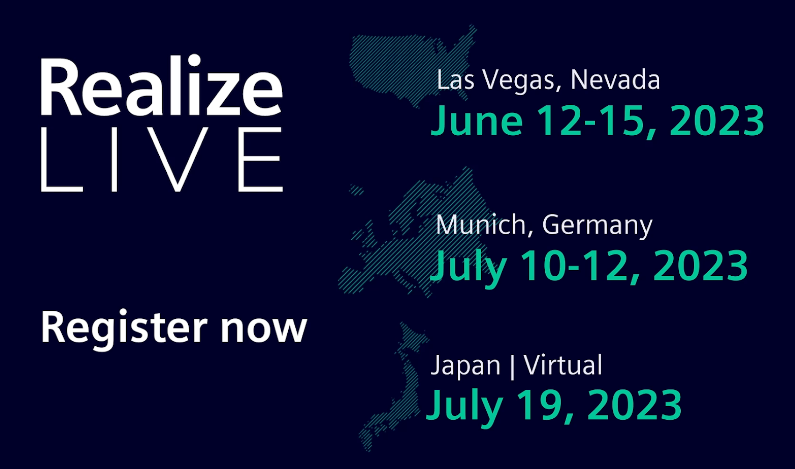 Siemens aims to empower educators, students, and startups as they usher in the future of innovation and continue to bridge the gap between industry and academia. Realize LIVE is one such opportunity for dialogue among the global Siemens community, offering a space for idea-sharing, collaboration, and career-advancing conversations. The Siemens Empowers Education and Startups team (SEES) is eager to provide multiple resources at this year's Realize LIVE!
Realize LIVE 2023
This year's Realize LIVE events will be held in June and July in the United States, Germany and Japan. Realize LIVE welcomes those who are thinkers, doers and change-makers, from educators and students to technical users to process leaders to industry partners. The event offers in-depth technical training, product previews, and the first look at new solutions. Attendees also gain access to Siemens experts, insights on the future of industry, and fresh perspectives and best practices, delivered straight from Siemens customers.
Realize LIVE is a single place for partners, Siemens experts and customers to all come together and really talk about a similar interest in digital transformation and where we are trying to take our companies.

Lateef Khan, Mercury Marine
What is SEES?
SEES aims to empower education and startups in fostering innovation and preparing students and educators for the future of engineering. They offer resources including free student software, classroom software, and a Siemens Xcelerator for Startups portfolio. SEES also supports student competition teams and startup accelerators to encourage real-world STEM education and innovation. By supporting education and startups, SEES hopes to bridge the gap between industry and academia and support passionate engineers as they lead the future of innovation in engineering.
SEES at Realize LIVE 2023
SEES is excited to connect industry and academia at Realize LIVE. This year, SEES is hosting the first ever 48-hour Student Sustainability Design Hack Challenge, sponsored by KYBURZ Switzerland AG, at Realize LIVE Americas and Europe. The challenge will provide students with the opportunity to kickstart their careers while demonstrating their design skills using NX. The Student Sustainability Design Hack Challenge will take place in Las Vegas and Munich. SEES will also be participating in the Innovation Hub in Las Vegas, a space dedicated for conducting research-oriented studies with Siemens customers, partners, and academia to better understand their perspectives. Additionally, SEES will be showcasing digital badging and certifications. For instance, attendees will be able to learn how to become NX certified through Siemens Xcelerator Academy. For attendees who are interested in startups, Realize LIVE will also be a chance to learn more about how SEES can support startups, such as resources for software or opportunities for startup competitions and accelerators. SEES is looking forward to collaborating with the attendees of this year's Realize LIVE and is eager to provide support for the future innovators and engineers of tomorrow!
Learn More
To learn more about this year's Realize LIVE events, click here. For more information on how to attend Realize LIVE, click here. If you'd like to know more about how SEES can support your classroom or startup, check out the Academic Partner Program and Siemens Xcelerator for Startups.
This article first appeared on the Siemens Digital Industries Software blog at https://blogs.sw.siemens.com/academic/siemens-empowers-education-and-startups-at-realize-live-2023/