Corporate
Podcast Transcript: Preparing Students for Careers in the Industry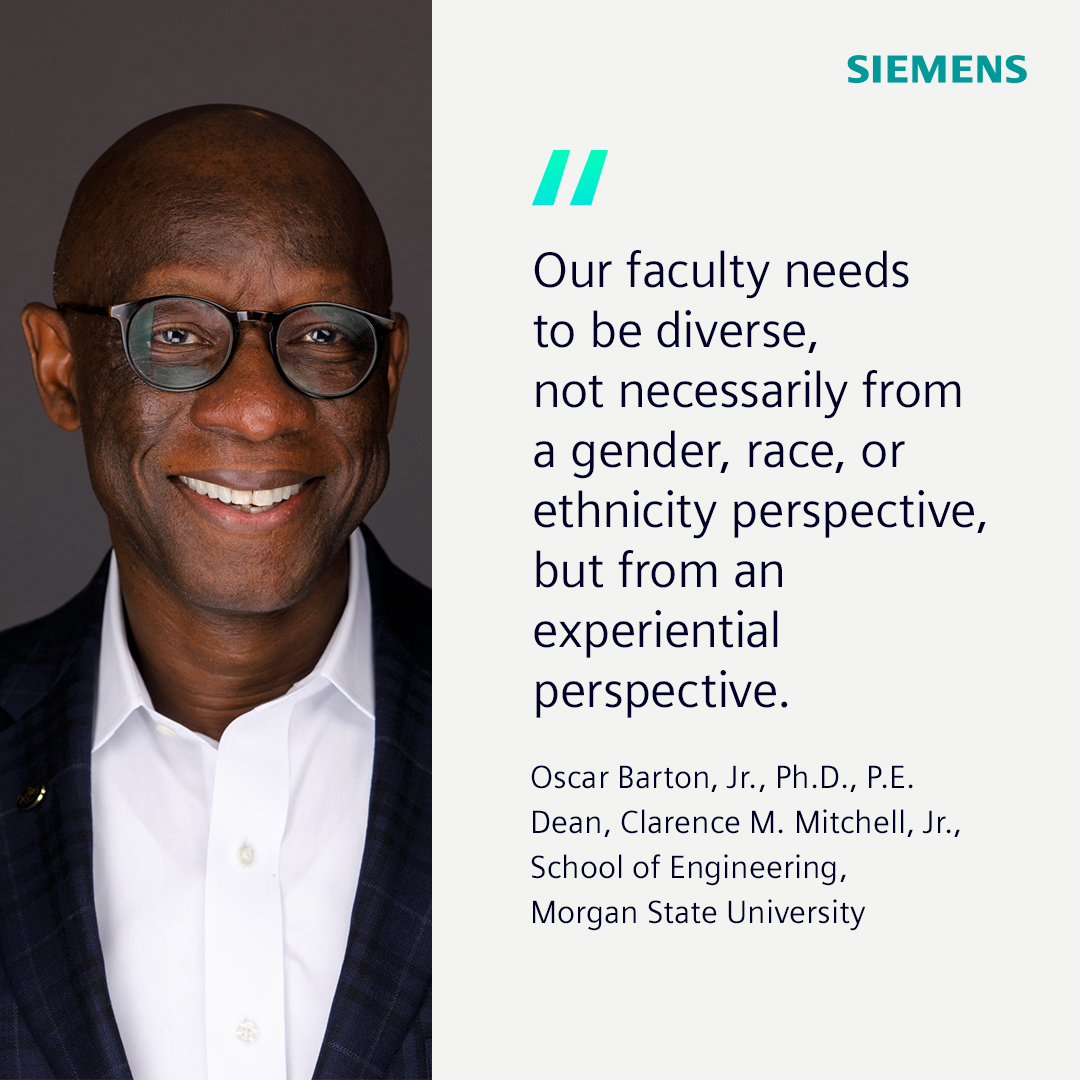 Why do two students enter the same workforce from similar academic backgrounds but perform at significantly different skill levels? What distinguishes one from the other in terms of preparedness? What else can academia and industry do to prepare their students for the "real world" besides pre-exposure to industry tools and software?
On this episode of Innovation in the Classroom, our host Dora Smith joins today's guest, Dr. Oscar Barton, the Dean at Morgan State University's Clarence Mitchell Jr. School of Engineering. He has a PhD in Mechanical Engineering from Howard University. Before becoming Dean, he worked as a Professor and Department Chair at George Mason University.
In this episode, you'll learn about:
Ways in which universities, specifically Morgan State, are getting their students ready for careers in industry
The challenges students, teachers, and the university faced during the pandemic
The guiding principles to building a positive and cultivating academic culture
Why increased flexibility of elective selections enhances academic development
The importance of curiosity, passion, and risk-taking characteristics for students
How industry partnerships can help institutions provide the opportunities and technology to adequately prepare its students for industry
And one thing I thought is essential is communication — being open, being honest, and being consistent in what we share really enhances what I think will be a positive culture for the academy.

– Oscar Barton
Stay tuned to Innovation in the Classroom wherever you do podcasts!
Connect with Oscar:
---
Podcast Transcript
Dora Smith: Welcome to Innovation in the Classroom by the Siemens Empowers Education Team. I'm Dora Smith. Why is it that two students can enter the same workforce from similar academic backgrounds, but perform at significantly different skill levels? What distinguishes one from the other in terms of preparedness? Pre-exposure to industry tools and software certainly plays an important role, but what else can academia and industry do to prepare their students for the "real world"? This episode's guest, Dr. Oscar Barton, is the Dean at Morgan State University's Clarence Mitchell Jr. School of Engineering. He has a PhD in Mechanical Engineering from Howard University. And prior to his role as Dean, worked as a Professor and Department Chair at George Mason University. Today, Oscar and I discuss the ways in which universities, specifically Morgan State, are getting their students ready for careers in industry. We also talk about what support is being offered by industry in this respect and what more needs to be done, especially when it comes to historically black college and universities. Innovation, collaboration, coordination, and sustainability — we cover it all.
Oscar Barton: Our educated workforce of the future has to be expanded to include a much more rich population of African American, Hispanic Americans, Native Americans, Islanders, Asian Americans, that we no longer have really the option and a choice of who we educate. And if we're going to remain economically viable, I think the fiscal and financial consequences of not having an effective DEI policy and engagement is making it more pronounced.
Dora Smith: We all choose our paths in life, and it's usually carved out by the tiny things that inspire us every day, whether it's a person, place, or thing, we're constantly being taught about ourselves and gaining a better understanding of where we fit in this world. For Oscar, it was his experience completing his PhD, while at the US Naval Academy, that helped him discover his passion for teaching. I asked him what it was about that experience that was so enlightening.
Oscar Barton: I had just two very, very inspirational folks in my life during that time: Bob Reese was my advisor and a math professor who taught me applied math. And they seeded me with this curiosity about joining the academy. So, when I began to do my research where I studied solutions to partial differential equations using this approximate method, they taught math as though it was a new language; it was elegant, it was mysterious, and it drew me to this experience that I wanted to be able to share that with other students. So when I joined the Naval Academy, I had that fire already in me about sharing a new language for us to do engineering. I took the viewpoint that my classroom was my theater and I was the conductor, and somehow we need to make music together. And through math, we learned everything possible in the engineering discipline. So that kept that passion going. And I will frankly say that I thought I was pretty good at it as I went through many, many years of teaching and research.
Dora Smith: So, Oscar's advisor, Bob Reese, played an important role and igniting his passion for math and teaching. Oscar shared a particular instance that stayed with him through the years where Bob offered some valuable words of wisdom.
Oscar Barton: My very first presentation was to the Midwest mechanics meeting—my advisor and I, Bob Reese, we were flying in—that was held in Purdue. And he saw that I was a little nervous and he shared some experiences with me and said, "Hey, you're a young African American going into a meeting that is predominantly older white males. Don't fear. The thing that you will recognize is that once we start discussing this language of mathematics, they will be drawn to you and you to them." And that conversation started very, very easily and it was a very fruitful experience with my first presentation.
Dora Smith: It's interesting to think of all the possible paths we could have taken in life. One small thing can lead us to veer either right or left, each path leading to a very different future. I asked Oscar if it hadn't been for Bob, would he still have followed the same path in life?
Oscar Barton: I probably may not have. I think that I was searching at that point, finished my master's degree, and was still searching about what is it that I really wanted to do in my life. He approached me as though we were the first mentor and mentee, and then we became friends, and then we became research colleagues, and I think that sort of pathway lend me more towards the academy than anything else.
Dora Smith: Starting a new job or career is always daunting — expectations are high and there will usually be a period of uncomfortable transition. I asked Oscar if this was the case when he started as dean at Morgan State University's Clarence Mitchell Jr. School.
Oscar Barton: I was wearing two hats when I signed on the dotted line, I was still at George Mason. But I had to very, very quickly get up to speed on planning for the fall semester here at Morgan. So I was taking meetings at both institutions at the same time. So the very first challenge I had to get over was getting up to speed very quickly on a fast-paced topic that met with the Academic Council, almost daily in some cases, to look at the impact of COVID on students and faculty. So when I joined, another challenge that I pretty quickly understood was that our faculty, some of them were not ready for this tech savvy environment in which they had to now work. They had preferred to teach things on their dusty notes or PowerPoints, so moving to a canvas platform and really building a dynamic learning environment was a challenge. So we had to realize that we had to provide support for them not only to understand the platform, but to be competent at delivering their lectures via that. And communicating with faculty was difficult. I am a very hands-on kind of person, so I would walk down the office to the hallway to see my faculty versus calling or sending an email. And that was difficult for the first six or seven months, and then we have gotten used to it but we ensured ourselves that we would not use this as a medium for building our environment during COVID.
Dora Smith: Oscar went on to explain to me what the student experience was like during this unprecedented time and how the university adjusted to meet student needs.
Oscar Barton: We found very quickly that some of our students were resource constrained, many did not have access to the internet and some did not have computers, so we had to provide them with the resources just engage in the learning environment. So a lot of our corporate partners stepped in and provided us with laptops, and we were able to get internet connections and hotspots for students who did not have the internet at home. It was not the best of experiences, but at least they were able to participate. I think another thing that we had to, as the first year went through, the biggest challenge was how to really monitor the classroom environment. There were times when we survey students at the end of the semester, they felt that the experience was not what they had signed up for, rather they were really lecturing to themselves with PowerPoint slides. So we had to really encourage our faculty to work closely and try to recraft that face-to-face environment as best possible online. And that was only done by regular training and engagement from what we called some of our tech students.
Dora Smith: Oscar believes that cultivating culture is necessary for ensuring that student organizations are run efficiently and effectively. One of his goals, when he started as Dean, was to build a positive culture of what an academic community looks like. I asked him how this is done.
Oscar Barton: A framework from which everyone can agree that we will engage it's extremely important for growing and large organizations to be productive and efficient. What we all agreed upon, I presented to the faculty and staff, what we call guiding principles and I'll just share a few of those with you. And these are just things that are quite obvious but if they're not stated, I don't think they have the same impact on folks realizing that we're doing these kinds of things.
Dora Smith: So, what are these guiding principles? And how do they contribute to the framework of the organization?
Oscar Barton: Number one is we're a team — so we work as a team and it's important for us to realize that I depend upon you just as you depend upon me to get our jobs done. We set high standards for ourselves and our students. But we also realize that as we set these standards and as we execute them, we will make honest mistakes or things that we have to live with and it should not be held against us. At the Naval Academy, one thing that was quite important for us is to live and work with honor, so we adopted that as a guiding principle. We said that everyone has a responsibility and we need to take ownership of our responsibility to ensure that we are effectively running our units for the departments, the Dean's office, and myself as the dean here. I'm always trying to be optimistic and positive about things. Sometimes it's draining but have a good smile on your face and always look for the positive was another guiding principle. This is something common to a lot of folks. We value that we are a diverse community.
Dora Smith: Oscar walked me through how he decided on his guiding principles, and how his staff contributed to creating them.
Oscar Barton: We had to really build a vision. Executing that vision, again, via Zoom, was a little challenging at first. And it became much more realistic last spring when we had our very first face-to-face faculty and staff meeting, just general conversations about what are your thoughts on what's needed for the school and how are we going to uncover these opportunities were easily communicated. And I think that worked well for both the faculty staff and I definitely know it worked well for me as Deam. Understanding the work-life balance was difficult. Again, for me, I always like to ask questions like how's your family, are you getting out of the office at a reasonable time? Are you enjoying your weekends? That was tough to assess but we started to mandate that this fall, we will do our very, very best to come back face-to-face so that we can start building that experience better and ensuring that we have a much more productive and enriching work-life balance. And one thing I thought is essential is communication — being open, being honest, and being consistent in what we share really enhances what I think will be a positive culture for the academy.
Dora Smith: When speaking about bridging the gap between industry and academia, Oscar compared to industry, to the university's customers, and students to the products supplied to those customers. I asked Oscar where to focus the most in order to prepare students to meet the needs of the industry.
Oscar Barton: We need to rely less upon sitting in the seats and getting our students out of their seats to gain as much from co-curricular and experiential learning as best possible. And that comes through engagement through internships, which we're trying to build as much as possible. We're redefining some of our co-op experiences here at Morgan State. Early and often engagement for students will be important. We are building what we call enterprise projects for students from their first year all the way through their senior year in addition to their senior capstone, where students will be able to take a very small portion of a project, learn from it, and then pass that portion or to the next team that needs that information to complete one of their assignments, and it builds upon the entire components of the project so that those at the senior level will be able to complete their responsibilities.
Dora Smith: So, experiential learning through internships, co-ops, and industry projects are just some of the ways that Morgan State is preparing its students for better integration in the industry. Oscar went on to explain the importance that the institution places in aligning with the needs of the industry and what other steps they are taking to do so.
Oscar Barton: We realized that one thing we have to bring these two entities closer together; the earlier we do that, the better both will gain. We've just instituted what we call the professional practicum, which gives work for credit in the junior year. And we're offering our faculty, as faculty mentors, to work side by side with our industry partners to define a well-crafted summer experience, which will be challenging to do sometime in 10 weeks, but there are some learning outcomes that are important for the students to be engaged in. And students will then come back to their senior year, present their work, and write a final report, and they will be automatically given credit for one of their technical electives. We think this connection into the junior year is important because it's just one year shy of finishing their senior design project and our sponsor, the industry partner, will have a good look at them as a potential employee should they choose to do so.
Dora Smith: Oscar also believes that offering students increased flexibility when it comes to choosing electives is important for their academic development. I asked him why he thought allowing this would give students an advantage when they started working in the industry.
Oscar Barton: One thing I've noticed, and this is not anything negative to say faculty members are very territorial. I want to make sure that if I'm teaching a group of students, they're going to take my Nonlinear Heat Transfer course or my advanced courses of Machine Design, and we very quickly populate the elective courses. We have to realize, and I think we at Morgan have realized as George Mason has too, what we teach in the required format in our required courses, the required part of the curriculum, should best prepare students to engage in their discipline, and they require courses in mechanical engineering is essential. The elective courses provide opportunities for students really to say, "How do I really want to use my ME degree?" Or the IE degree, or the Civil Engineering degree, or the Transportation degree, those are what we have here at Morgan, that will only be captured by having much more flexible free electives. I think they now take ownership, not of their program, but take ownership of their career. So they see themselves not being in this timeframe, but they're now projecting, "This is what I want to do aspirationally." And with this flexibility that gives us ownership and see more career relevance. I do also think that we focus a lot on stem tools. We've talked about this before, we need to look at the attributes to allow our students to use best those tools, and that's curiosity, a sense of passion, and realizing that failure is an opportunity, and through risk-taking, we all will learn.
Dora Smith: Another advantage to increasing flexibility for students choosing electives is the fact that it adds more variety to their coursework. I asked Oscar whether he thinks this would have a positive impact on students' mental health.
Oscar Barton: It probably does. I haven't observed it particularly. I think the modality, which we're still struggling with to ensure the students are face-to-face versus online platforms really has impacted their sense of mental wellness. We recognize that through surveys and have offered students and faculty "wellness days" to offset any sense of loneliness, despair, and lack of seeing what the future holds. I'm sure there would be some more excitement about their careers, but I'm not sure if the direct impact on mental health is as readily accessible now.
Dora Smith: Oscar also spoke about his experience at George Mason and how equal importance was placed on building connections between students and industry.
Oscar Barton: I really want to focus on one thing that we started at George Mason, and that is building what has been valued in terms of educational experiences, and that's the Grand Challenge Scholars Program. That has elements that I think industries folks are looking for. Students that are not relying upon just textbook knowledge but experiences to work and challenge the questions that are probably going to be put before them. So they'll be working with research experience, something multidisciplinary. I'm not going to work as a mechanical engineer, even though that's my training, when my first year out, because I have to work on a team. I'm expected to be able to be entrepreneurial and business savvy.
Dora Smith: So what about technology? How do we ensure that students are being exposed to the latest industry technology to further facilitate their transition from the classroom to the office?
Oscar Barton: I do think one way to ensure that there's a consistent way to involve industry in the classroom is through micro-credentialing. It's a value-added proposition because it gives students an insight into what career readiness will look like while they're still working in the classroom.
Dora Smith: With the industry constantly innovating and evolving, it is challenging for universities to keep up, how can we enable more consistent alignment between the two?
Oscar Barton: Our partners need to keep the conversation going about what has happened between what we've done in the classroom and what has happened in the industry. ASME probably started this effort maybe 20 or so years ago and it was called the Vision 2030 study. And the intent was to try to reduce that knowledge gap from our graduating seniors when they first walked init to their first office job. And what that study found out was that our students are very well prepared to do technical things, solving equations, and those kinds of things, checking answers. But the experiences didn't lead them to do well in their work experience, so they came up with a study, and the results of the study indicated that we had to build more co-curricular experiences, which is a no-brainer, we know we have to do that. One thing that a lot of our ME students were not aware of is our standards, so that enhanced exposure to engineering standards.
Dora Smith: We've spoken about what universities as institutions can do to expose students to industry. And we've also covered some of the ways the industry can help in this effort. So what part does faculty play in a successful integration?
Oscar Barton: One thing that can be a challenge with academia is recognizing that our faculty needs to be diverse, not necessarily from a gender, race, or ethnicity perspective, but from an experiential perspective. So having folks who are senior leaders come back to the classroom can really enhance the learning environment.
Dora Smith: In previous conversations, Oscar spoke to me about what he termed the business of engineering, and how expanding the focus of skill sets to include societal engineering could prove integral to a student's development. I asked him what steps Morgan State was taking in this regard.
Oscar Barton: When I was a team chair, I went to Boston and was ecstatic about the visionary concept of their program embedded through all the departments. And the dean and I had a conversation afterward and I shared with him some of the expectations I wanted to do at George Mason, and I said, "Would you mind if I were to tap into one of your titles? And that was developing the societal engineer." He said, "Sure, not a problem. Just trademark this. As long as you trademark, it is okay." So we did that. The framework of the course that we developed at Mason has been imported here at Morgan. It is a case-structure course where case studies are delivered from a number of industry folks, government folks, and military leaders if they need to be. And it covers topics like conflict resolution and strategic planning. One, which we feel that many students are not so comfortable with is emotional intelligence, understanding the emotional aspect of working in a large corporation and working in a team, building the understanding of business acumen and building business proficiency, presentation skills, and all of those have been folded into a seminar case study course. And we will tap a number of folks to teach these modules, and students will be able, at the end, to really gain some exposure, I think, to things that are not embedded into any of their classes that they currently do.
Dora Smith: So once an institution has provided its students with equal access to tools and opportunities, what distinguishes those who end up excelling academically from those who don't perform as impressively? Oscar has an acronym for this: CPR (Curiosity, Passion, and Risk-taking). I asked him to expand on this.
Oscar Barton: We just returned from an ACME conference (National Action Council for Minority Engineers). That was a conference where students were able to participate and realize there is a community of students that are like them and are working on problems similar to what they're working on. So, in terms of curiosity, I think getting our students out to conferences and engaging them in their society. And I'm going to shy away from using the term "student chapter," but rather label it as a pre-professional chapter because I think it keeps them engaged in societal expectations once they graduate. And this begins to realize that they have a social responsibility of reaching back and pulling those who are oncoming with them. So, attending conferences is a way to ensure curious nature about what we do as an engineer. Being involved in their professional chapter is a good way to ensure that they are curious about their expectations as pre-professionals. Risk-taking and passion are going to be captured through things like research experiences and internships where they're working, really, for the very first part of a problem that is not in a textbook, so they have to put together all of their sense of effort to be part of a team to get a solution to this problem. And it may not come out well the first time and that's okay. And I think understanding that you will never get the right answer, if there is something called the right answer, the very first effort really builds that confidence that this is a trial and error process. And at each stage, we have to make an assessment "Do we go forward? Or do we accept?" And that's based upon policies and standards and those kinds of things, and I think it also builds a sense of curiosity. So I would like to see more of our students engaged in research experiences, and definitely more engaged in internships and co-op experiences.
Dora Smith: One very attractive multidisciplinary option offered by Morgan State is its mechatronics program. The program aims to equip students with fundamental knowledge in mechanical, electrical, and computer engineering, preparing them for careers in mechatronics engineering are one of its associated fields. Oscar spoke to me a bit about this program and the thought that went into building it.
Oscar Barton: In engineering, most colleges and universities have very stovepipe programs and [24:28 inaudible] specific areas: mechanical, civil, electrical, computer engineering, industrial engineering. When I served on the executive committee for a bit, I started to look at mechatronics as an outlay for us to be multidisciplinary, and I needed some understanding of why mechatronics would be the platform to do so. So I turned to the World Economic Forum and they have been doing jobs form and surveys for many years. And they've been surveying industry partners about the technology that would drive the jobs of the future: cloud computing, artificial intelligence, machine learning, digital twins and digital threads, robotics, microelectronics, semiconductors, and a few others. And then they said, "Well, if these technologies were adopted, where will you see their adaptation?" [25:22 inaudible] them in agriculture, education, government, financial services, and of course, in academia. So, I decided that with the framework of mechatronics, let's embed those technologies, which frame industry 4.0, as the framework for our mechatronics program. So, the platform for exposing our students to these emerging and existing technologies is the curriculum and it embeds Industry 4.0.
Dora Smith: As we've heard, in order for an academic institution to adequately prepare its students for industry, it needs to be able to provide them with the right opportunities and technology. I asked Oscar, what kind of support he thought HBCUs needed to make sure students have access to both.
Oscar Barton: I think a lot of effort from our industry partners is expended to get our students, or any student, to sign on the dotted line. It's almost a mystery for some of them what happens after they make that commitment. So, one thing in addition to having recruiting as part of that process, I think, successfully integrating our students or any other students, we need to have strong mentoring strategies while they're in school, but most importantly, while they're in their working world so that they see themselves not in the current capacity, but how their career is going to progress through their tenure at a particular company. Dr. Rhonda Franklin is at the University of Minnesota. She's an Electrical Engineering professor, and she coined this idea called "careering," and that's an active engagement of building your career. And resources must be expanded to students who, again, in many cases, some of our students are first-generation college students, the work world is a complete mystery to them. And sometimes they are left to navigate this with minimum engagement, but I think we need maximum exposure for them to be successful and to realize that the investments that companies have made in their education is going to pan out. So mentoring will be one of the most strong strategies that we have to have, both in class or in situ, as well as when they get in the work world. Getting them engaged in those ERGs is most important. And some of our students are very shy, they come from communities in which they've been used to being relied upon solely, but this shared experience this be part of their indoctrination, I think, in terms of what the world looks like.
Dora Smith: As support from industry plays an important role in the successful integration of students into the workplace, I asked Oscar how industry support of HBCUs had changed over the years. As historically, it wasn't always apparent.
Oscar Barton: I am pretty sure there's much more focus now and intent. And not playing lip service to diversity, equity, and inclusion, in previous years, I'm thinking about when I was at the Academy, and even at Howard, if I even was familiar with that acronym, DEI. It probably existed but probably was tucked away on a shelf that says, "Hey, we check that block." Realizing that the pool of those who are going to be our educated workforce of the future has to be expanded to include a much more rich population of African American, Hispanic Americans, Native Americans, Islanders, and Asian Americans, that we no longer have really the option and the choice of who we educate. And if we're going to remain economically viable, I think the fiscal and financial consequences of not having an effective DEI policy and engagement is making it more pronounced now. So, I do think there's much more energy placed upon it and much more focus, they're not just playing lip service now, that we're really thinking about this well and we're really trying to make it a strategy, really trying to make it a culture versus an episode.
Dora Smith: Oscar highlighted an important point about the nature of industry partners today and why it's crucial to the development of students and their future careers.
Oscar Barton: Our industry partners now and their communities are much more multicultural. So, that experience will help bridge the divide. And with the George Floyd incident, I think having social consciousness is going to be important for our students to make that hurdle from classroom to office in their first few years.
Dora Smith: So there's a lot of continuous work and outreach that needs to be done by universities to ensure their students are ready for a dynamic workforce. When it comes to HBCUs, the support and mirroring of the industry when it comes to diversity, inclusion, and equity are absolutely integral. To end our conversation, I asked Oscar what he does to stay inspired and passionate about innovation in the classroom.
Oscar Barton: First, I'm extremely lucky to have the opportunity to serve as Dean of the Mitchell School of Engineering here. Eugene DeLoatch was the founding dean and his shoes are so large that my feet are slipping every time I put my feet in them. I think I stay passionate and inspired every day I walk through the front doors and I see students carrying book bags, and seven of them come from environments where they are not only food challenged but challenged by housing insecurities. But yet, each and every day, I see them walk through those doors and go to their classes. For me, that motivates me every day to try to find opportunities for them and motivates me to work with faculty to show that they are doing their very best in the classroom. And not only as teaching but as role models for them, a secondary expectation. And I think, realize that we need to live in the moment. It's not always best to say, "Let me do that tomorrow." Because moments will dissipate very quickly. You may never have that chance again to say, "Let me do that tomorrow." So, living in the moment, enjoying what you're doing, and feeling excited you have the opportunities keeps me inspired every day.
Dora Smith: A big thank you to Dr. Oscar Barton for speaking to me about preparing students for the workplace and what he thinks the industry can do to facilitate this transition. It's no secret that Morgan State is doing great work in this regard under his leadership as dean. Stay tuned to Innovation in the Classroom wherever you do podcasts. I'm Dora Smith. Thanks so much for listening.
This article first appeared on the Siemens Digital Industries Software blog at https://blogs.sw.siemens.com/academic/podcast-transcript-preparing-students-for-careers-in-the-industry/