Corporate
Siemens Xcelerator and NVIDIA Omniverse enable the industrial metaverse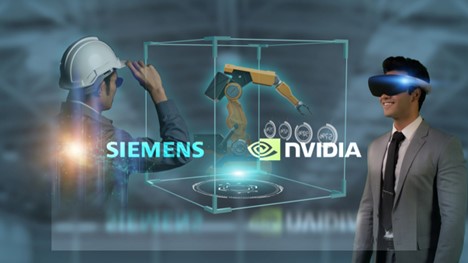 Siemens Digital Industries Software has established a partnership with NVIDIA, the leading manufacturer of advanced graphics processing units (GPUs), networking, computing and artificial intelligence (AI) systems, to enable the industrial metaverse. As the global leader in industrial automation and software, Siemens in collaboration with NVIDIA, will take industrial automation to the next level with the creation of an industrial metaverse reducing costs of factory operations while speeding up the development of new products.
By leveraging the vast Siemens Xcelerator open digital business platform with the NVIDIA Omniverse (an AI-enabled, physically accurate, real-time virtual world engine) customers can realize full-design fidelity, creating digital twins that connect software-defined AI systems from edge to cloud. This capability will help companies design and manufacture new products with higher quality, productivity and reliability so they can get to market faster. Using Siemens Xcelerator to develop a comprehensive digital twin also provides process improvements for production and the entire product lifecycle. Companies of all sizes can leverage the advantages of the digital twin with real-time performance data, such as gaining insights from data analytics from edge devices or in the cloud or managing design complexities with rich visual simulations and testing to optimize product development.
Applying Siemens physics-based digital twin technology in the industrial metaverse provides tremendous potential for a wide variety of industries where a virtual representation of a product, processes, or even a physical building can be viewed digitally to solve real-world problems. Siemens has provided customers worldwide with the industry's most comprehensive digital twin for a broad range of industries and applications for over a decade. With the integration of the Siemens Xcelerator platform and NVIDIA's Omniverse and AI ecosystem, the industrial automation landscape now comprises multi-engineering enablement, merging mechanical, electrical, electronic, software, IoT, edge and cloud solutions. Cross-domain engineering across the product development and production processes with shared data provides the convergence of IT and OT.
Expanding on the Siemens and NVIDIA partnership for the industrial metaverse, Siemens produced a cloud-based digital twin of a next-generation giga factory for Norway-based customer FREYR Battery, a battery cell manufacturer for marine and electric vehicles. Using renewable energy sources to scale its production while maintaining its sustainable production operations, the metaverse for FREYR comprised the AWS IoT TwinMaker built on the NVIDIA Omniverse platform providing operational data from its factory, plus 3D models of the factory, machinery, equipment and human ergonomics (including human safety protocols) to provide a virtual representation of FREYR production processes and simulations of products and production. With the digital twin of FREYR's factory, engineers can review and analyze the performance of a particular machine and its metrics to make intelligent design changes for its operation. Using specialized tools within the Siemens Xcelerator portfolio, such as Siemens computational fluid dynamics (CFD) software, FREYR engineers can accurately simulate the mixing of materials from the chemical makeup of its batteries based on physics for a real-world view of what is happening. FREYR is also using Siemens Industrial Operations X, across its entire battery and manufacturing processes, to include product lifecycle management (PLM), industrial edge computing, manufacturing execution systems (MES) and IT/OT connectivity. This capability allows FREYR engineers to connect design and manufacturing for scalable production.

With its partnership with NVIDIA, Siemens is transforming the future of industrial design and manufacturing through digital technologies and services.
To see how Siemens and NVIDIA are advancing the future with the industrial metaverse, view this YouTube video.
This article first appeared on the Siemens Digital Industries Software blog at https://blogs.sw.siemens.com/xcelerator/2023/10/11/siemens-xcelerator-and-nvidia-omniverse-enable-the-industrial-metaverse/