Corporate
What is a "comprehensive" digital twin and why would you want one?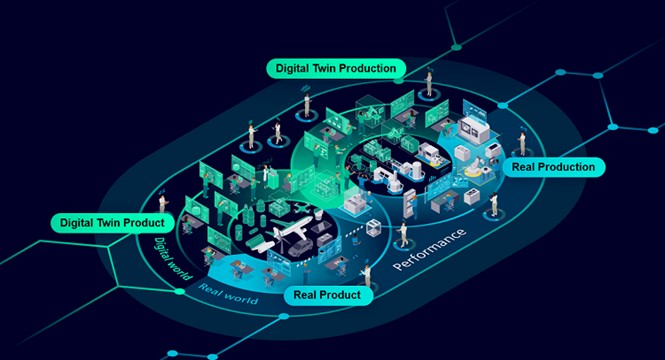 You've probably heard the term "digital twin," a virtual model of a physical product or system that's used to simulate functional behavior. Engineering teams can use software to develop a digital representation of a product, starting from the initial concept, through design, manufacturing and test. They build digital twins based on specifications and requirements for mechanical, electrical, electronic and software, and then use these models to simulate product performance, optimizing design and improving manufacturing processes.
But what do we mean by a "comprehensive" digital twin? It's a model that can be used throughout the entire product lifecycle, including the manufacturing of the product, replicating the shop floor and spanning the entire supply chain, via multiple and connected digital threads. Going beyond the single product digital twin that can be used to simulate how a product would behave under particular conditions, engineering teams can use a comprehensive digital twin to simulate how complex systems and processes operate, including monitoring operational performance for efficiency.
A continuous loop of optimization
The comprehensive digital twin combines the real and digital worlds, providing engineering teams with a continuous loop of product or process optimization from the continuous flow of shared data. By using advanced engineering software, companies assess and evaluate early stages of design and engineering from current and accurate data to make intelligent decisions to optimize their product, such as weight or cabling reduction for aircraft, or redesigning a battery for an electric car to reduce a vehicle's carbon footprint. Going beyond a digital twin of a product, the comprehensive digital twin can link and analyze data across the entire manufacturing processes, including supplier and partner ecosystems and product lifecycle management, such as product redesign, materials recycling, etc. once the product is no longer being actively marketed.
With generated performance data captured in the physical world, the comprehensive digital twin provides a continuous and open loop of optimization for both the product and the production. This capability integrates all necessary components, including the manufacturing plant, where data can be applied to optimize the performance and efficiency of a plant's energy and physical infrastructure. In addition, the comprehensive digital twin can model an organization's service process so product engineering and operations can have visibility into how equipment performs in the field for predictive service and maintenance needs.
Siemens Xcelerator software for industry
Siemens Xcelerator software for industry is part of the larger Siemens Xcelerator business platform that enables digital transformation. The Siemens Xcelerator software for industry portfolio comprises software, services and an application development platform to enhance electronic and mechanical design, system simulation, manufacturing, operations and lifecycle analytics. Software offerings include the industry-leading Calibre IC design and verification platform; Simcenter simulation and test for 3D mechanical design, computational fluid dynamics (CFD), electromagnetics and physical testing; the Opcenter manufacturing operations platform; NX CAD/CAM software; Teamcenter PLM software; Mendix for low-code application development; Capital software for E/E design and cabling and Siemens embedded development software. This robust portfolio has established Siemens as the world leader for industrial software, which provides the critical data for a comprehensive digital twin.
85 percent of survey respondents currently use the digital twin
In a 2021 study by Deloitte Consulting LLP, a global professional services firm, 85 percent of respondents were using a digital twin in some form, but only 15 percent were applying the digital twin for the entire product lifecycle. The study reported five percent usage on the shop floor, but less than five percent usage for service and maintenance. Siemens aims to change that by empowering businesses to transform their entire product lifecycle with the comprehensive digital twin enabled by Siemens Xcelerator software for industry. By creating a comprehensive digital twin throughout their entire lifecycle, they can combine the real and digital worlds to deliver innovative products and services, giving them a competitive advantage.
Managing design complexity
With today's smarter, connected devices and consumer demand for personalized experiences, manufacturers must carefully manage design complexity so they can deliver innovative products on time and within budgetary constraints. These manufacturing business leaders need to ensure product quality, meet sustainability measures, address competitive threats and continue to operate with the next generation of less experienced workers as seasoned, expert engineers retire. A transformation strategy that includes a comprehensive digital twin can help businesses navigate these challenging times to ensure that they move confidently into the future with innovative products that meet today's consumer demands.
To understand how your business can become a model-based enterprise with digital twin technology, view the Deloitte and Siemens video.
To learn more about Siemens Xcelerator software for industry, visit: Siemens Xcelerator as your digital transformation strategy.
This article first appeared on the Siemens Digital Industries Software blog at https://blogs.sw.siemens.com/xcelerator/2023/08/22/what-is-a-comprehensive-digital-twin-and-why-would-you-want-one/