Professional Certification
Are you ready to take your software product development skills to new heights? Take the next step and pursue a professional certification!
By investing in a professional certification, you'll gain a wealth of benefits, including increased marketability, improved knowledge and skills, and enhanced credibility. You'll also be able to stay up-to-date with the latest industry developments through ongoing education.
A professional certification will demonstrate your expertise in Siemens' software products, giving you a competitive edge in the job market.
Employers highly value professionals with higher-level certifications, recognizing their commitment to excellence and continuous improvement.
Xcelerator Academy Certification is available as a Standalone exam or as a Packaged Certification, in form of packaged offerings specifically designed for developers and implementers of the products.
Both pathways enable you to develop a diverse set of competencies and lead you to achieve the Associate level and, as of now, to progress further to the Professional level.
Your career and future are worth investing in.
Don't wait any longer – Open up to new opportunities and reach your full potential taking the next bold step in your career today!
Get 20 % off all certification offerings: Packaged Certification, Standalone Associate and Professional Certifications
Xcelerator Academy certification also awards digital badges so you can showcase your achievements with Siemens software via Social Media.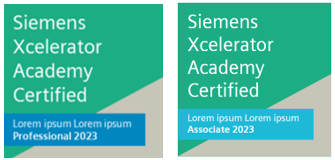 Visit here to view the complete list of available Xcelerator Academy certifications.
Overall, technical certification may provide a range of benefits to both individual users and their organizations, including increased productivity, improved quality, cost savings, competitive advantage, career advancement, personal satisfaction, and continued learning.
Certification benefits in a nutshell:
Increased productivity: Certified users may be able to complete tasks more quickly and efficiently, resulting in increased productivity.
Improved quality: Certified users may be able to produce higher-quality work, resulting in fewer errors and rework.
Cost savings: Increased productivity and improved quality may lead to cost savings for the organization.
Competitive advantage: Certification may set users apart from their peers and demonstrate their expertise to potential employers or clients.
Career advancement: Certification may provide opportunities for career advancement within the organization or industry.
Personal satisfaction: Achieving certification may provide a sense of personal accomplishment and satisfaction.
Continued learning: Maintaining certification requires ongoing education and training, which may help users stay up-to-date with the latest developments in their field.
This article first appeared on the Siemens Digital Industries Software blog at https://blogs.sw.siemens.com/xcelerator-academy/2023/04/24/professional-certification/