Startup Roundup – AI with Purpose Summit 2023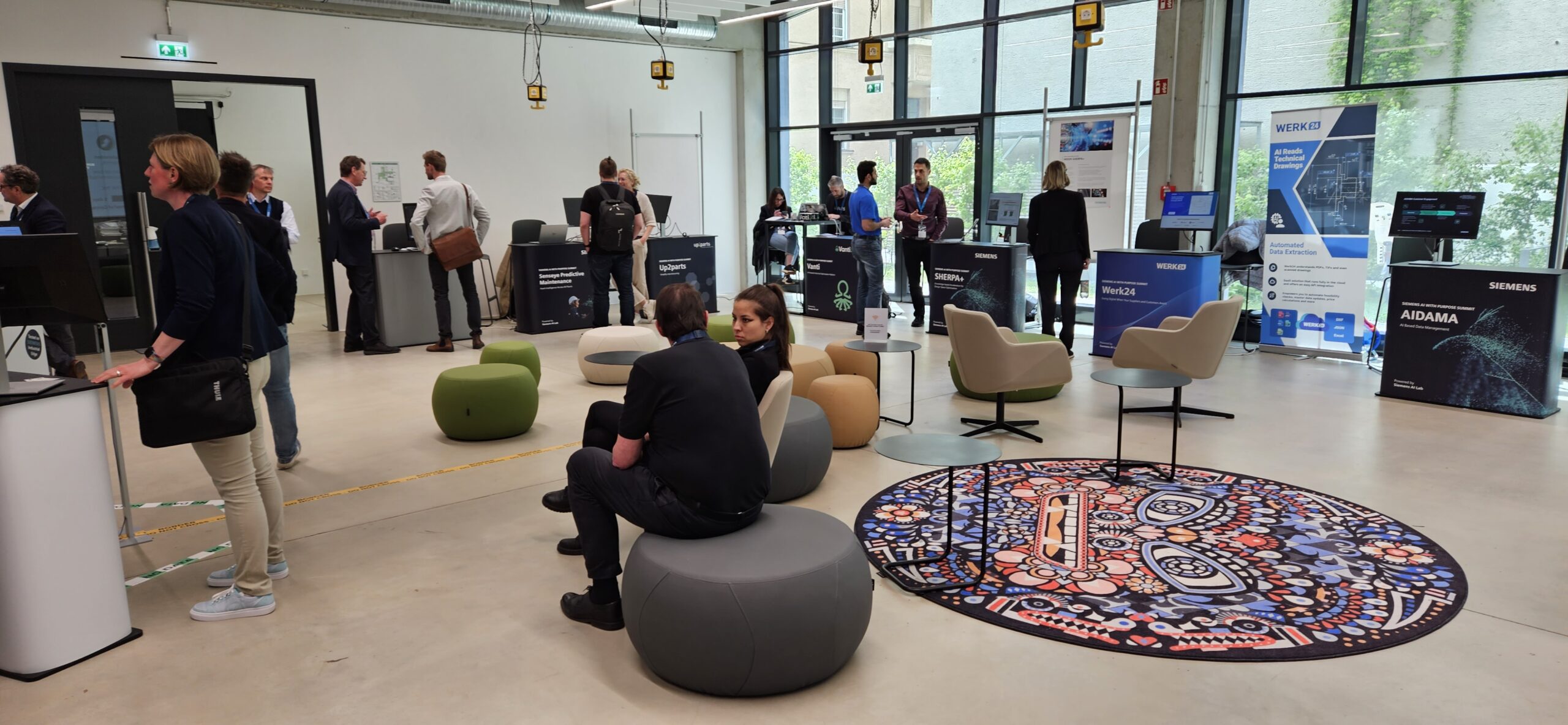 The AI with Purpose Summit 2023 might have concluded for another year, but the work of continued AI development goes on. During my time in Munich, I got to interact with a number of startups and new teams developing industrial grade AI solutions. Check out a roundup of many of the groups who attended below.
Werk24
This startup is using AI to perform a simple, yet vital task that has historically been a challenging, or at least time consuming, process: extracting data from technical drawings. 2D technical drawings encode a massive amount of information but due to their high complexity and potential for confusion this valuable data has resisted any attempts to automate its acquisition or use.
Werk24 uses an AI model to extract data from these drawings, match values to their most likely category, and enable automation solutions using technical drawings. Beyond this, Werk24 can use its system to generate simple 3D models and conduct feasibility analysis of submitted drawings for different manufacturing processes – it can even recommend improvements to optimize a design for a particular process.
AiDAMA
Developed by a group within Siemens, AiDAMA is an AI-based data management solution that seeks to capture data from 1D (such as product data sheets, equipment tags, or excel) and 2D (such as diagrams or time-series data) sources and enter it into a common data model suitable for a wide range of tasks including building a digital twin.
AiDAMA uses several different AI models to process different data types, no matter what form that data might take. By tailoring different models to different types of data, they aim to create a robust solution capable of taking all manner of brownfield data and converting it into a standard form useful for any of the countless applications that exist for data in the industrial world.
INSPEKTO
Integrating hardware and software, INSPEKTO is working to create a robust, turnkey solution for part inspection using three separate AI models and their own custom camera hardware. Traditionally, machine vision solutions have required specific lighting conditions and part placement in order to function or to achieve a higher level of robustness, long and expensive training times.
To overcome these challenges, INSPEKTO uses three AI systems: first a model which adjusts the lighting and camera settings for optimal exposure. Then a second model that identifies if the part to inspect is in frame, and finally an inspection model that examines the part. And all of this can be achieved with 15 to 20 minutes of training using just a few dozen sample images marked with an intuitive web tool anyone can use, not just an AI expert.
Senseye Predictive Maintenance
Senseye, recently acquired by Siemens, is using AI to develop a robust and reliable predictive maintenance system designed to scale to the tens of thousands of connected devices found in modern factories – everything from a 10-million-dollar robotic arm to simple pumps. Predictive maintenance not only helps extend operational lifespan and improve profits by increasing uptime, it also allows spare parts to be ordered just in time. Rather than having potentially millions of dollars' worth of parts sitting in a warehouse potentially going unused before degrading in storage, only the parts needed can be ordered reducing costs and improving sustainability.
Katulu
Transferring information is no simple feat, whether because of bandwidth limitations, laws, or a desire to keep trade secrets under lock and key the movement of data isn't as simple as it might seem in the industrial world and AI can fall victim to all of these issues. Katulu seeks to address these challenges and more with their federated learning platform.
Using federated learning, rather than sending complete AI models or data sets between locations, training is conducted locally and then only the resulting network weights are shared between locations, eliminating many of the issues associated with data transfers. This method reduces cost and risk while offering additional security with the ability to validate weights after sending to make sure no tampering happened to the data in flight.
HEEDS MDAO – SHERPA+
A collaborative project from Siemens STS – HEEDS, Siemens Technology – DAI, and Siemens Energy, SHERPA+ enables true AI technology in HEEDS multi-disciplinary design space exploration ability through the use of uncertainty-aware AI. This type of AI is actually able to judge the quality of its own answers, providing information to gauge the viability of the results it generates. This can be used to help guide the decisions of engineers using the software and improve the quality of generated results.
SHERPA+ can bring up to a 40% acceleration in finding optimal designs for complex parts, such as the blades on a gas turbine. These types of problems are both highly complex, with a huge number of parameters, but also slow to simulate due to the complex physics and the same large number of parameters. Using AI to speed up the process will open many new opportunities when it comes to the design of these types of systems, all thanks to the greatest benefit of all: having more time.
Vanti
Finding the best way to do something is rarely easy but using the wealth of data available from manufacturing facilities Vanti is trying to do just that with their modular AI system. Using a selection of predefined blocks, each suited to handle a specific type of data coming in from a production line, they can assemble them into a bespoke AI solution capable of handling the exact combination of data available.
The AI system is then able to handle such tasks as defect detection, process optimization, and predictive quality, letting manufacturers make the best use of their resources and material while getting a better understanding of possible defects that will emerge further down the line. This process can happen on everything from a batch-by-batch basis down to analyzing each part that comes off the assembly line.
A bright future for industrial grade AI
While I unfortunately didn't have the opportunity to speak with every group present, those I did speak to all showcased remarkable work in the field of creating robust, industrial grade AI that can be relied on for the most complex of industry tasks. And I know that I will be following many of these groups to see how they continue to advance the backbone of AI in industry.
---
Siemens Digital Industries Software helps organizations of all sizes digitally transform using software, hardware and services from the Siemens Xcelerator business platform. Siemens' software and the comprehensive digital twin enable companies to optimize their design, engineering and manufacturing processes to turn today's ideas into the sustainable products of the future. From chips to entire systems, from product to process, across all industries. Siemens Digital Industries Software – Accelerating transformation.
This article first appeared on the Siemens Digital Industries Software blog at https://blogs.sw.siemens.com/thought-leadership/2023/05/24/startup-roundup-ai-with-purpose-summit-2023/