Thought Leadership
Make prosthetics personal with AM
Prosthetics are possibly the most personal product anyone could ever purchase; they are literally an extension of yourself. Unfortunately, the industry has not always reflected that. Unlimited Tomorrow and its founder Easton LeChappelle are working to change that, by working directly with patients, designing personalized prosthetic arms and manufacturing them with a 3D printer. It is a very noble goal and to learn how it came to be, there is a great article in SME on how Unlimited Tomorrow got its start and how they are disrupting the pediatric prosthetic industry. Here we will be looking exclusively at the role additive manufacturing (AM) plays in how Unlimited Tomorrow gets things done – design, reach and manufacturing.
Design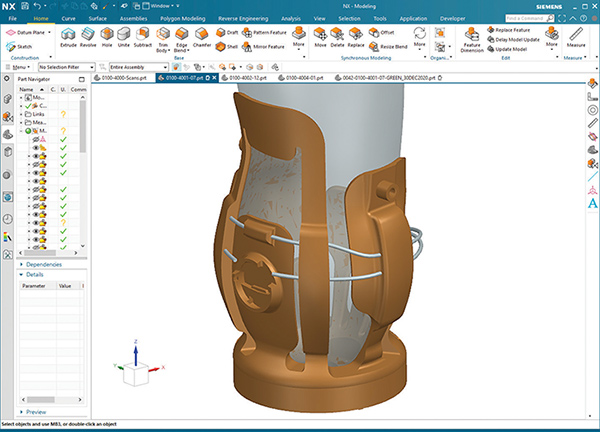 Additive manufacturing brings a number of benefits to the table for product development, but arguably the most important aspect when it comes to design is the geometric possibility it provides. Creating the organic forms one would deal with from residual limbs is far easier while designing for 3D printing. 3D meshes of the patient can be imported and handled directly because the manufacturing steps later won't rely on the more traditional precision geometries required for computer aided manufacturing processes. The socket, which acts as an interface between the patient and the prosthetic, can be virtually fit based on 3D scans. Traditionally this geometry would be standardized to a few sizes and cloth wraps of materials would be added to complete the fit, but that left many to not even use the prosthetic due to discomfort. Thinking of the specific patient from the beginning rather than how to mass produce the prosthetic leads to a far better experience. And the process Unlimited Tomorrow uses for fitting the sockets is primed for automation, a great benefit as they scale.
Reach
The goal of Unlimited Tomorrow does not end at creating personalized prosthetics, it extends to providing them to as many patients that need them as possible. That means lowering the barrier to entry through a direct sales model which enables patients to complete the entire process from home rather than scheduling appointments halfway across the country. It means getting prosthetics to patients at a fraction of the cost compared to traditional manufacturers, a tenth the cost in fact. But to scale their reach beyond what the very dedicated engineers can accomplish they needed to get some design help. With help from Siemens, they are working on a simplified design interface to enabled clinicians to create the personalized sockets for patients without the need to extensive design training. This route will also keep costs low in the long run, compared to hiring enough engineers to work on design full time. It also means the engineers already at Unlimited Tomorrow will be able to focus on making the arms even better as a whole, through print optimizations or the electronics that control the arms.
Manufacturing
All of these goals and processes are enabled by the most important benefit of additive manufacturing to personalized manufacturing – creating unique parts has no disincentive. The time to print a dozen of the same part is the same as printing a dozen completely different ones. Traditional manufacturing methods would require retooling, downtime, and upfront investment for even the smallest changes to a design. Therefore many prosthetics were manufactured in a handful of sizes instead of personalized for each patient. Ease of personalization for Unlimited Tomorrow extends even further thanks to the printers they use, printing is a variety of colors and with support for multiple colors in an individual component.
Personalized futures
The work Easton and his company is doing is changing many lives for the better, but not just for the patients they serve. By proving personalized manufacturing like this can happen at scale with additive manufacturing they are creating other possibilities for the future. They are pushing development into the future for everyone that could benefit from 3D printing, in design, in the business models and in the manufacturing of whatever the products will be. I am excited for what is to come from Unlimited Tomorrow, but possibly more excited by what they inspire other to pursue. For an extended story of Easton and Unlimited Tomorrow, the article in SME by Pete Tiernan is a great read.
---
Siemens Digital Industries Software is driving transformation to enable a digital enterprise where engineering, manufacturing and electronics design meet tomorrow. Xcelerator, the comprehensive and integrated portfolio of software and services from Siemens Digital Industries Software, helps companies of all sizes create and leverage a comprehensive digital twin that provides organizations with new insights, opportunities and levels of automation to drive innovation.
For more information on Siemens Digital Industries Software products and services, visit siemens.com/software or follow us on LinkedIn, Twitter, Facebook and Instagram.
Siemens Digital Industries Software – Where today meets tomorrow
This article first appeared on the Siemens Digital Industries Software blog at https://blogs.sw.siemens.com/thought-leadership/2021/10/06/make-prosthetics-personal-with-am/