Finally… a systems approach to program management and execution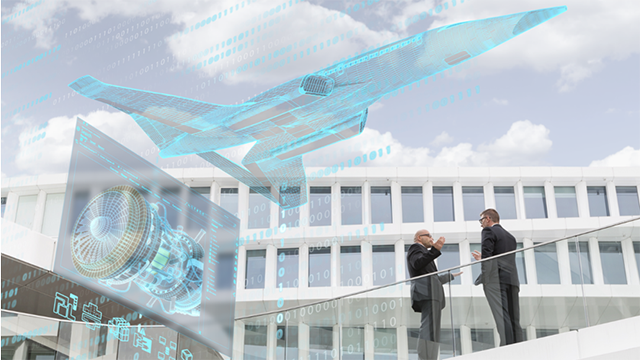 No question, program management means different things to different people. It's a critical function that's been around for eons. But what if I told you about a new approach to project management that redefines everything? An approach that takes full advantage of the digital thread for unprecedented levels of oversight, visibility and collaboration?
Welcome back to my blog series "Program Excellence in the Digital Age." The underlying theme of this series is how, during this time of intense innovation and digital disruption, you can turn digitalization into your friend and ally.

This is the final blog of the series. Before I begin, a quick review of our previous blogs.
In my last blog, we talked about the distinction between digitization and digitalization. We discussed the seven digital threads from Siemens and how these threads can drastically improve program performance in all phases of development. My first blog covered the major disruptions in the industry and how digitalization can help companies take on these complexities.

This final blog answers some of the questions set forth in my first two blogs. Essentially, how to transform modern-day disruptions into your competitive advantage when it comes to program management. What I'm talking about is introducing a systems-level approach to project planning that utilizes the comprehensive digital twin and digital thread. The result is a fully planned, fully resourced and highly executed closed-loop process that manages everything within a single system.
Here's my recent Talking Aerospace Today podcast on this very topic!
Listen now to: "Take the Risk out of Program Planning and Management."
Greater product complexity, more integration and a globalized workforce calls for an entirely new approach
Today you can find numerous examples of companies that are late, over budget – or both. Whether commercial or defense, you can find stories of companies both large and small struggling. What's driving this? There's definitely more product complexity, which makes it more difficult to execute programs. There's simply more pressure to manage schedule and cost because there's so much to integrate, so much to manage – so many moving parts.
Let's not forget business relationships within the supply chain have changed too. Today we have a global supply chain with smaller, more agile start-ups which means companies need to respond quickly to control program costs and resources.
So what's the answer? It's all about having a good understanding of your technical scope and having it in a single location. Many companies don't do this. As a result, we can see the negative implications everywhere.
Take the bidding process, for example. I have seen companies that when they bid and win a program, they struggle terribly in execution because their initial bid didn't reflect the true estimate of work. These inaccuracies then spill into areas as they start to execute the program plan. Immediately, they are behind the eight ball. Many companies keep their bidding process and program execution separate so in essence, a company has to "restart" its program plan twice. A terrible waste of time and resources.
Also, many companies struggle because they don't have a closed-loop system (Figure 1). Once they're done executing the program, it's hard to do lessons learned and get feedback from teams on how tasks were accomplished. Companies that lack a closed-loop process lack organic learning that's essential to improving processes and competitiveness as they move forward.
One possible answer… Siemens Integrated Program Planning and Execution
What I'm talking about is entering all program deliverables into a single, closed-loop system that's really its own robust digital thread. At Siemens, we call this thread the Integrated Program Planning & Execution (IPP&E) digital thread.

There are many ways in which the IPP&E thread benefits users. For example, users automatically input cost and scheduling and resourcing data, and from that teams are able to do resource optimization or critical path analysis. Instead of having separate program management systems or project management systems they now have a single, connected digital thread capable of handling enormous tasks and computations.

Instead of having your lifecycle management data in one place… Your CAD data located in another location… And your program schedules and cost data managed in yet another place… What if you had a single, highly integrative approach that pulled all these disciplines together into a single system? You're able to have complete transparency of all the tasks required to complete a program. You are able to get all of the program metrics as you'd normally expect to get out of it, earn value management out of it, too.
Everything, miraculously, is in one place. It's a holistic approach toward managing an entire program.
The five functional areas to any program:
When you distill it down, there are five functional areas to any A&D program. There's program management, which crosses all boundaries for the entire lifecycle of a program. There's engineering which includes functions such as product design, verification management. You have your suppliers and supply chain. There's product manufacturing and then product support.
These five areas constitute 90 to 95 percent of a product development program. So, the IPP&E digital thread is set up to cover the entire product lifecycle, as well as be interconnected with other program digital threads. I discussed these threads in blog #2. That arrangement is not to imply that these are serial processes or that these digital threads are independent. No, quite the opposite. They're all interconnected, bringing unprecedented levels of collaboration, visibility and traceability to all functional areas (Figure 2).
The IPP&E digital thread not only covers the entire product lifecycle, but it connects to these five key areas. Because much of the data is in Teamcenter, it allows teams to close the loop and incorporate lessons learned. So the next time a company proposes a bid, they have that "learned" knowledge to improve not only their basis of estimates but also a better understanding of the entire program – before it ever begins!
An approach developed exclusively by Siemens
The IPP&E program approach is rooted in the deep understanding of our customer challenges when managing programs, cost and schedule performance. It's based on extensive interactions over the decades. While the IPP&E digital thread has been independently developed at Siemens, it is now available to all of our A&D customers.
No question we've taken a unique approach to solving these complex issues. Obviously, there's plenty of PLM systems available and no shortage of programs that provide elements of this functionality. Siemens is unique in how we've integrated the entire product lifecycle development process into a single digital thread solution. The intent of the IPP&E solution is to address a complex business problem or business process during these times of increased complexity and innovation.
For more information, I urge you to sign up and attend my on-demand webinar: "Integrated Program Planning and Execution for Aerospace and Defense." It's just 37 minutes long so it won't take too much of your time.
To learn more about all of our digital solutions and how our Xcelerator portfolio is helping customers, listen to the Siemens A&D podcast series, Talking Aerospace Today. There are plenty of episodes. I'm sure you'll find something of value.
When you think about it, the IPP&E digital thread is yet another example of where today meets tomorrow when it comes to realizing our digital future. You can also visit the Siemens A&D website for more details.
About the author: Dale Tutt is the Vice President of Aerospace and Defense Industry, for Siemens PLM Software. He is responsible for defining the overall Aerospace and Defense industry strategy for Siemens PLM, driving specific industry requirements into software products and solutions, and working with the Marketing team to define industry-specific market solutions for Aerospace and Defense customers. Dale has 30 years of experience in engineering design, development, and program leadership within the Aerospace industry.
This article first appeared on the Siemens Digital Industries Software blog at https://blogs.sw.siemens.com/thought-leadership/2020/12/26/finally-a-systems-approach-to-program-management-and-execution/