Thought Leadership
Implementing smart manufacturing – a competitive advantage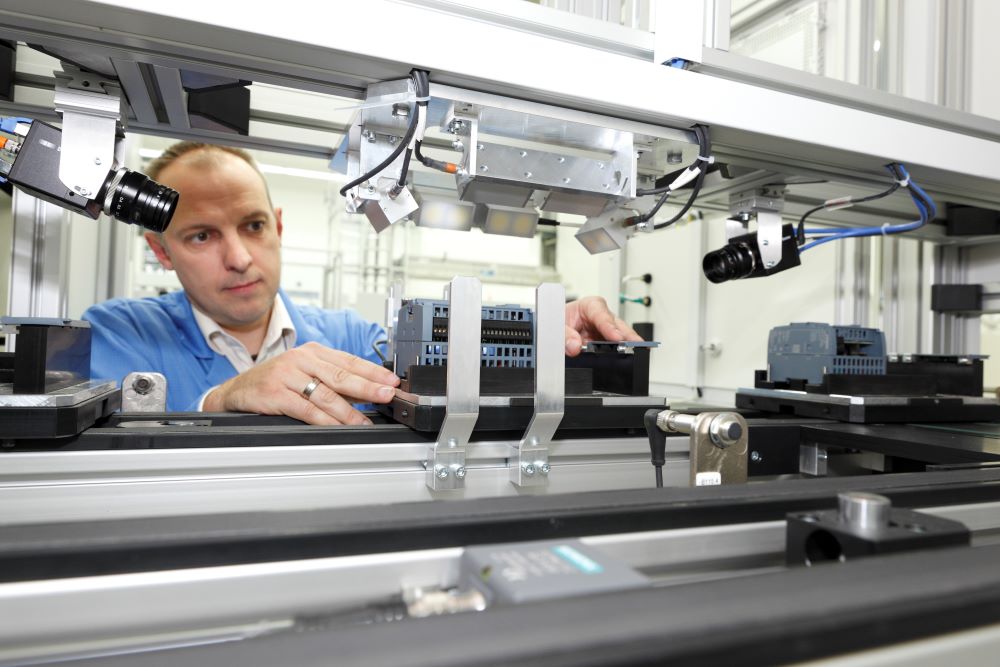 The innovations across the landscape of industrial machinery in manufacturing see a phenomenal overhaul of technological progressions. It is a formidable task to validate and manage modern manufacturing and assembly operations to achieve a first-class level of quality while optimizing cost.
Our first podcast in this series discussed how machinery manufacturers are gaining a competitive advantage by implementing smart manufacturing. We discussed how machine manufacturers are maximizing profits, and the industry trends driving the acceptance of this groundbreaking technology.
Our resident expert and guest is Bill Davis, who is the Director of Industrial Machinery and Heavy Equipment Solutions at Siemens, with over 30 years in the industry and 20 years as an engineer.
Below, is a transcript excerpt from our first audio podcast and blog.
Blake: Bill, before we dive into the topic, I thought it would be interesting to hear about your career, your background and education.
Bill: I appreciate the opportunity to speak on this topic. My background and experience from industrial machinery and heavy equipment span 30 years. My career began as an engineer, working on highspeed machinery and equipment and progressed through the ranks in management, extending into operations. I have always been a driver of CAD, PLM, PDM, digital enterprise and the digital thread, and I've always been part of the driving force behind implementing these technologies at companies. So, I've gained many skills with regards to CAD and PDM, as well as operations management. Thus, the topic of smart manufacturing is near and dear to my heart.
My education background includes a mechanical engineering degree, bachelor's in science degree from Milwaukee School of Engineering, with a master's in Business Administration from Marquette University, specializing in operations, management and strategic marketing.
Blake: That's an impressive background. Within those 30 years of your career, how long have you been focused on smart manufacturing?
Bill: For about 20 of those 30 years, I've been an engineer. I've been either the liaison between engineering and operations or indirect operations management. So, throughout this timeline, I've seen a move towards digitalization, and leveraging that into smart manufacturing.
Blake: Right. So, in broaching the topic of smart manufacturing, let's start at the 40,000-foot level and define it.
Bill: Okay, let's begin by talking about a product that we all know and love, which is our cell phones. Think about what it takes to manufacture that device, and you begin to see how smart manufacturing plays a role from a product perspective. The cell phone has several different components, and each one of them has engineering requirements and content that needs to be manufactured by someone. Also, often there are regulations, rules and requirements that the manufacturer or industry governs. For example, the FCC legislates the cell phone.
Smart manufacturing says, there's a digital twin of this device, but that's only a small portion of it. We want to extract that information and drive it into manufacturing operations, like CNC programming or inspection and drive assembly processes. So, we push that information back into the digital twin so that we have an executable digital twin of the cell phone at a product level.
The machinery we use to supply those cell phone manufacturers, industries and customers is asking us to provide additional content, including sensors and feedback about how the production and manufacturing process executes, and we leverage that feedback into the digital twin. So, an example would be if the housing for your cell phone is being machined on the CNC machine, the file needs to be generated from the CAD file and saved as a manufactured CAM file. However, at completion, we want to know that the housing is correct.
Therefore, an inspection process is going on and if we're making the machine tool, we want to drive that back into the inspection data that we receive from our machine tool, and back into the digital twin of that cell phone. Thus, we've got traceability from the design to manufacturing, and a closed-loop process that provides a whole digital twin. We will be focusing more on industrial machinery in this process, and it's essential to look at how the digital twin of the product and the digital twin of the machine are linked together.
Blake: In focusing more on what Siemens Digital Industries is doing to position itself in the market, how are they implementing smart manufacturing into companies and manufacturers?
Bill: Firstly, Siemens is one of the largest corporations in the world, and we're in a unique position on the software side, due to our association with Siemens AG. As one of the largest manufacturing companies on the planet, we're always looking for opportunities to optimize manufacturing processes and earn more profit from every process that executes. So, we provide a good testbed for our manufacturing operations and execution management software solutions.
Secondly, Siemens is a leading provider of industrial automation for many years and the largest industrial automation supplier in the world. Therefore, we understand the need for technology integration into the machinery. We provide a high-quality function in the industrial automation process, and by manufacturing those components, we know what companies need from a machinery development perspective, and what is necessary to execute for staying ahead of the competition.
When you have size and experience, coupled with a world-class presence, Siemens is the only provider of the executable digital twin. We have the software to realize every step in the manufacturing process, from the creation of the idea to what we're making from machinery, and how we're going to be executing it through manufacturing and extending that into service life. This background is crucial for a machine builder because it allows machine manufacturers and designers to create more value, both in driving down cost and compressing delivery schedules. However, it also allows us to innovate faster by closing the loop between manufacturing operations and engineering.
Blake: Yes, a very comprehensive solution.
Bill Davis: Absolutely!
Blake: In looking at the trends in this industry, how do you see Siemens machine trends aligning with smart manufacturing? What is this process?
Bill: My background is primarily industrial machinery, although I spent some time in heavy equipment as well. There are some overarching themes and trends that we've been seeing in machinery development over the last several years and they circulate four topical areas.
The first one is connected. We want to have our customers expect that our machines are going to be communicating with other machinery in the plan. They're going to be communicating with their overarching operating system and the machine OEM.
Secondly, it is a trend for adaptability. This reflects how quickly the machine modifies its existing operating parameters and reacts to changing conditions. So, switching from one bottle size or one cell phone to another is a push-button affair. Currently, there's much information, sensors and capabilities available, so the machine can recognize when upstream products and processes have changed and automatically upgrade those changes to its operating conditions. It's the beginning of artificial intelligence for machinery, but it's spawned by all these sensors and capabilities, along with customer's expectations for these machines to be more flexible.
The third trend is predictability. With various operating conditions and unpredictable customer environments, we see an increased emphasis on simulation and the predictability of how a machine will perform in the field. It's more complicated at higher speeds, with diverse use cases and enhanced complexity of machinery. It's becoming more difficult to simulate all the aspects of a machine.
The last trend is extendability. We want to continue to be a provider of value to machinery. As a machine builder, I want to take my machine and extend its life, through the customer facility, and its entire lifespan. Also, from a financial perspective, I can create more value for my customer and be able to change some of the dynamics behind the cash flow to extend the life of the machine through predicted maintenance and adaptive performance. This is even more crucial as the workforce reduces.
In the past, experienced machine operators could tweak the machine and make it continue to operate in the field; however, that kind of experience is disappearing, with people retiring from the workforce. So, the OEM or machine builder needs to be more engaged with the customer throughout the machine life. This relationship is a value proposition for the customer and can transform their financial perspective.
Blake: In retouching on your statement about extending the life of a machine, are you seeing trends changing in the way a customer purchases a machine? Are they spending more money? Are they upgrading more frequently?
Bill: Historically, a company buys a machine from you and the machine operates throughout a certain lifespan and then you change the product, or they change the product. Currently, they either must buy something from you to adapt that machine to fit the new product, or they must replace it. So, we're seeing machine complexity being incorporated with changing conditions, from a customer perspective, with shorter production runs. They need a more versatile machine.
Another occurrence is that customers are less willing to invest vast sums of money on machinery when they could use production as a service option, which allows that customer to buy machine capacity. This emerging trend is becoming popular with the heavy equipment manufacturers when you're leasing machines. The difference is you're paying for performance. So, if that machine isn't running, you're not paying for it. The machine builder, or OEM, has a vested interest to ensure the device always works. Therefore, if it's not meeting the production requirements – it needs service – then the OEM is financially responsible to rectify any performance problems or downtime issues and address them quickly to restore their cash flow.
Blake: Thank you, Bill, for this highly informative discussion on smart manufacturing and its competitive advantage.
To learn more about the competitive advantages of smart manufacturing for industrial machinery, listen to or read the first podcast or blog in this series.
This concludes the fifth blog in a series on Smart Manufacturing and the trends affecting the industry. Our future blogs will continue to spotlight transcript excerpts from the original podcasts, providing solutions for where today meets tomorrow.
About our expert:
Bill Davis is the acting Industrial Machinery and Heavy Equipment Industry leader for Siemens Digital Industries Software. His experience and insights have been acquired from a career spanning 30 years in engineering and operations management with machinery and heavy equipment companies. Bill holds a master's degree in Business Administration from Marquette University, with a concentration in Operations Management and Strategic Marketing, as well as a Bachelor of Science degree in Mechanical Engineering from Milwaukee School of Engineering.
This article first appeared on the Siemens Digital Industries Software blog at https://blogs.sw.siemens.com/thought-leadership/2019/10/23/implementing-smart-manufacturing-a-competitive-advantage/