Products
Try Process Simulate Human (based on Jack software) for free!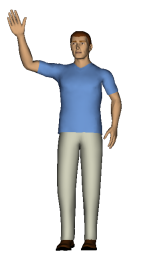 Process Simulate Human, built on the industry-leading Jack technology, is a human modeling and simulation tool that enables you to improve the ergonomics of your product designs and to refine industrial tasks. Process Simulate Human, and its optional toolkits, provides human-centered design tools for performing ergonomic analysis of virtual products and virtual work environments.
Process Simulate Human enables you to size your human models to match worker populations, as well as test your designs for multiple factors, including injury risk, user comfort, reachability, line of sight, energy expenditure, fatigue limits and other important human parameters. Using Process Simulate Human facilitates significant cost and time savings by enabling you to improve product quality and process feasibility early in the product lifecycle. In addition, you can seamlessly integrate human factors and ergonomics into the planning, design and validation stages of your product lifecycle. Businesses that use Process Simulate Human gain a significant competitive advantage thanks to classic ergonomics and human factors assessment techniques coupled with the latest visualization and simulation technologies.
Click here to download and begin your free 30-day trial of Tecnomatix Jack.  Simply submit your request and you will receive a 30-day license.
Request a free 30-day trial license of Tecnomatix Jack now and get on the path to safer and more efficient workplaces!
Yours in human simulation,
Mike
This article first appeared on the Siemens Digital Industries Software blog at https://blogs.sw.siemens.com/tecnomatix/try-jack-for-free/