Tecnomatix & Teamcenter create digital shipyard for Hyundai Heavy Industries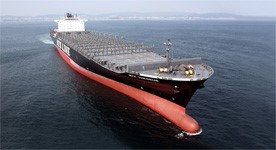 Hyundai Heavy Industries' (HHI) Shipbuilding Division, the world's largest shipbuilding company, has the ability to customize ships according to different needs, and continues to develop new shipbuilding technologies with its large research staff. HHI produces oil tankers, chemical tankers, bulk carriers, oil product tankers, container ships, car carriers, gas tankers, floating production storage and offloading (FPSO) ships, drillships, special ships, battleships and submarines.
In 2005, the shipbuilding division implemented a new 3D computer-aided design solution, but there was no connection between the CAD system and the division's enterprise resource planning (ERP) system. Also, most of the design data was managed on personal computers (PCs), causing security problems and duplicate work. These drawbacks pointed out the need for a change, and HHI began searching for an innovative strategy that would help the division react to the fast-changing shipbuilding market and maintain its competitive edge.
The search led to Siemens PLM Software Tecnomatix® software for digital manufacturing and Teamcenter® software for product data management. The addition of these solutions allowed the division to achieve the integrated management of shipbuilding-related data and create an environment for design work and process innovation. Now, bills of materials (BOMs) and 3D JT data created using the CAD system are managed with Teamcenter, making the information easy to share as well as quickly identifiable for possible re-use.
PLM specialized for shipbuilding
The strong production simulation capabilities of Tecnomatix, in conjunction with the use of Teamcenter, have created a truly digital shipyard environment that has improved design and work efficiency. Changes to designs and schedules are automatically managed by the system, which also routes work to the relevant departments, eliminating omissions that previously might have caused extra work. HHI has also been able to enhance the quality of its designs through re-use of existing information.
Read the full length case study to learn more about how HHI digitalized their entire shipyard processes.
Seung-Seok Kim, General Manager, Hyundai Heavy Industries, said
"To deploy truly innovative product lifecycle management, we have implemented Siemens PLM Software, which allows integrated management across the whole process of sales, design, production, and after-sale services."
This article first appeared on the Siemens Digital Industries Software blog at https://blogs.sw.siemens.com/tecnomatix/tecnomatix-teamcenter-create-digital-shipyard-for-hyundai-heavy-industries/