Manufacturing matters – Digital Manufacturing, that is.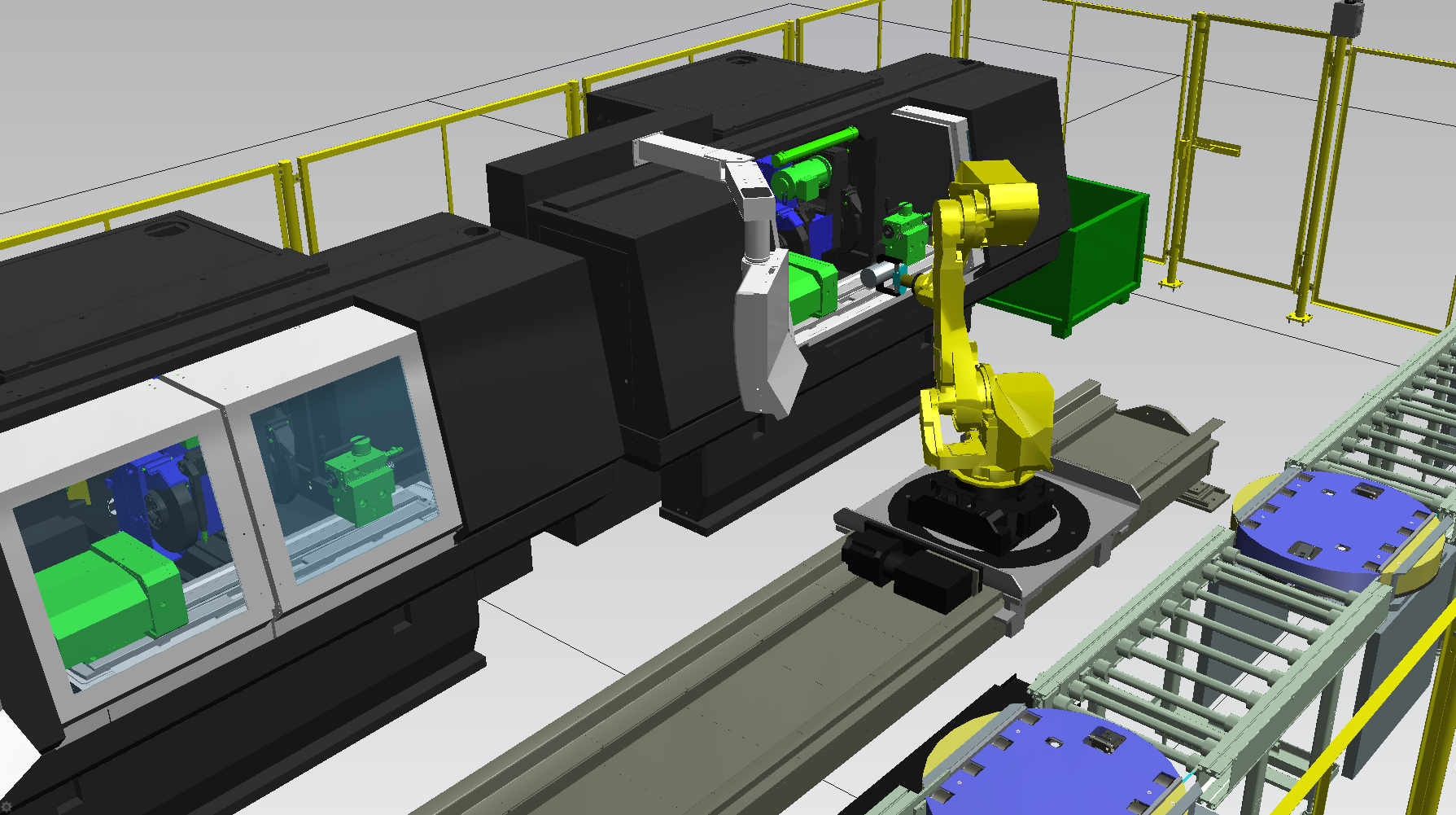 This is the first in a series of blogs where we discuss the requirement for detailed manufacturing engineering and operations orchestration in industry today and the potential benefits that can be realized by utilizing Digital Manufacturing solutions.
—–
The digitalization of manufacturing is an imperative for realization of Industry 4.0. Success, measured as production excellence, is achieved with a digital thread connecting product development through product production all the way to product utilization, supported by robust, integrated manufacturing software solutions. This is digital manufacturing.
When we think of manufacturing, the image that often comes to mind is a product being made in a factory – the operations executed on equipment during production. However, there is a critical bridge between running production on the shop-floor and product design. This is the result of a much more involved process that starts, and ends, with engineering. Manufacturing matters – manufacturing engineering and operations details, that is. More importantly, digital manufacturing matters, as the means to build that bridge.
Many companies today are still organized in a siloed manner, especially when it comes to engineering disciplines. In many cases, information flow still consists of manual handoffs and notifications to align adjacent departments.
Even within these silos there are often disconnected solutions that can cause the duplication of information and introduction of unnecessary errors, adding to this challenge.
Realizing digitalization in manufacturing
Most of these companies strive to remove those barriers, streamline their information flow and provide critical manufacturing engineering planning, simulation and decision support solutions to their key stakeholders. Ultimately, they would like to support product and process improvements based on knowledge gained during production.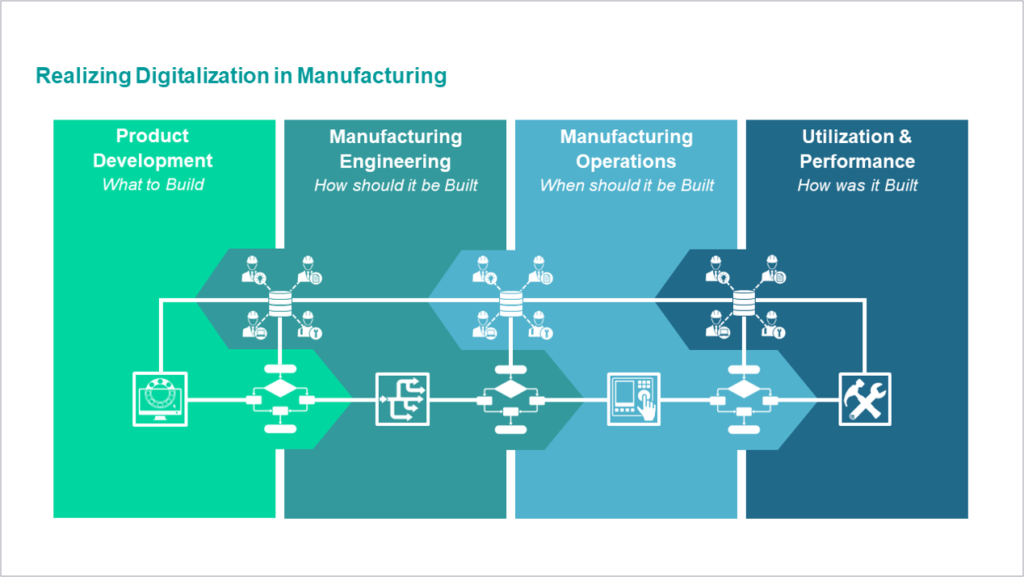 To do so they must connect and enrich the digital thread from design to execution and beyond, not only to relieve the pressures of today but also to establish the required foundation for tomorrow.
The Xcelerator Digital Twin
For manufacturers to achieve this state of manufacturing digitalization and become a digital enterprise, they must have a comprehensive digital twin.
A digital twin is a virtual representation of a physical product or process, used to understand and predict the physical counterpart's performance characteristics. Digital twins are used throughout the product lifecycle to simulate, predict, and optimize the product and production system before investing in physical prototypes and assets.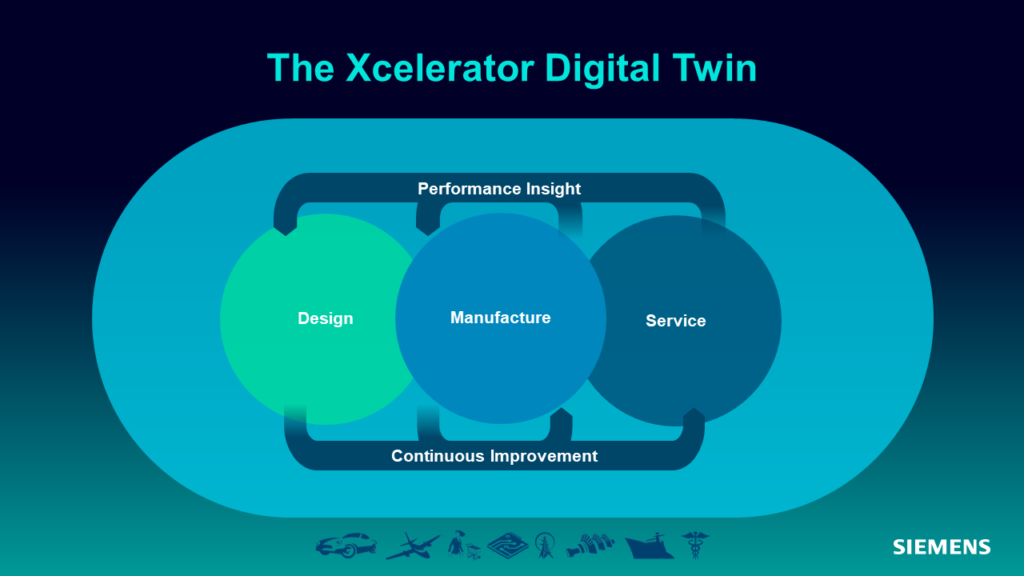 A digital twin can help validate how well a manufacturing process will work on the shop floor before anything goes into production. By simulating the process using a digital twin and analyzing why things are happening using the digital thread, companies can create a production methodology that stays efficient under a variety of conditions.
The production can be optimized even further by using the digital twin to evaluate all the manufacturing equipment. Using the data from the product and production digital twin, businesses can prevent costly downtime to equipment – and even predict when preventative maintenance will be necessary. This constant stream of accurate information enables manufacturing operations that are faster, more efficient, and more reliable.
—–
> Learn more about the Xcelerator™ portfolio.
—–
The Xcelerator Digital Twin for Manufacturing
To realize the value of the digital twin to help achieve digitalization it is necessary to expand the manufacturing domain, bringing attention to both manufacturing engineering and manufacturing operations.
Extensive software tools and capabilities exist to support the engineers that are worried about not only what to make, but how, where and when to make it. Some may not realize that such manufacturing engineering software tools are available or may underplay their importance. But they are essential for modern manufacturing. Here, we make the case for digital manufacturing as the basis for digital continuity between innovative product designs and best-in-class performance.
Digital Manufacturing
Digital Manufacturing supports the manufacturing engineering and manufacturing operations activities and processes that modern manufacturers need to be competitive in today's global industrial markets.
These solutions are tailored to meet the needs of multiple industries. Of course, different combinations of these high-level elements will be suitable to support the digital manufacturing requirements of these many and varied industries.
Digital Manufacturing Capabilities
A comprehensive digital manufacturing portfolio offers many capabilities that will enable its users to develop their digital enterprise. And this is critical to Industry 4.0 achievement. There is far too much that manufacturing, controls, facilities and industrial engineers must do in their daily work to support modern production systems today and it is no longer acceptable to rely on resident experts and tribal knowledge to keep pace with innovation and disruptive market pressures.
Integrated manufacturing applications that enable the Digital Enterprise
Such a broad and comprehensive portfolio is not just a collection of developed and acquired software tools. Rather, they are tightly integrated solutions that enable a seamless flow within the portfolio.
For manufacturing engineering, whether transforming raw materials into components or assembling those components into sub-assemblies and complete products, this integrated set of tools supports activities related to the planning, design, simulation and validation of the manufacturing processes and required production equipment. All are managed on a common backbone that has been tuned to support manufacturing information. For the past few decades, leading industrial companies have leveraged this type of managed environment to enable solutions for product development practices that address the complexity of new products and the engineering required to design them. Likewise, pioneers in manufacturing have reaped the benefits of these integrated manufacturing engineering solutions for practices that address the complexity of production systems and the engineering required to design them.
As with manufacturing engineering, a robust set of integrated solutions for manufacturing operations also exists within such a portfolio.
For manufacturing operations, whether orchestrating shop-floor processes for discrete manufacturing or process manufacturing, this integrated set of tools support a harmonized, modern user experience from formulation and specification, to production planning and scheduling, through to quality and execution. In this way, your "smart" shop-floor will be connected for real-time collaboration, optimized for automated and reliable operations, transparent for real-time data intelligence, proactive to anticipate and act before issues or challenges rise, and agile for smart and flexible workplaces to quickly deploy process changes.
Smart manufacturing operations with real-time data intelligence
This digital manufacturing portfolio helps remove the barriers to Information Technology (IT) and Operational technology (OT) collaboration via seamless interoperability and purpose-built apps for role-based, actionable insights.
With these role-based, purpose-built apps, users are given control for actionable insights tailored to their domain of responsibility. Operational data is collected through field devices, such as sensors, PLCs, and CNC controls, Edge devices and SCADA systems, all coordinated through manufacturing operations management (MOM) processes for product and process context.
Context-driven data intelligence, for product, process, machine, people and business, sets the stage for advanced data analytics towards predictive and prescriptive manufacturing insights and a culture of effective data-driven decision making.
Extend value through Horizontal Integrations and Closed-Loop Feedback
Beyond the value that can be realized within each domain through deep, vertically integrated, manufacturing engineering and manufacturing operations capabilities, additional value is achieved by connecting information horizontally between domains.
Barriers between silos are effectively removed, supporting a seamless flow of information throughout the product lifecycle. By leveraging experiences of current and past performance through closed-loop feedback, designs and processes can be improved.
Ultimately, this digital manufacturing approach leads to accelerated new product introductions, the opportunity to engineer flawless production, the capability to ensure quality and efficiency, and the means to achieve production excellence. Siemens already supports its customers in doing this, but also brings tools and technologies forward to empower manufacturers to achieve tomorrow's manufacturing today.
Contributors: Mike Rouman, Todd Bengtsson, Subba Rao, Shashi Rajagopalan
—–
Subsequent blogs in this series will focus on the key values of digital manufacturing and how they can be achieved, covering topics like closed-loop manufacturing for discrete manufacturing industries and closed-loop formulation for process manufacturing industries, model-based manufacturing and model-based quality, the holistic digital twin and the factory of tomorrow.
—–
> You might also like these blog posts by Zvi Feuer on manufacturing and emerging technologies in 2021.
> Learn more about our Digital Manufacturing solutions for engineering and operations.
> You can try our Digital Manufacturing software for free.
This article first appeared on the Siemens Digital Industries Software blog at https://blogs.sw.siemens.com/tecnomatix/manufacturing-matters-digital-manufacturing-that-is/