Intosite = entry point into the smart factory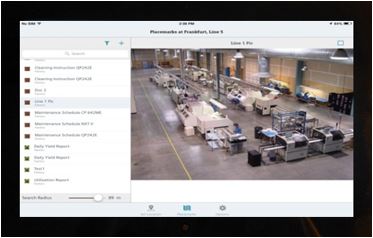 How does Intosite become an entry point into the smart factory by "Google Mapping" your factories?
This blog series is authored by Eitan Carmi, Innovation Business Partner, Manufacturing Engineering, Siemens PLM Software.
In a manufacturing world that has become global and complex, companies are striving to realize the smart factory. That means, a fully digitized factory model representing a production system that is completely connected to the main PLM data repository via sensors, SCADA systems, PLCs and other automated devices. However, no less important than smart factory technology are the people in manufacturing. Only by combining the skill and knowhow of the manufacturing people, while adopting the new smart factory capabilities, can a company really achieve manufacturing excellence and maintain its competitive edge.
Siemens' Intosite software solution is aimed at that challenge, helping manufacturing people connect with each other, and putting them squarely in the smart factory, making this "last mile connection" to factory automation succeed for everyone. This is how Intosite is becoming a key enabler for the smart factory.
In order to ease the connection between manufacturing people, their factories and their industrial information, Intosite provides a unique environment that brings it all together in a virtual way. Intosite provides rich factory visualization that is tagged with links to the smart factory information and applications, and all of it at the fingertips of every manufacturing person. Intosite provides a virtual meeting point where the relevant people can get together in the context of a specific factory location, and have all the required information and applications to conduct an effective discussion on manufacturing matters and follow up with the right decisions.
Virtual Meeting Points inside the Smart Factory
The most intuitive way for manufacturing people to discuss manufacturing matters, is by bringing the right people to a meeting at the factory, by the station or next to the machine, while they have all the relevant information at hand. This is not realistic for large enterprises, with dozens of factories spread all over the world. Intosite brings together three elements to allow them to do that in a virtual way. First, with a representation of the factories. Intosite provides ways to create models of the various factories and enables users to easily navigate from the worldwide map into the desired factory, and then go on a fly through of the factory to the right line, station or machine.
Second is the ability to get the needed information. Intosite's very intuitive way of obtaining desired information lets users just click on visual tags to get relevant information. Once they navigate into the desired factory location, they see visual tags depicted on top of the graphic representations of the various assets at the location. Using a variety of icons, Intosite reveals different types of information to allow users to retrieve the specific data according to their needs.
Clicking tags reveals information from relevant IT systems, or application. Third, Intosite brings to this virtual meeting point the people themselves. Intosite, in addition to being simple, intuitive, and available to everybody through a web browser (zero install), it also provides virtual discussion forum capabilities, for the same particular factory context. Such discussion forums can bring an even wider group of people to learn about this specific manufacturing topic and leverage their own knowledge to the benefit of the discussion, improving the quality of the decision making.
Intosite offers great flexibility of information accessibility. At the office, users can use a web browser on their desktop. When visiting the factory they can use the Intosite mobile app available on certain devices, and to provide an even more complete experience, Intosite will be further integrated with virtual reality and augmented reality headsets.
Retrieving information real-time for MindSphere Manage MyMachine
Factory Modeling and Navigation
In order to achieve a realistic visualization experience of enterprise factories, Intosite provides several visualization modes that are meshed together. At the high level, Intosite displays the worldwide map where visual tags indicate the location of the company's various manufacturing sites.
Once a specific site is selected Intosite takes you there. Site visualization comprises three modes that are interwoven. First there is the factory "carpet" – a 2D layout or 2D map of the factory. On top of the carpet sits the 3D visual model that enables a virtual fly-through of the factory assets, and for an even more realistic experience, Intosite provides a "Street View" of the factory by navigating through sets of panoramic images taken at the factory.
The ability to achieve such powerful, multi-level visualization is due to Intosite's flexibility in leveraging whatever digital data that is available. This may have originated from CAD systems that generate 2D and 3D models of the factory, combined with images and photos taken at the factory including aerial images and 360 degree panoramic images:


3D models can be imported from various sources. Intosite supports several standards – JT (ISO 14306) and COLLADA (ISO/PAS 17506). Intosite is optimized to handle large factory models that are streamed over the web, while performance can be maximized by using a low level of details in such models.


In Intosite 2D carpets can be achieved in two ways, either imported as CAD models using JT or by using images as 2D carpets that are then registered onto the factory coordinate system. Such images can be simply printed out of CAD layout systems, or generated from aerial photography. Intosite can handle high resolution images supporting large scale factories mile over mile in size. This way Intosite keeps high fidelity visualization whether viewing the entire factory or zooming into a single station.


Panoramic images are used to achieve "Street View" navigation inside the factory. Intosite supports 360 degree panoramic images. These can be obtained by laser scanning or by using 360 degree spherical photography available today through many techniques – from simple applications using smart phones to professional photography.


Connecting to Manufacturing Information
When dealing with manufacturing issues, it's likely one will need to access various types of information sources and applications. As mentioned, Intosite provides easy links for retrieving information from relevant IT systems or to activate specific applications in their appropriate context. This is done by clicking the visual tags depicted over the factory visual model. In order to ease and control the use of information tags, Intosite enables categorization of tags by layers of information. These layers can be fully customized and arranged to reflect the business logic of the organization.
Shop floor quality data in an automotive assembly lineEach user gets access rights through Intosite, to the sites, zones and information layers as defined by his or her role allocation. In this way, users are exposed to the information that is relevant to them for their tasks, keeping the system simple to use.
Collaboration
Intosite brings a new way for people in the enterprise to access information by way of self-service, to publish best practices, to adopt company know-how and standards, and to communicate and build a network of knowledge. As it is built to foster collaboration between large communities of manufacturing people, many of the Intosite system attributes were designed to support ease of use and broad deployment.


Factory information navigation becomes as easy as navigating through standard world maps. The user can visually get to relevant factory locations, click a visual tag and access the information.


Being a SaaS and Web application helps make Intosite available to large communities, as there is zero install on both the server and the client, making software delivery and updates hassle-free.


In addition, Intosite provides specific tools to support discussion forums in various manufacturing contexts. Any visual tag can become a focal point for dialogue by turning it into a discussion forum. This way all relevant people can participate and contribute to a manufacturing exchange, as if they were meeting together near the line or at the station.
Intosite Mobile App
Manufacturing people visiting the shop floor, though they won't need full virtual navigation capabilities, could still benefit from mobile access to information, which is exactly the purpose of the Intosite mobile app. By specifying one's location on the shop floor, the app aggregates all information tags around the area. And users can add information to Intosite right from their location on the shop floor. Taking pictures or filming a quick movie, they can upload this data to the location making it visible immediately to all other Intosite users.
Intosite Mobile App
This is the first in our series about Intosite. Subscribe to the blog to read the rest of the series when they are published.
About the author
Eitan Carmi is a seasoned leader at Siemens PLM. He serves as an Innovation Business Partner on the Manufacturing Engineering Staff, as well as being an evangelist for Intosite which is his recent entrepreneurship. During his over 25 years of service at the company, he has carried a variety of leadership roles including; Research and development, Product Management, Business Development & Innovation Management. He also engages with a few internal entrepreneurship activities.
This article first appeared on the Siemens Digital Industries Software blog at https://blogs.sw.siemens.com/tecnomatix/intosite-entry-point-into-the-smart-factory/