Day 2 Highlights – Realize LIVE for Simulation Conference
Matthias Heinicke, Siemens Industry Software GmbH, welcomed over 300 conference attendees on Wednesday, October 16, to Realize LIVE for Simulation in Stuttgart, Germany.
This post summarizes a full day of presentations and demonstrations delivered by an elite group of Tecnomatix Plant Simulation experts.
Plant Simulation Version 15, and Roadmap 16
Presenter: Siemens Industry Software GmbH, Dr. Georg Piepenbrock, Product Manager Plant Simulation
Presentation summary: Plant Simulation software: AGV's driving freely, Cost Simulation; New Sankey Chart, New Gantt Chart, Automatic Conveyor routing; Enhanced Worker Strategies; Conditional Breakpoints; Teamcenter Wizard; 3D poses and much more.
Rolex SA use case: Modelling manual assembly lines in the watchmaking industry
Presenter: Rolex SA, Mr. Damiano Arena, PhD
Damiano ARENA holds B.Sc. and M.Sc. diplomas in Management Engineering, majoring production, logistic, quality, management, and economic sciences. In 2015, he joined the Doctoral School of Advanced Manufacturing (EDAM) at the Swiss Federal Institutes of Technology in Lausanne, where he wrote his PhD thesis on semantics-based analysis of context-aware manufacturing systems. Between 2015 and 2019, Damiano has been leading Research & Innovation projects, designing and deploying cutting-edge solutions for the Factories of the Future (FoF). He recently joined Rolex where he is responsible for leading optimization projects on logistic and production systems.
Presentation summary: Discrete events simulation tools, consumes, treats and generates data. In a context of digitalization of the industry, it is more than ever necessary to effectively manage workflows. Therefore, in the first part, he presented their actual and target simulation workflow and associated tools. Afterwards, he exposed their main simulation subject, namely, manual assembly lines. He presented obstacles encountered with the use of workers in Plant Simulation and the solutions they deployed to simulate realistic human behavior. Finally, he presented a complete use case with their concept of workers as agents.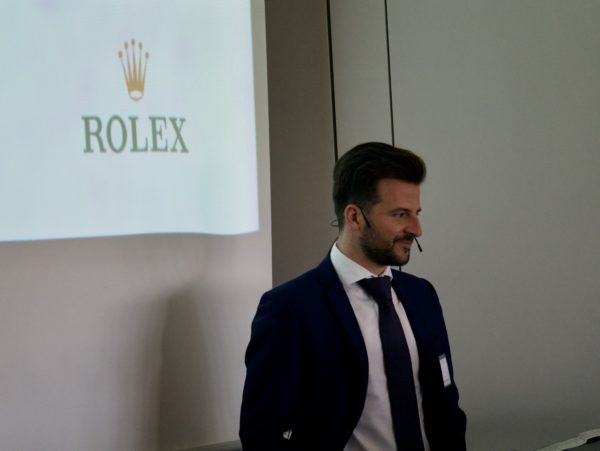 Plant Simulation project for wagon building optimization at Ideal PLM in Russia
Presenter: Ideal PLM, Russia, Anastasiya Pershina.
Anastasiia Pershina was born on Tomsk, Russia, and studied technology artistic processing of materials and product lifecycle management in Tomsk Polytechnic University and was exchange student in University of Maribor, Slovenia. She is a PLM systems consultant in Ideal PLM CIS since 2018. Anastasiia works in the group of Industrial Consulting, makes pre-sale projects as consultant and Plant Simulation specialist.
Presentation summary: A simulation model was developed for the operation of the painting shop for our project to optimize the conveyor line for painting wagons using Plant Simulation. The input parameters obtained from production were set and cyclograms were analyzed for the development of the model. The aim of the development of the model was to eliminate the bottleneck, which is this workshop, in the general cycle of manufacturing cars. An important nuance of production is the quantity of different types of wagons (four types) that are handled at this shop, and the sequence of their supply is determined quite randomly. Thus, it becomes impossible to reduce the setup time. Another difficulty is the time of the painting operations, which cannot be reduced. Based on this and based on a simulation model, organizational decisions were taken to optimize production and reduce downtime.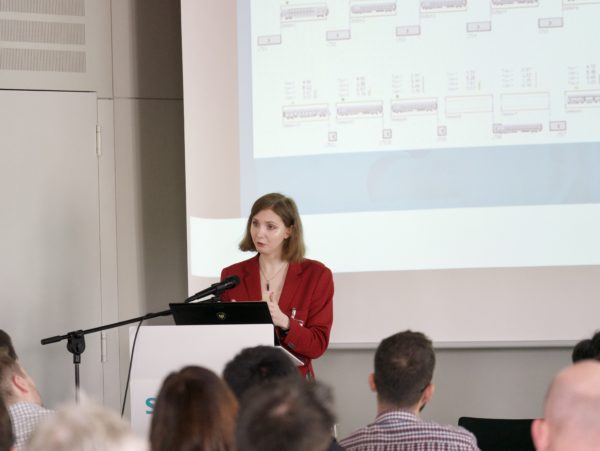 Plant Simulation Use Case at EMAG – 3D Material Flow Simulation in the Metal Manufacturing Industry
Presenter: EMAG GmbH & Co. KG, Zhaocheng Xu
Zhaocheng Xu, born in 1989, studied international production engineering and management at the University of Erlangen-Nürnberg. In 2018, he joined EMAG group as a virtual manufacturing engineer, and since then he is responsible for the visualization and evaluation of manufacturing concepts and the standardization of simulation projects using Plant Simulation.
Presentation summary: Today's manufacturing industry is coping with an increasing variety and complexity. Material flow simulation offers significant benefits to manage this complexity and thus reduces operation costs. The acquiring of detailed simulation input parameters and the evaluation of performance results of manufacturing systems are time-consuming processes. In this circumstance, a simulation kit was developed at the company EMAG to standardize the input and statistic output of simulations. This presentation showed how Plant Simulation is used at EMAG to visualize and analyze the manufacturing line in the metal processing industry. It covers the 3D-Animation of moveable components and the evaluation of production line performance (e.g. the calculation of OEE) using an internal developed simulation tool kit.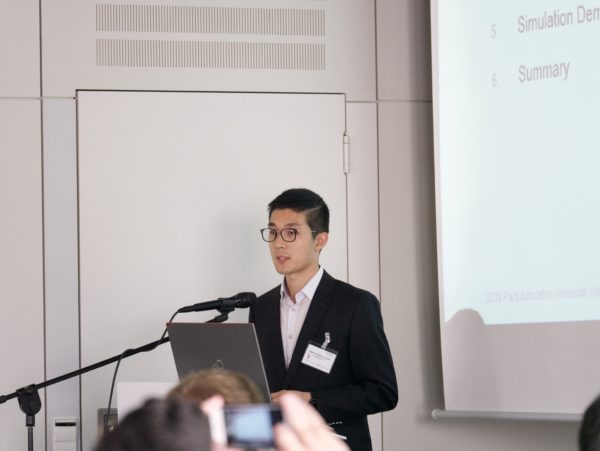 Control the material flow sequence in Plant Simulation according a schedule generated in Preactor
Presenter: Audi Hungaria Zrt. & GraphIT, Marc Philip Hermans
Marc Hermans is born in Maaseik, Belgium. He studied at the maritime academy Antwerp. He has a master's degree in Nautical Science. In 2004 he started working at the AUDI Hungaria planning department as a junior planning engineer. In 2008 he joined the digital fraction within the planning department. Since then, he drives all material flow studies conducted with Plant Simulation within the engine department, not only for Audi Hungaria, but also for Audi AG.
Presenter: GraphIT, Hungaria, Zsolt Molnar
Mr. Zsolt Molnar has an MSc degree in Mechanical Engineering from the Technical University of Budapest. He is also a professional business coach. Zsolt Molnar has been working in various positions at graphIT Kft. (the Hungarian Smart Expert Siemens partner) for the past 20 years.
Presentation summary: In leaving conventional conveyor systems and switching to the use of automated guided vehicles, AUDI faced unknown territory. With first simulations with relative freely moving AGVs, it became clear that conventional push, pull and conwip controls, where insufficient. In conventional systems, the production sequence and daily production program can be seen as each other's mirrors. Turbulences in the sequence is relatively Unrestricted and only occurs at defined weak spots in the production flow.
This behavior makes it quite easy to control and manage the sequence over a relatively small amount of control points. Due to the use of AGVs, it becomes quite simple to reuse resources within the production flow, but this simplicity comes with a high price. With this study using Preactor and Plant Simulation software, they want to give the audience an idea on the complexity of the problem and a good solution to keep the sequence in a production flow upright.
After giving some insight into the problems encountered, they showed how they used the ODBC Interface to pass vital information between Preactor and Plant Simulation. In a final part they showed how they used the scheduling information from Preactor calculated to reach higher granularity in our PULL controls between the different resources, restoring the production flow.
A Hands-on Approach for Educating Engineers with Plant Simulation
Presenter: Oakland University, Robert Van Til, Ph.D., Chair & Pawley Professor of Lean Studies; Industrial & Systems Engineering Dept.
Robert Van Til is the Pawley Professor of Lean Studies and Chair of Oakland University's Industrial and Systems Engineering Department in Rochester, Michigan, USA. His educational and research interests focus on manufacturing systems, lean and PLM. His projects have been supported by the National Science Foundation as well as by companies such as Fiat Chrysler Automobiles, Ford Motor Co. and Siemens PLM Inc. He has served in visiting positions at universities in Hawaii, the Netherlands and Australia.
Presentation summary: Oakland University's Industrial and Systems Engineering Department is an academic partner of Siemens PLM, integrating several Tecnomatix tools, Teamcenter, SIMATIC IT and MindSphere into its curriculum. This presentation showed how Plant Simulation is used to provide Industry 4.0 education to students as well as to working engineers engaged in lifelong learning. Plant Simulation software has been integrated into several courses, enhancing the educational experience by providing industry-relevant assignments. For students wanting to take a deeper-dive into Plant Simulation, the department has created a new course: PLM Applications – Throughput Simulation. It provides a combination of training/education by teaching Plant Simulation and using it to complete various assignments.
Internet of Things: Connecting MindSphere with Plant Simulation
Presenter: Inpro, Germany, Dr.-Ing. Ender Yemenicioglu
Ender Yemenicioglu, born in 1982, studied mechatronics at the Otto-von-Guericke University Magdeburg and earned his doctoral degree with the topic "Data exchange for physics-based simulation of material handling systems in digital factory" in 2017. He works for inpro Innovationsgesellschaft für fortgeschrittene Produktionssysteme in der Fahrzeugindustrie mbH since 2017 and engaged in software development projects in digital factory field since 2011. He has expertise in data management and data exchange between engineering planning tools, especially with the AutomationML format. His current task involves developing an industrial cloud application with MindSphere to transfer shop floor data into Plant Simulation, together with the project partners Volkswagen and Siemens.
Presentation summary: Today, discrete event simulation models are mostly generated manually and parametrized with pre-consolidated and experience-based data. Therefore, model accuracy is well suited for validation use cases during the planning phase, but not for simulation use cases during the operation phase. It is therefore necessary to improve the accuracy of discrete event simulation models, while at the same time reducing data collection cost. The talk will highlighted possibilities of using MindSphere for this purpose.
Testing real Warehouse Management Software (WMS) with Plant Simulation using the OPC Interface. Use case for Pesmel, Finland and cards PLM Solutions Warehousing and Logistics Library
Presenter: cards PLM Solutions B.V., Auke Nieuwenhuis
Auke has over 12 years of experience in the field of digital manufacturing. During his career he gained firm experience in the field of CPG, automotive and process industry. After completing his master's in industrial engineering, Auke started as junior Plant Simulation Consultant at cards PLM Software. Over the years he has gained massive experience in Discrete Event Simulation / Process Simulation. Within his role as Business Development Consultant, Auke is advising his customers in the discrete and continuous industry by designing, validating and optimizing material handling systems, assembly, warehousing, automation and virtual commissioning.
Presentation summary: Testing and optimizing of operations systems such as Warehouse Management Systems (WMS) is a complex task. For a fully-integrated test, all hardware must be in operation. With big systems such as Automated Storage and Retrieval systems (ASRS), this is a time-consuming job, it makes the whole commissioning time complex and long. By connecting a simulation model to the development of the WMS system, hardware and software development of different layers in the operation can be done simultaneously. Time for real life testing will be reduced dramatically and issues are found in an early stage when the software is tested on the virtual twin of the ASRS operation.
Optimize performance measures in semi-automated human centered assembly cells, using CAD data developed in NX Line Designer and Tecnomatix Process Simulate
Presenter: Ali Ahmad Malik, Ph.D. Research Fellow, University of Southern Denmark
Presentation summary: The dream combination of humans and machines working together is now being realized through collaborative robots or cobots. The right amount of automation can be attained through a balanced interaction of humans and robots where each is doing what it is best at. Nevertheless, the current application of cobots in dexterous assembly work is limited. The challenges are the need of reconfigurability and adaptability to production changes.
This study explores human-robot collaborative assembly systems for reconfigurability through modularization. Modular assembly cells are developed with collaborative robots, flexible feeding systems and various form of human-robot interactions leading to productivity variations. The design data is developed using Siemens NX, and Tecnomatix Process Simulate is used for process verification and cycle time calculations. The need of having a stochastic simulation model becomes necessary to optimize various possible assembly cell configurations, productivity analysis, and bottlenecks depiction. The varying robot speeds due to variation in the interaction levels with humans are evaluated through the simulation model.
Making 4D layout design tangible: Use cases of the edddison hardware UI
Presenter: edddison technologies OG Austria, Thomas Kienzl, CEO, and David Grube Hansen, LEGO Group.
Thomas Kienzl is an architect and designer by profession and obtained a master's degree from Technische Universität (TU) in Graz, Austria and Det kongelige Danske Kunstakademi in Copenhagen, Denmark. He is the founder of edddison technology, developing the interactive software for Plant Simulation, and the studio 3D-Schmiede (formerly Kommerz), specializing in producing 3D Visualization for the AEC industry. For 25 years the companies have accomplished a lot. More than 1000 projects have been successfully implemented for over 100 customers
Presentation summary: edddison is an add-on for Tecnomatix Plant Simulation. It enables non-technical people to navigate and interact with a 3D model and use the key features of Plant Simulation. The simplicity of the solution allows you to involve customers, managers and colleagues in the planning and design process. Made for people who want to plan and present better with Tecnomatix Plant Simulation. For 25 years the companies have accomplished a lot. They have implemented quite several impressive customer projects, won prestigious awards, and presented at globally-renowned trade shows. With his team, he has been working successfully for several well-known companies such as: Nokia, Red Bull, City of Vienna, Graz, Istanbul, Daimler, Egger Wood, Magna, ÖBB, Permasteelisa, Tesla, EDF and others.
To learn more about Tecnomatix Plant Simulation software, visit our web pages.
Read about Day 1 of the Realize LIVE for Simulation Conference, October 15, 2019.
This article first appeared on the Siemens Digital Industries Software blog at https://blogs.sw.siemens.com/tecnomatix/day-2-highlights-realize-live-for-simulation-conference/