Day 2 Highlights: 2019 Plant Simulation Americas User Conference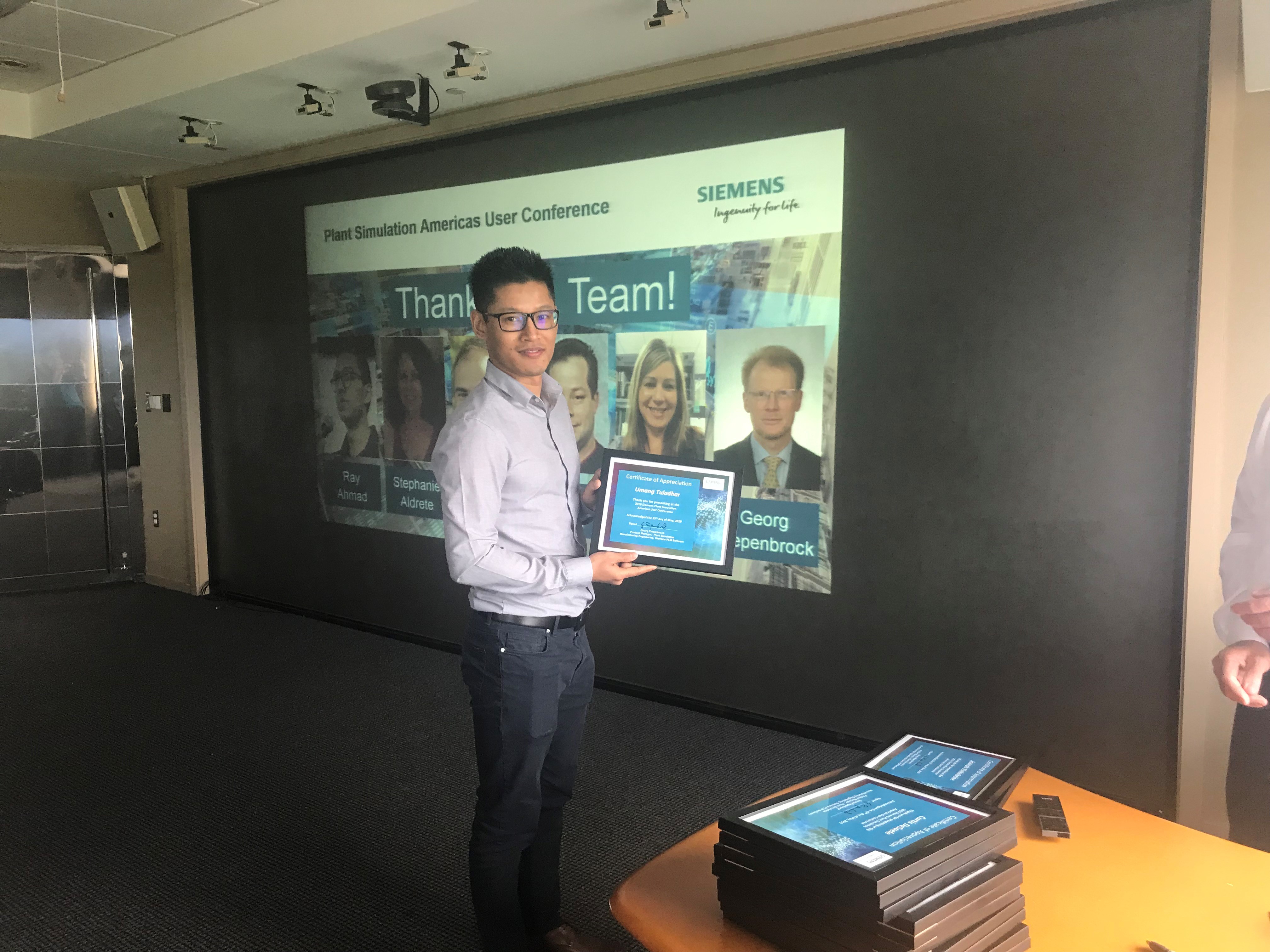 Hello again. If you missed the first blog featuring Day 1 Highlights of the Plant Simulation Americas User Conference, here is the link.
Day 2 Highlights:  Plant Simulation Americas User Conference
We opened Wednesday morning with a complimentary light breakfast (thank you Maria).
At 9:00AM sharp, with the sliding curtains providing the que, the large silver door slowly swings to a close.
True to our guiding principles, and inspired by our last year participant's input, we started the day with a 'Discussion Topics' session. Forty-five minutes were allocated. As the team was preparing we were not certain there will be enough interest to keep us going for even thirty minutes. We listed not one, but two topics on the Agenda. We also asked our attendees to give these topics some thought in our opening presentation, and prepared backup plans.
Boy were we wrong …
The first topic, 'VR – productivity tools or a gimmick?' generated a live discussion with opinions ranging wide, but with some consensus. We barely had time left for the second topic.
In hindsight, reflecting on the event, I should have had some clues from Day One. Starting with the first break, through lunch, and evening reception and dinner, conversations, networking and exchanges were enthusiastically taking place. This was heartwarming to see.
The second topic – and if you were there, you would know what it was  – had only a brief introduction, but again, at first break more than a few attendees approached me asking to learn more, providing their very valuable opinion, and even asking how soon something like this can be started. If all goes well, in a few months, you may learn what the 'second topic' was.
We continued with a customer presentation that highlighted the importance of the Digital Twin for accurate analysis of resources, among them the risk of cutting too much to the bone. The work included an interesting approach to the study. For me a nice bonus of having presenters from all walks of Industry, was seeing things one takes for granted in our everyday lives, in a completely new perspective. What may seem obvious to us a consumer, may be a very complicated engineering task.
A Siemens partner followed with a presentation that started with an introduction that seemingly did not fit – 'what is he trying to tell us here' my thought flashed – but ended with everyone nodding their heads and taking notes. It was a good lesson and quite frankly a boiler template for how to conduct a successful project, and perhaps just as important, how not to conduct one. I am really hoping our Siemens partner will release his presentation for publishing. Check back on our Plant Simulation Conferece Forum in a week or two.
Just before lunch we concluded with one of those adjacent technologies – IIoT. Last year we shared a slide and told the story how a Siemens partner used Plant Simulation as a Digital Twin to close the loop with their experimental IIoT collection of applications. In this Conference, Ashraf Suri presented a soon-to-be-released MindSphere-Plant Simulation connector. MindSphere, if you didn't know, is Siemens IIoT Operating System. Ashraf drew our attention to two important Use Cases: 1. Calibration of the Digital Twin with near-real time data, and, 2. Playback.  Ashraf also prescribed the packages available for those who want to start experimenting and testing the IIoT Closed Loop with the Digital Twin.
At 12:00PM the large silver door opened to the hallway, were lunch was already waiting (thank you Maria, again – lunch was outstanding – I kept coming back for more).
Just like before, lunch time conversations flowed.
The last stretch of the Conference opened with a powerful and well-honed customer presentation on Virtual Commissioning of non-other than … Parking Garages … but not just any Parking Garages – Automated Parking Garages. The presentation combined a fascinating discussion on the business, artfully weaving in a technical discussion of the Plant Simulation project. This may be just me, but the sophistication of the project and the high level of SimTalk expertise, allowing testing of very smart control algorithms was simply a pleasure to see. The extra 15 minutes we spent on Q&A about the business and project are evidence that perhaps it wasn't just me …
Siemens followed with two sessions to provide sound proof to our opening statement that it is no longer just about the application but also about the eco system around it.
Kristy Myers demonstrated Line Designer, a 3D efficient layout application with a built-in data management layer, which allowed the layout to be transferred directly to Plant Simulation. Kristy demonstrated the new Teamcenter Wizard, available with Version 15, showing the quick creation of a complete Plant Simulation model directly from the layout, including basic Attributes.
While Kristy started upstream, with the design of the layout, Corradino Guerrasio took us way downstream. As a matter of fact, right into Production. Corradino showed how Plant Simulation, yes, again – the Digital Twin, is used as a Time Machine connecting to Siemens MES, SIMATIC IT, allowing it to run order batches virtually. The scenario portrayed how a Supervisor, perhaps on the Production floor can run what-if analysis, peering into the future (hence Time Machine), running not yet executed batches of orders, virtually. This opens new frontiers and possibilities, and Corradino had fun concluding by asking Alexa (with her dedicated skills) a Production question. Alexa in turn 'asked the Digital Twin' and we all heard the familiar Alexa voice answer: '… your production run will be … you will need 2 operators … '
Well, that was it … hard to believe it was over. But just before the Conference ended and we wished everyone safe travels, we adhered to last year's tradition …
Curtains slid open. No more presentation and demonstrations.
Thank You!
The slide projected.
'I know it sounds like a cliché, but without you, attendees, this Conference would have not been possible' I said.
Thank You, Presenters!
'For your commitment preparing, perfecting, and delivering the best presentations yet!' I said.
A slide followed
Thank You, Team!
'Ray, Stephanie, Ryan, Doug, Maria and this year, Georg' I said.  
It was time for my favorite part: Certificates of Appreciation to all our Presenters.  Each of our presenters was called up to receive their Certificate signed personally by no other than … you guessed it … our one and only Plant Simulation Product Manager, Georg Piepenbrock. 



We concluded by calling Georg up presenting him with a Certificate showing our team's appreciation for honoring us with his attendance, and his dedicated support throughout the years. Georg addressed Conference attendees. 

Maria took pictures of all Presenters lined up holding their Certificates, Georg, of course in the center. 
The large silver door swung open for the last time.
The 2019 Plant Simulation Americas User Conference concluded.
——–
Noam Ribon is a Senior Business Consultant for Siemens Digital Industries Software
This article first appeared on the Siemens Digital Industries Software blog at https://blogs.sw.siemens.com/tecnomatix/day-2-highlights-2019-plant-simulation-americas-user-conference/