Day 1: Plant Simulation Worldwide User Conference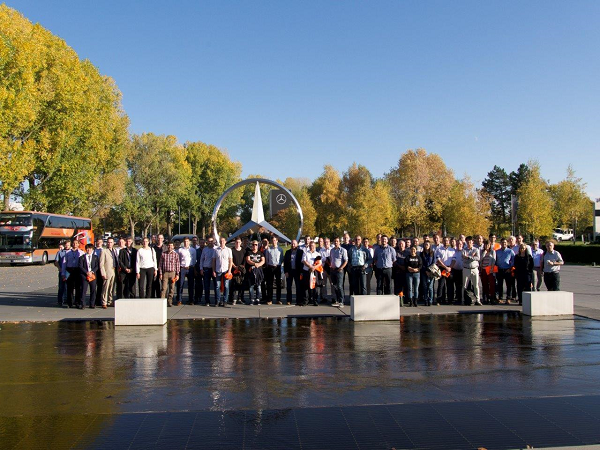 The Plant Simulation Worldwide User Conference is off to a successful start!
On day one of the Plant Simulation Wordwide User Conference, 75 participants joined a factory tour at auto manufacturer Daimler AG in Stuttgart, Germany, a Siemens Plant Simulation software customer. The tour followed the production flow, including the S-class final assembly and showing the latest logistic technology with automatic guided vehicles (AGVs) bringing the material to the line.
For 30 additional conference participants, day one featured a factory tour at Siemens Plant Simulation customer and line builder Eisenmann SE. Mr. Angelkorthe, Corporate Vice President, introduced the company and Dr. Schneider showed a paint line simulation in Plant Simulation. The highly interesting tour through the factory included air cleaning technology, complex paint robot assembly, electro overhead monorail system, and a running Cathodic dip painting solution.
The conference resumes tomorrow, when the 300+ conference attendees gather at the Siemens Convention Center in Stuttgart. During two days of sessions, attendees will hear presentations about exciting new product information, user case studies, and experience hands-on technical training.
Attendees will meet the team behind the software and get valuable hints from Plant Simulation experts. The user meeting offers the opportunity to learn more about the latest features in Plant Simulation and the roadmap for current and future versions and to influence the future development of the product.
This article first appeared on the Siemens Digital Industries Software blog at https://blogs.sw.siemens.com/tecnomatix/day-1-plant-simulation-worldwide-user-conference/