Products
Continuity of the Digital Thread in Manufacturing
This is the second in a series of blogs where we discuss the requirement for detailed manufacturing engineering and operations orchestration in industry today and the potential benefits that can be realized by utilizing Digital Manufacturing solutions.
—–
Production excellence is achieved with a digital thread connecting product engineering through product production all the way to product utilization and performance. The continuity of this digital thread is key to manufacturing success, helping to relieve the pressures of today and establishing the required foundation for tomorrow.
As discussed in the first blog in the series, digital manufacturing underpins the union of manufacturing engineering and manufacturing operations and is the basis for digital continuity between innovative product designs and best-in-class performance.
Beyond the value that can be realized within each domain through deep, vertically integrated manufacturing engineering and manufacturing operations capabilities, additional value is achieved by connecting information horizontally between these and other domains. Barriers between silos are effectively removed, supporting a seamless flow of information throughout the product lifecycle. By leveraging experiences of current and past performance through closed-loop feedback, and continuity of the digital thread, designs and processes can be improved.
Integrated product engineering capabilities
New product concepts and updates to existing products can be rapidly developed with integrated product engineering capabilities. As designs mature, they can be completely validated to ensure that fit, functional and quality requirements have been completely fulfilled. These individual designs can then be managed within a bill-of-materials (BOM) that is capable to describe the most complex of products at any point in their lifecycle.
Integrated manufacturing engineering applications
Whether transforming raw materials into products or components, or assembling those components into complete products, an integrated set of tools are necessary to support activities related to the planning, design and simulation of manufacturing and quality processes and their required resources. All are managed on a common backbone that has been tuned to support manufacturing and quality information. Because this backbone is shared with product design, complete lifecycle and change management can be leveraged to improve collaboration across the product, manufacturing and quality engineering domains.
Industry-rich applications for smart manufacturing
With industry-tailored solutions coupled to robust foundational services and functions, current shop floor operations can be transformed into a digital version of smart manufacturing. The resulting smart shop floor will be connected for real-time collaboration, optimized for automated and reliable operations, while providing transparent real-time data intelligence. This is achieved while adhering to engineering and planning intent from upstream processes. These capabilities enable streamlined orchestration of shop floor processes with proactive oversight so that you can anticipate and act before issues or challenges arise. Built-in modularity allows companies to remain agile, making it possible to rapidly deploy process changes and maintain flexible workplaces.
Manufacturing operations with real-time data intelligence
With role-based, purpose-built apps, users are given control for actionable insights tailored to their domain of responsibility. Operational data is collected through field devices, such as sensors, programmable logic controllers (PLCs), computer numerical controls (CNCs), industrial Edge devices and supervisory control and data acquisition (SCADA) systems, all coordinated through manufacturing operations management (MOM) processes for product and process context, in concert with data from upstream processes. This context-driven data intelligence, for product, process, machine, people and business, sets the stage for advanced data analytics towards predictive and prescriptive manufacturing insights and a culture of effective data-driven decision making.
What does it mean for manufacturers and their business?
Digital thread continuity and a closed-loop manufacturing environment means that manufacturers can better interact at the intersection between each domain to accelerate new product introduction, execute flawless production, ensure quality and efficiency, and achieve production excellence. This is true for manufacturers in discrete manufacturing, process manufacturing, or hybrid manufacturing industries, no matter what production approach they employ – build to stock, build to order, engineer to order, etc.
Accelerate new product introduction
Tighter collaboration between product engineering and manufacturing engineering enables manufacturers to reduce the time required to get new products to market. Product designers can consider multiple scenarios for how a product can be manufactured and verified for quality before committing to a design. Designers may also engage manufacturing engineers to study designs early in the development cycle to ensure that new or modified designs can be manufactured in an efficient manner. Considerations related to production rate, required equipment, impact to production facilities, quality, and worker health and safety can be studied, and feedback shared with product engineering counterparts.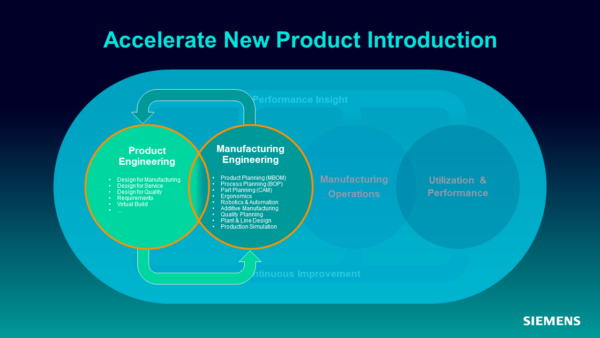 Engineer flawless production
Timely collaboration between manufacturing engineering, manufacturing operations and business systems with virtual validation, remote monitoring and remote changes to production has become the new normal for many. The ability to do this successfully ensures reduction of risk and costly downstream issues. Manufacturing engineers can proactively consider engineering or supply chain changes to better plan the required process changes, supported by associated production-ready feasibility studies and impact analysis. With closed-loop insights from production, manufacturing engineering can perform virtual analysis of recurring issues, and perform corrective actions and impact analysis for error-proof incorporation of changes into production.
Ensure quality and efficiency
Mass customization and personalization is a trend that manufacturers must be prepared to support. Uncertainty that comes with product and process variation, global to local manufacturing requirements and supply chain dynamics multiplies the complexity. The closed-loop collaboration across manufacturing engineering, manufacturing operations, including quality processes, and further to actual performance of plant resources in concert with enterprise and automation systems will ensure the flexibility of the entire manufacturing lifecycle – a key ingredient for manufacturing agility in the digital era. This digitally connected collaboration loop will support the increase in new product introduction (NPI) rates, decrease cost of change and cost of quality, and establish a digitally connected process for continuous improvement recommendations.
Achieve production excellence
Connecting traditionally disconnected departments and processes will bring product and process innovations to life with speed and excellence. Streamlining product engineering innovations or improvements through a virtually validated manufacturing process that is executable in an optimal way, with closed-loop, actionable data intelligence at scale, from a single location to global sites, in collaboration with the supply chain, is what a digitally connected manufacturing enterprise delivers.
Siemens, with its Xcelerator™ portfolio of Digital Manufacturing software, is helping manufacturers connect and enrich the digital thread from design to execution and beyond. This not only helps to relieve the pressures of today but also helps to establish the required foundation for tomorrow.
Contributors: Todd Bengtsson, Subba Rao, Shashi Rajagopalan
—–
Subsequent blogs in this series will focus on the key values of digital manufacturing and how they can be achieved, covering topics like closed-loop manufacturing for discrete manufacturing industries and closed-loop formulation for process manufacturing industries, model-based manufacturing and model-based quality, the holistic digital twin and the factory of tomorrow.
—–
> You might also like these blog posts by Zvi Feuer on manufacturing and emerging technologies in 2021.
> Learn more about our Digital Manufacturing solutions for engineering and operations.
> You can try our Digital Manufacturing software for free.
This article first appeared on the Siemens Digital Industries Software blog at https://blogs.sw.siemens.com/tecnomatix/continuity-of-the-digital-thread-in-manufacturing/