Chery Automobile Co., Ltd. realizes digital manufacturing goals with Siemens PLM Software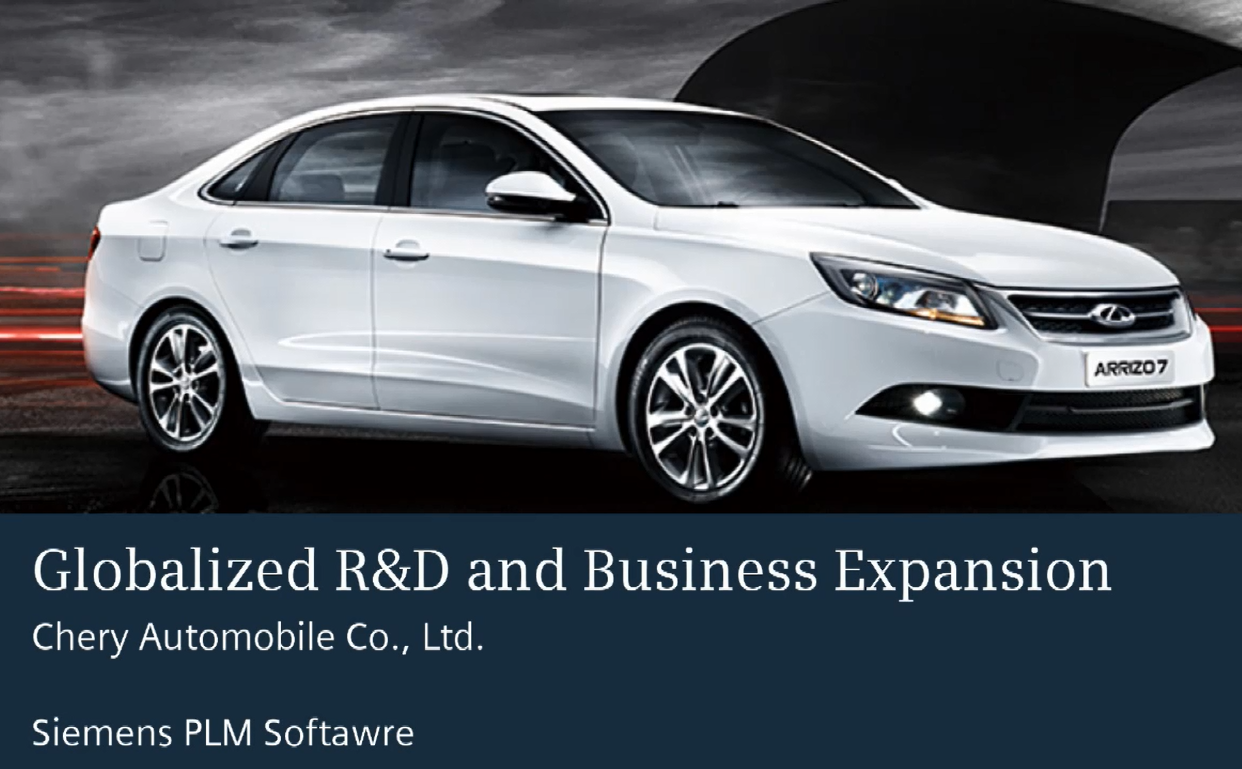 Siemens PLM Software customer, Chery Automobile Co. Ltd., is a famous automaker in China.In this 8-minute video, "Globalized R&D and Business Expansion – Chery Automobile Co., Ltd.," you will learn why Chery selected our solutions. Tecnomatix variation analysis solution provides powerful dimensional variation analysis tools to simulate assembling processes, predict deviations and possible causes.
Teamcenter was selected as their unified and highly-efficient PLM system to support their design globalization objectives.Siemens simply helps Chery Automobile think differently about their business and how to achieve their goals through digital manufacturing.
Would you like to see more video case studies like this? If so, tell us what you like about it in the COMMENTS section below.
The following is the complete video transcription:
Globalized R&D and Business Expansion – Chery Automobile Co., Ltd.
Chery Automobile is one of the most famous automakers in China. Our company insists on innovation. We have established a complete system of technology and product development. Our car series are Fulwin, QQ, Eastar, Tiggo and Arrizo. Chery cars are exported to over 80 countries and regions. Chery's export volume and revenues have been ranked as No. 1 among passenger car manufacturers of China for consecutive years.
We have set up three manufacturing bases in Wuhu, Dalian, and Ordos of China to cover production of passenger cars, engines and gearboxes. Our strategic development goals are safety, energy saving, and eco-friendliness. Our quality assurance and management system is qualified for ISO9001, ISO16949 certifications. Innovation is the strategic core of Chery. We are devoted to becoming a technology-centric enterprise. Among the R&D headquarters in Wuhu, and institutions in Beijing, Shanghai, Italy, Japan and Australia, we've formed a complete product development system we've formed a complete product development system for cars, powertrains, and key components.
World class brand perception is the ultimate goal of Chery.
Firstly, Chery aims to export cars, CKD parts, engines, plus vehicle manufacturing technologies and facilities to overseas automakers.
Secondly, Chery is advancing in globalization and seeking more cooperation with capable partners. Thirdly, by integrating global resources, Chery is working with multi-national enterprises along the supply chain.We have to enable ourselves to respond to fast market changes.We need a unified and highly efficient PLM system to support our design globalization and business objectives.
Chery chose Siemens PLM Software solutions because of its industrial footprints in the automotive industry and extensive application suites. We implemented a Product Lifecycle Management (PLM) system which is the Teamcenter solution. It supports design knowledge reuse and collaboration, product configuration management, and reliable data flow. We achieved precise engineering changes, project management, and PDM/ERP system integration. Besides, we implemented the Tecnomatix solution for doing dimensional variation analysis to assure quality.
We discovered plenty of internal improvements. They were credits of our unified PLM systems. For design collaboration, PLM system enables and encourages more information sharing, synchronizes data and documentation, increases design knowledge and data reuse. We can now identify issues in early phases. This reduces our workload and time of doing changes in later phases. The PLM system improved collaboration among design institutions, and modularized design. Experts from Siemens PLM Software helped us overcome challenges in multi-site collaboration. We solved issues of inefficiency, low accuracy, and poor communication in globalization. We have standardized our design management processes such as product numbering rules, drawing templates, change management, and data sharing under the unified PLM platform. Design knowledge and data reuse reduced our time-to-market and the overall costs.
Product quality is crucial to reliability, comfort, and the interior and exterior of cars. These factors will dominate car buyers' decisions. Therefore, quality is the key to competitiveness in our industry. We have launched various quality procedures, such as refined processes, standardization, control at project nodes, adding inspection tools and measures, etc. We explore better ways to improve product quality, especially dimensional control of assemblies and parts. We focus on structural analysis process issues, verification of product and process design, prototyping, process audit in pre-production, using inspection tools, data analysis, and feedback in different phases. The dimensional control team contributes a lot in improving quality of cars. The team anticipates in structural analysis, alignment schemes, and assembling methods, etc. This assures car quality at a high level.
The initial dimensional analysis method was simple dimension and tolerance chain calculation. It was difficult and gave problematic results. It was inapplicable to car manufacturing. We needed a better method for the tasks. Our choice was the Siemens PLM Software solution. It provides powerful dimensional variation analysis tools to simulate assembling processes, predict deviations and possible causes. Siemens has a specialized service team in North America. They have extensive experience of dimensional variation analysis. We trusted this team to support us, for professional training and team building. We can visualize assembly processes in simulation. Product structures and assembly processes can be verified virtually. We can assess and optimize product designs, alignment schemes, assembly sequences, part tolerances, control and manage deviations. After implementation such dimensional analysis, we were able to eliminate issues before production. For example, we identified alignment and assembly issues of the headlamp for a new car design project. This saved tooling and fixtures costs up to thousands of even millions of dollars, and avoided production delays.
Dimensional engineering assists collaboration among various disciplines. Problems and issues can be resolved in early stages, to save our time and costs. It has been applied for middle and high-end car models. We expect it to be applied for every car model in the future.
Since Chery implemented PLM, we have gained significant increases in market share and customer satisfaction. Currently, an expert team from Siemens PLM Software is helping with our BOM project implementation. We have a high expectation for its success, to drive our competitive advantage to a higher level.
The unified PLM system is our foundation to realize digital manufacturing. It will extend our competitive edge to every node in the value chain. We trust the solutions and expert team from Siemens PLM Software because of their extensive experience and footprints in the automotive industry. Chery will adopt the most advanced design methodology and technology to achieve our globalization goals. Let us know if you like this post by giving it a KUDOS!
Check out Siemens' Manufacturing 360 tablet app!
Explore the world of digital manufacturing. See how Siemens' software
for part and assembly manufacturing enable more efficient and nimble operations.
Download the FREE Manufacturing 360 app from Google Play or the Apple Store.
This article first appeared on the Siemens Digital Industries Software blog at https://blogs.sw.siemens.com/tecnomatix/chery-automobile-co-ltd-realizes-digital-manufacturing-goals-with-siemens-plm-software/